Student voter turnout rate in 2020 election higher at the College than in past elections, at peer institutions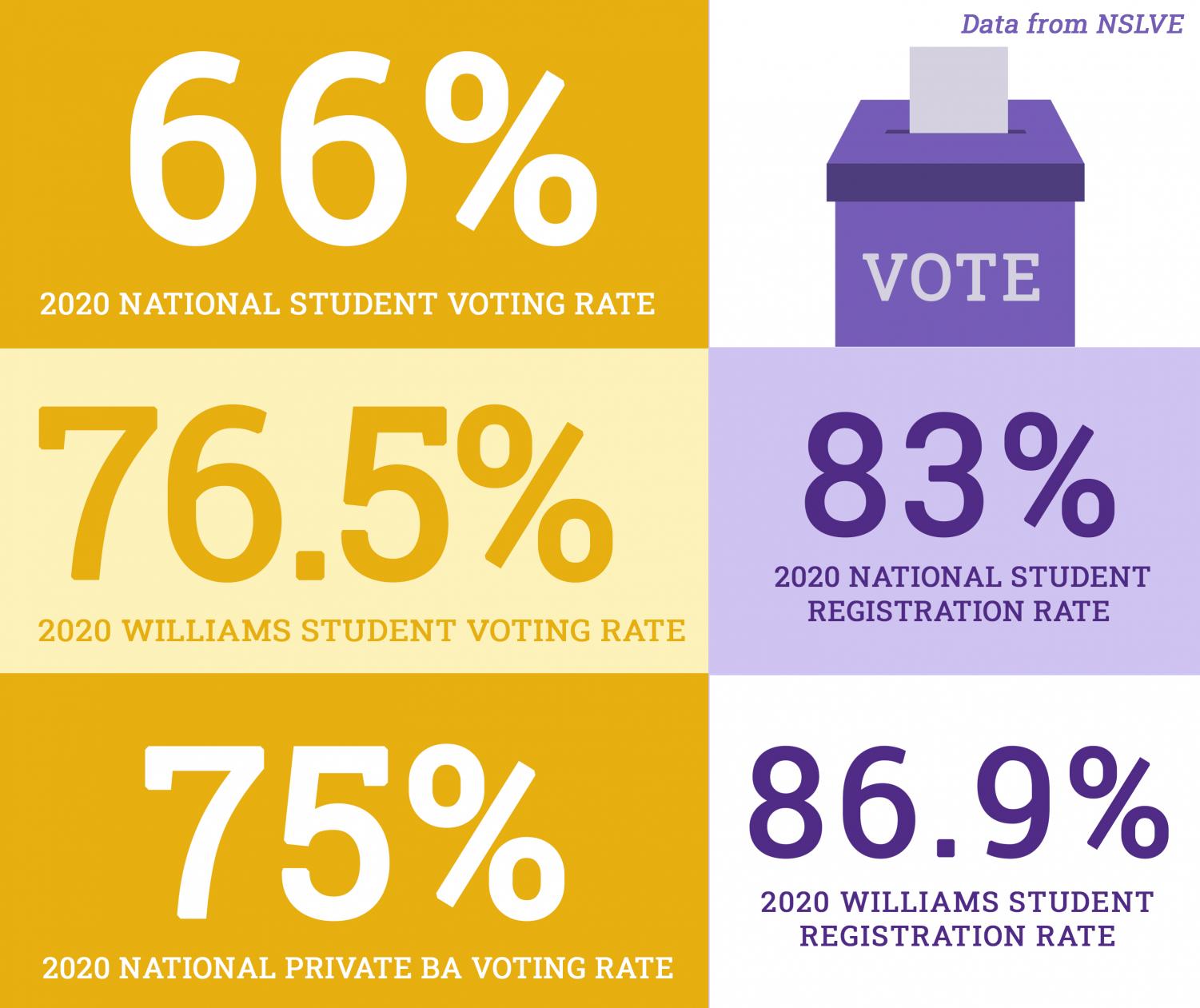 The College experienced a big uptick in student voter turnout in the 2020 presidential election, with 76.5 percent of all students casting ballots, according to new data from the National Study of Learning, Voting, and Engagement (NSLVE). NSLVE, which aggregates voting data from a range of colleges and universities, also reported less dramatic but similar surges in student voting at institutions across the country. While college students are notorious for low voting rates, nationwide high turnout in the college student age bracket was accompanied by historic voting levels nationally. 
The organization estimated that 86.9 percent of eligible students at the College were registered to vote, and 88 percent of registered students voted. According to the NSLVE, the College's voting rate was higher than the average voting rate for other colleges that participated in the NSLVE, which was 66 percent. 
The College's voting rate was also higher than in 2018, jumping from 41.2 percent to 76.5 percent in 2020,  though some of this increase is explained by the fact that the 2020 numbers came from a year with a presidential election while the 2018 numbers came from a midterm year. Although turnout is almost always higher in presidential elections than in midterms, the College's increase of 35.3 percent from 2018 to 2020 was much greater than the average nationwide increase of 26 percent. While data from the presidential election in 2016 might be more telling, this data is not available for the College at present, but 97 percent of institutions in the NSLVE dataset saw increases from 2016 to 2020. 
Following the 2016 presidential election, many groups across the country ramped up organizing efforts to ensure young voters were better represented four years later.
This included EphVotes, a Registered Student Organization focused on "maximizing voter turnout and civic engagement on the Williams campus," according to founder Solly Kasab '21.
Before the 2018 midterm elections, Kasab sought to raise students' awareness of how to vote, not in order to campaign for any particular candidate but rather to help eligible students exercise the right to vote. 
"Joey Fox '21 and I decided to table in Paresky, answering students' questions, providing voter registration forms and absentee ballot requests, envelopes, and stamps," Kasab said in an email to the Record.
As the election approached, hundreds of students stopped by for information and voting help. He planned to accomplish these goals through organizing registration and absentee ballot drives, sharing educational material on voting, hosting debate watch events and guest speakers, and orchestrating campus-wide campaigns.  He said he hoped to build on past success during the 2020 presidential election — and he wasn't alone. 
In 2020, Kasab rallied a team of other students to launch a full-fledged campaign. "We emailed every single domestic student state-specific information regarding where to register, [how to] request a ballot, and when to send [the ballots] in," Kasab said. Every student mailbox received a stamp and an envelope so students could easily mail in their voting materials. 
Paula Consolini, the group's faculty advisor and director of the College's Center for Learning in Action (CLiA), attributed the high turnout numbers in part to EphVotes' efforts. "Though I believe there was an overall heightened awareness of the importance of voting in 2020, I think EphVotes deserves the lion's share of the credit for the huge increases in registration and turnout among [the College's] students," Consolini said.
Owen Foster '22, who is not a member of EphVotes, said that while EphVotes helps streamline the voting process for interested students, he argued that its focus is not on mobilizing those who don't have a pre-existing interest in civic engagement. "EphVotes does a tremendous job connecting students to voting resources and helping students who want to vote make sure their ballots get in on time," he said. "That being said, they do not specialize in voter mobilization. Not every student is interested in politics, so a politically framed organization like EphVotes won't appeal to them." 
Foster — who worked on a number of public service announcement–style videos to encourage voter turnout more broadly in the lead-up to the 2020 election — added that, in order to pull in new voters, organizers must appeal to other interests. "In 2020, this happened for many progessive students as they saw another Donald Trump presidency as a threat to their physical safety, future career aspirations, and social lives," he said. "With an influx of new voters, EphVotes was important in helping them access the information necessary to vote, but they did not make them want to vote."
Kasab also emphasized that EphVotes is only a part of the picture when it comes to increasing voter turnout at the College. "I'm proud to have played my part," he said. "But it was truly a massive effort by many, many people that our entire campus community should be proud of."
Several students stressed that the 2020 election felt particularly important, as it was highly contested and came at a critical moment in the country's history. 
As an international student from Taiwan with U.S. citizenship, Jacob Chen '23 said voting held special weight. "I voted in the 2020 elections because I know whoever the U.S. president is affects the entire world, which includes Taiwan," Chen said. "So I felt that in order to protect where I'm from, I have to use my privilege as a U.S. citizen to vote in a way that I think benefits Taiwan. There was a sentiment that we really need to vote this time around."
In an interview with the Record published last fall, Sara Sadri '23 reflected on the importance of voting more generally. "I intend to vote in every election that I ever can," she said. "I've talked to people who are like, 'The system is so broken and so corrupt, so what's [voting] going to do?'… And I hear that, but … it seems like the most influential thing that I can do to feel like maybe to some degree, my voice is being heard."
Correction: An earlier version of this article misquoted an email by Solly Kasab '21 by omitting the first four words of a sentence. Kasab was incorrectly quoted as writing, "I decided to table in Paresky, answering students' questions, providing voter registration forms and absentee ballot requests, envelopes, and stamps." His quote actually began, "Joey Fox '21 and I decided to table in Paresky."