One in Two Thousand: Amanda Wager '23.5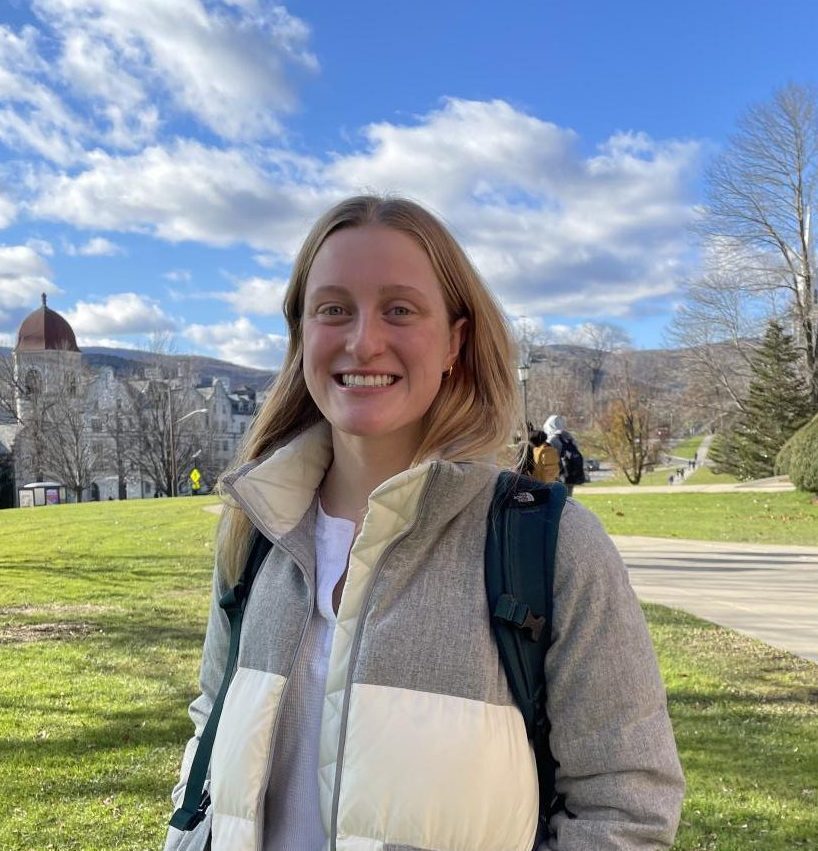 Each week, we randomly select a unix from a list of all current students at the College for our One in Two Thousand feature. As long as the owner of a selected unix is willing to be interviewed and is not a member of the Record board, that person becomes the subject of our interview. This week, the computer (using a script in R) chose Amanda Wager '23.5, who talked about crystals, her experience on the College's swimming and diving team, and being co-Junior Advisors (JAs) with the interviewer in Armstrong-Pratt 4. This interview has been edited for length and clarity.
Tali Natter (TN): We are in our JA [common room], which we have decorated to be very "cursed." There are lots of random things on the walls like an ugly sweater and a pumpkin and weird doodles, and perhaps most cursed are these baby dolls. Tell me about them.
Amanda Wager (AW): So for Halloween, I thought it'd be really fun to go as a mommy blogger — basically, a mommy on Instagram who exploits her children for content. So Tali very kindly picked out some really sweet baby dolls. Their names are Nova and Prosciutto. They're about six inches. They come with a bunk bed [and] a toilet. We're actually potty training Nova right now. She's doing a great job. [Laughs.] But yeah, that was probably my best Halloween costume. I was in character for about five hours during Halloweekend. Anyone I spoke to was getting the full mommy blogger experience.
TN: Speaking of Halloween, you were once in a Halloween film. 
AW: Adam Sandler has this weird obsession with my hometown of Marblehead, Mass. He's filmed three movies there now, which is kind of crazy and random. It's not anything super special, but it is next to Salem, Mass., so we do have a lot of Halloween movies filmed there for the witches and spooky stuff. For this movie, Hubie Halloween, they were looking for extras who were over the age of 18 but looked like they were still in high school because they didn't want to exploit any children like mommy bloggers do. So I sent in a photo and got the gig.
TN: What do you think people would be surprised to hear about being an extra in a film?
AW: I was most surprised about the amount of time it takes. I was on set for two 14-hour days, which is kind of crazy for a two-minute scene. It ends up being a lot of sitting around, but it's pretty cool because you can meet a lot of new people. I've never had my makeup done professionally or anything like that, so it was a really cool experience. If anyone wants to go stream Hubie Halloween, you can see me about 40 minutes in during the big barn party scene.
TN: Speaking of spooky things, you're into crystals. When did you get into crystals, and which is your favorite?
AW: I can't say I'm much of a crystal guru, but I do have two crystals. I have a rose quartz and a regular quartz which, for all of my crystal lovers out there, is not impressive at all. They're the most basic ones. Basically, I thought it'd be really funny during the JA date process to start talking about how I was into crystals even though I wasn't.
TN: [Laughs.] So you're saying this relationship is a lie. What if I only wanted to be co's because of the crystals?
AW: [Laughs.] I got the crystals to help me manifest my goals… The big thing was I wanted to manifest a good co group, and I think that worked. 
TN: This past weekend, you had your first swim meet. What was the best part?
AW: I think just being able to race was really great. During this week, I was dealing with an injured shoulder, and I just had a really tough week leading up to this weekend. I'm sure everyone at Williams has this experience of the week leading up to Thanksgiving as being the worst week of the whole semester and having lots of work and being super overwhelmed. So I was really happy to just get out and swim, and I ended up doing really well. 
TN: What do you think about while you are swimming? 
AW: For breaststroke, I do a lot of counting in my head. I count how many strokes I'm doing and how many laps I have done. A lot of the time, it's almost like a blackout when I am racing, and I'm not really thinking about anything because it's really quick. When I'm swimming longer distances in practice, I like singing songs in my head. We did a 20-minute swim the other day, so I just sang "All Too Well (10 Minute Version) (Taylor's Version) (From the Vault)" twice. 
TN: OK, switching it up, what has been your favorite entry moment?
AW: Hmm… We invited [President] Maud [S. Mandel] to our Snacks a few weeks ago, and she came, and it was really fun. Most people in the entry came, and they asked a lot of questions, and she was able to share just a lot of insights [from] her own life that you would never hear unless you had a personal conversation with her. It was really cool, and it was her first-ever Snacks. I think also just within our co group, I have a lot of great memories from JA training when we would all be in this room for hours on end just talking and debriefing. It's really cool and interesting because you basically have to catch up with three strangers on your entire lives. 
Also, our frosh are really talented and wonderful, and they made this experience completely what it is. They're the reason that we're able to be so happy and get along. I love them, and I love everything about AP4 except for the stairs.
TN: How does it feel to be a JA but technically a sophomore? 
AW: I feel like this is a big joke in my life because I took last spring off, so I am technically a second-semester sophomore. I'm an "SA," not a JA. It was a challenging decision but during sophomore year, I just had been feeling a bit isolated because I was in my room all day, and I wasn't getting what I wanted out of my college experience, and also, there was no swim season which is a big part of my life.
It was a really hard decision, but I ended up taking the semester off, and I had a cool internship working for an environmental nonprofit. [Taking time off] made me even more excited to be back here this semester.