Men's basketball takes down SUNY Delhi in first away game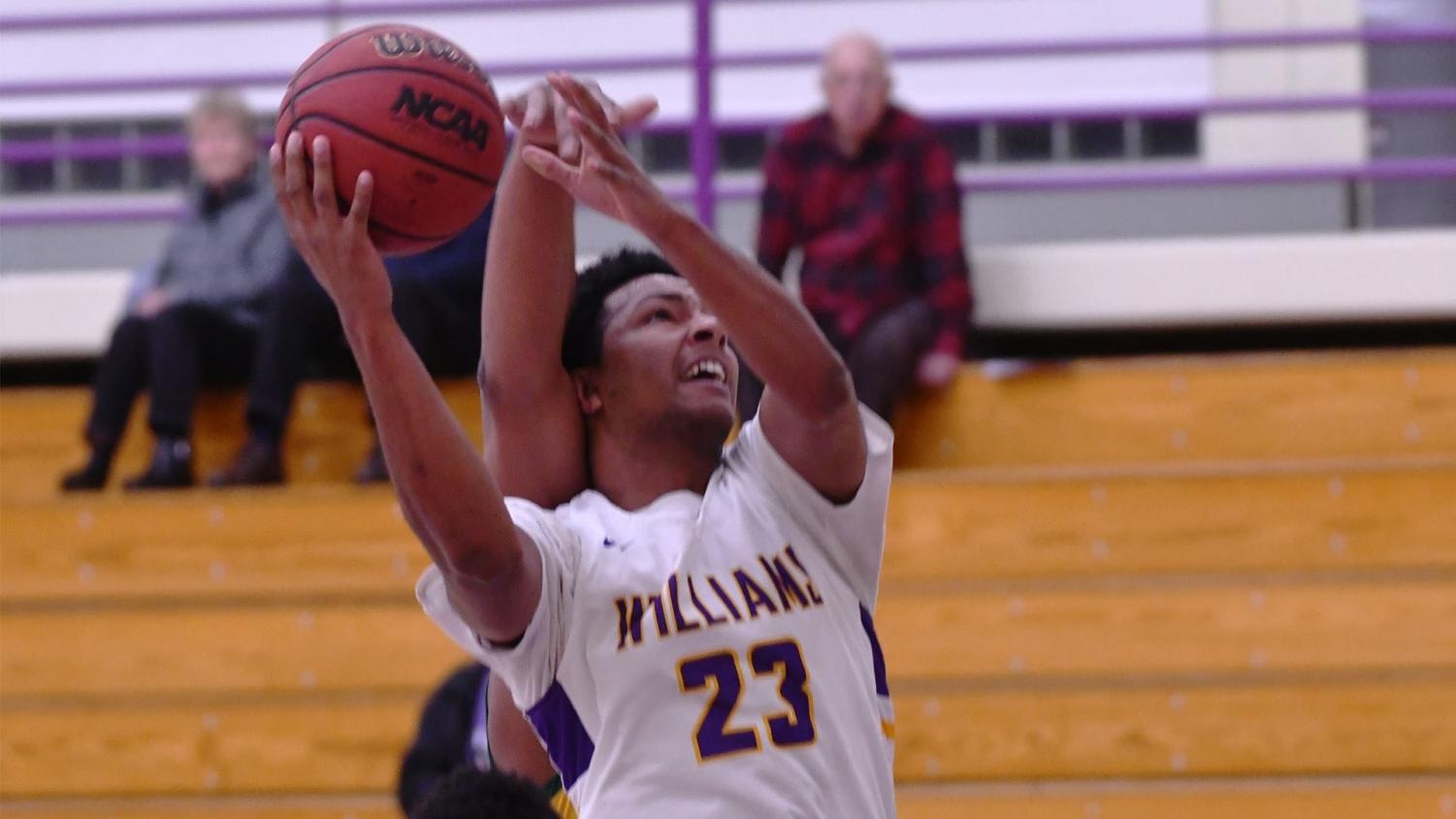 Men's basketball took down SUNY Delhi 74-67 on Sunday on the road to improve to a 5–0 record as the season gets underway.
The Ephs had four players score in the double digits. Leading the way was Cole Prowitt-Smith '24 with a game-high 24 points as well as nine rebounds, followed by Spencer Spivy '22.5 with 16 points, Nate Karren '23.5 with 12 points and 10 rebounds, and Jovan Jones '22 with 11 points.
After the Broncos scored on their first possession, the Ephs responded by scoring 9 unanswered points.
Head coach Kevin App complimented the team's defensive effort. "Defensively, when it was in the half court like we wanted it to be, we talked about just forcing them to take difficult shots," he said. "I thought we did that pretty well and to their credit they made some tough shots in the first half."
App also commented on areas of improvement for the Ephs. "In the first half, the two issues were turnovers and offensive rebounds," he said. "I thought we gave them probably 10 points in those two areas."
Williams had a strong offensive first half, making 13 of 25 attempted shots from the field and six of 12 attempted shots from 3-point range. Prowitt-Smith and Spivy led the charge from beyond the arc, going 2-3 and 3-4, respectively.
The Ephs took the ball strongly to the basket and drew fouls from the Bronco defenders. Free throws were plentiful in the first half for the Williams players, who shot 14-17 from the line as a team.
While SUNY Delhi was able to knock down a number of tough shots to stay in the game, Williams took a 9-point lead and ended the half with a 46-37 score.
The Ephs came out hot after the halftime break, going on a 7-0 run and quickly increasing their lead to 16.
The Ephs continued to dominate for long periods in the second half with solid defense and patient offense. However, the men went scoreless for eight of the nine final minutes of the game.
"We just talked about playing our brand of basketball at our pace," App said. "I thought we had some phenomenal possessions, but then that patience came back to hurt us as they made their run. We couldn't quite find the balance of staying aggressive but being patient for the right shot. I thought we just relaxed a little bit, which forced us into some bad decisions."
The Broncos managed to get the lead down to 6 points with 40 seconds remaining after going on a 19-0 run over eight minutes. But Prowitt-Smith was able to hit free throws in the final 30 seconds to prevent the Broncos from getting within striking distance of the lead.
"I'm proud of our guys," App said. "This was just another learning curve game. This was our first road game, and being on the road is never easy."