Students use art as activism at divestment protest
Art has a long history in social protest, and Friday morning's gray clouds and rainy weather cleared up just in time for students to cover Paresky Center's wet steps with vibrant chalk drawings and posters calling on the College to publicly divest from fossil fuels. 
Although the College has said they plan to phase out the remaining 4 percent of indirect investments in the fossil fuel industry, the administration refuses to announce a concrete commitment like its peer institutions. Young Democratic Socialists of America (yDSA), organized the protest to pressure the College into issuing a statement via an all-campus email and a permanent post on the website signaling their commitment to stop all forms of fossil fuel investment. 
In addition to an eye-catching poster outlining the group's demands, various other forms of art embodied the spirit and sentiments of the gathering. 
Coco Rhum '24
On the Tuesday before the protest, one of the organizers — Coco Rhum '24 —  hosted a community art build event where around 20 people helped design the banner and make posters. "We've also had so many people help design and make buttons, make digital art, and, of course, sign the banner and draw with chalk at the protest," she said, referring to the orange banner on which all the protesters signed their names before it was hung from Paresky's balcony. "The banner is a perfect example of how we can make our demands clear and have buy-in from the community as we do that, through people signing their names."
"Making art is definitely a big part of our movement," Rhum said. "Art allows us to bring people into our work in a tangible way and to communicate our values and goals in a way that is enticing and appealing to a given audience." 
Annie Scott '25 and Deion Hammond '25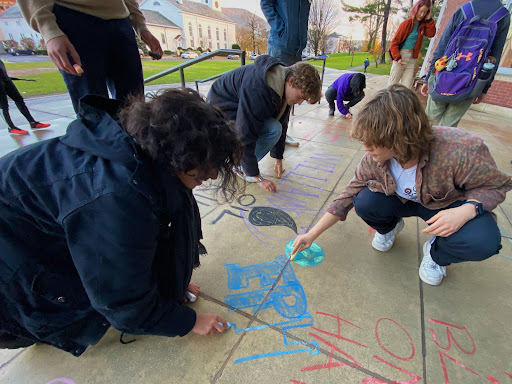 "I think there's something to the way the chalk sticks to the ground," Annie Scott '25 said as she sketched an earth next to the words 'Williams [Hearts] Oil, Oil Kills.' "Art as a medium tends to stick a lot more than other forms of communication," she said.
Writing 'EPHS' next to Scott, Deion Hammond '25 noted the abundance of like-minded artistic individuals. "Art will never exist on the side of the oppressors," Hammond said. "That's why in these sorts of cases you get a lot of people together, they're very creative and very ready to take these systems down."
Erinn McKenzie '23
Erinn McKenzie '23 said she uses art as an outlet for personal and social expression. "I've been an artist for most of my life, so activism in the form of art helps me convey being a Black person, a queer person, and a person in this current climate issue," McKenzie said. Her poster read "DIVEST OR DIE" in stark red letters.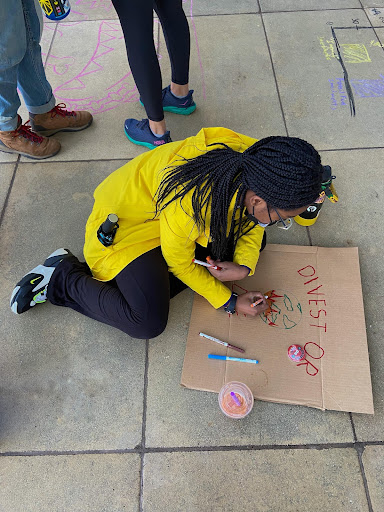 Dalilah Montesino '25
A poster by Dalilah Montesino '25 touched on the lack of transparency, in glitter-glue letters demanding the college to 'Disclose, Divest, and Reinvest.' "[Williams] doesn't want to make us think that it has divested," she said. "It's wishy-washy. If they've already divested but not issued a statement, there's no way of holding [the College] accountable."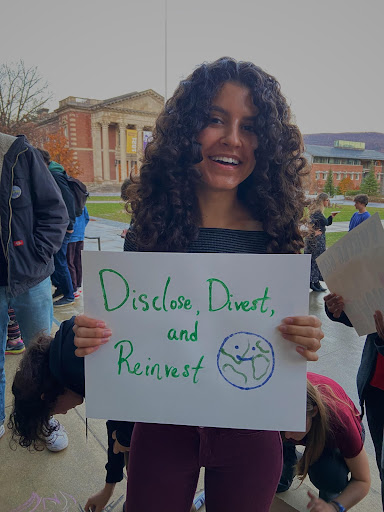 Emma Nathanson '25
Emma Nathanson '25 — who designed the button reading "divest williams stand with us!" — said she appreciated how protest art often captures the positive possibilities that activists fight for. "I think a lot of times climate change narratives focus on destruction and sacrifice and pain," she said.  "It's good to focus on joy, rebirth, and regeneration."