Football, men's and women's cross country win NESCACs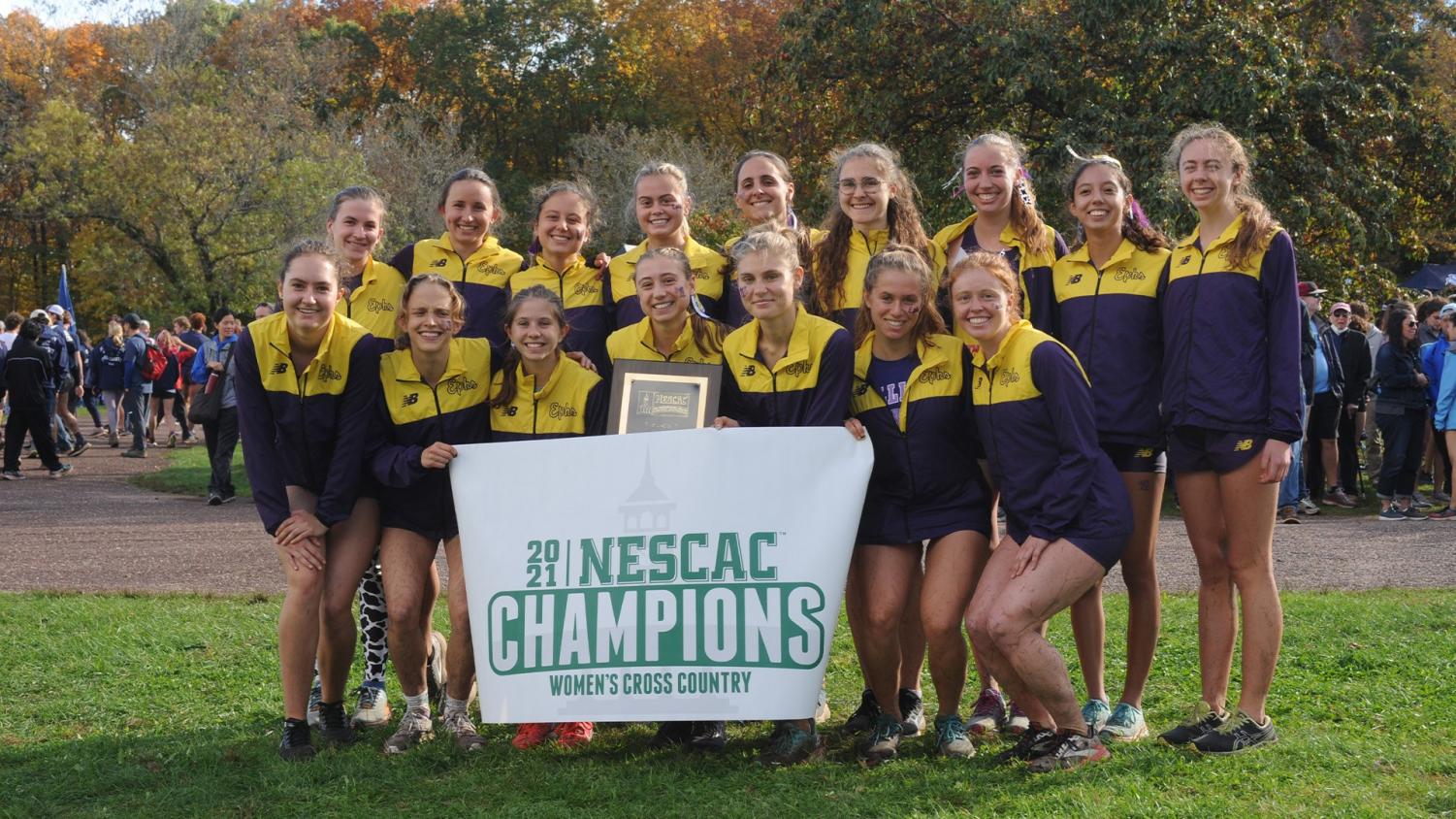 Women's cross country, men's cross country, and football all ended their seasons with NESCAC championship titles, beating out their conference rivals and, in football's case, going undefeated with a 9–0 record. Women's and men's cross country won NCAA Regionals and qualified for NCAA Nationals from there. They will compete this weekend.
Women's and men's cross country
On Oct. 31, the men's and women's cross country teams both won their respective NESCAC championships. This marks the women's 18th championship, and the men's 19th. The women defeated second-place Tufts by 13 points, while the men defeated second-place Middlebury by eight.
The first to finish for the women's team was Genna Girard '24, who placed 3rd overall in the women's race. Girard was followed by Ella Ball '25, Maddy Lawler '23, Grace Dailey '22, Charlotte Staudenmayer '25, and Molly Fitzgibbons '24. They placed 9th, 14th, 19th, 20th, and 21st, respectively.
Girard has consistently led the Ephs in their races this year and won the NCAA regionals meet this past Saturday, according to head coach Pete Farwell '73.
When Girard learned that the team had won NESCACs, she said she was incredibly happy and proud. "It was a super hard course and race, and the fact that we won showed how hardworking and tough the team is," she said.
Farwell credits the successful season to a collective team effort. "Ball and Lawler have been steadily up front for [the team], and a group of eight more have rotated in our top seven, giving great depth," he said.
The first Eph to finish for the men at NESCACs was Elias Lindgren '23, who placed 3rd, followed closely by Grahm Tuohy-Gaydos '25, who placed 4th. Following them was William Spollen '23, John Lucey '24, Charles Namiot '25, Simon Kissam '23, Nate Lentz '24, and Grant Gattuso '23, who placed 12th, 13th, 19th, 22nd, 57th, and 58th, respectively.
This season, Aidan Ryan '22, Lindgren, and Tuohy-Gaydos were consistently leaders, said Farwell. "The depth of the squad has all the others 'pushing others forward' and giving us the vital 4th and 5th scorers, which make the difference in cross country meets," he continued.
"[We] internalized the truth that having fun, being dedicated to training, and supporting one another through tough moments were all one in the same," Chris Avila '21.5, men's cross country co-captain, said while comparing this year's team to teams in the past.
Avila also gave some of the NESCAC title credit to Namiot, who lost his shoe with five miles to go. "[We] simply couldn't have won without his toughness," he said.
"T-Bear is our good luck charm and the key to our success," Avila added. "He's a three-foot-tall stuffed animal that has been on our team since the early 1980s."
Dailey said that her favorite part of the season was the empowerment she felt while pack running. "Pack running fortresses your mind a little from the barrage of thoughts telling you to slow down, give up, that this sport is a miserable waste of your youth… because you want to stay a part of the pack," she said.
Big highlights from Girard's season — apart from winning races — were bonding events that occurred off the course. One such activity was the team talent show. "Everyone, no matter ability level or if they were injured, was able to come together and support one another outside of running," she said. "It was super fun to see everyone's other talents and spend time as a whole team."
Football
On Nov. 13, football claimed the NESCAC title by defeating rival Amherst 24-19, securing its perfect season. This is the first time since 2010 that the Ephs have claimed the NESCAC title.
"It feels right," Joel Nicholas '23 said about the team going undefeated and winning NESCACs. "We have a special team this year… A lot of our seniors took a fifth year just for the season specifically."
"It was our expectation that we were going to go 9–0, and so anything less than that would have been a failure," Nicholas added. "Just because we had the expectation that we were going to go 9–0 doesn't mean that it was easy, it was not easy at all."
After not having a season for two years, the team underwent a big learning curve, according to head coach Mark Raymond. He said, however, that "as they got more experience, things got easier." Raymond attributed much of the team's success and growth to the team leadership from the captains and senior class as a whole.
Raymond marked Bobby Maimaron '21.5, Frank Stola '21.5, Nicholas, John Rooney '22, T.J. Rothmann '22, Jarrett Wesner '21.5, Ian Devine '23, Justin Burke '21.5, Rocco Giandomenico '22.5, and Ed Manzella '21.5 as some of the key contributors this season.
Besides winning NESCACs, Raymond keyed the team's first game as one of the most exciting memories from this season. "Taking the field Week One against Middlebury was a great feeling" he said. "Having missed the 2020 season made that day so special." Middlebury was also the team that won NESCAC's last season in 2019.
Nicholas shared the same feelings of excitement when the Ephs were able to take the field again in September. "Coming back was definitely refreshing," Nicholas said. "It felt like things were coming back to normal as soon as we put those pads on. That feeling was just great."
Apart from claiming the NESCAC title, the Wesleyan game on Homecoming was the season highlight for Nicholas. "We went on close to a decade-long losing streak to them, and so finally beating them was definitely a great feeling," he said. Since the last time the team won against Wesleyan was in 2012, no current player on the team had ever beaten Wesleyan. "So that was the last team that all of our seniors needed to collect all the wins throughout the NESCAC."