College's Veterans Day celebration brings together staff, faculty, and students who have served in the military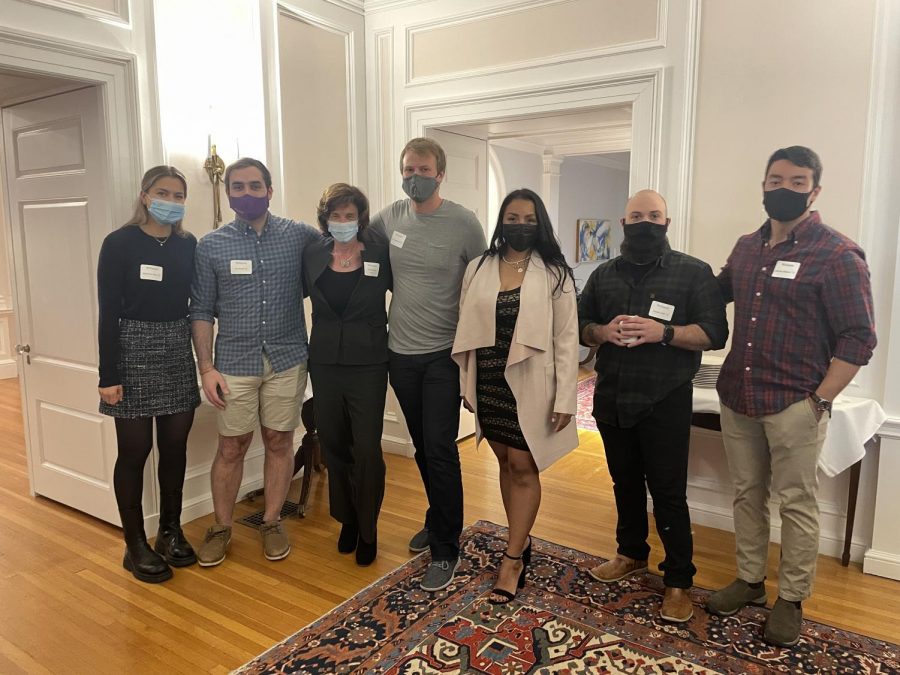 Clinking a spoon against her mug, President Maud S. Mandel welcomed 20 or so guests to the reception in her dining room with a few remarks, and asked them to introduce themselves. One by one, they shared their names and their military affiliation.
Since joining the College as president in 2018, Mandel has marked Veterans Day with the annual Military Service Members reception, which brings together military-affiliated community members from across campus. At this year's event, Mandel told her guests that this was one of her favorite events to host because it uniquely brings together students, staff, faculty, and alums.
Unable to hold the event last year due to the COVID-19 pandemic, Mandel expressed joy at being able to resume the annual tradition. "There's a good feeling and happy sense of being together after a year of not being able to do this," she said.
Although campus restrictions prevented alums from attending this year, the Society of Alumni hosted an online meetup for veterans and active military members a few days prior to Veterans Day, and Mandel has already extended an invitation for them to attend next year's reception.
Connecting veterans and recognizing their service
As conversation started to fill the room, between bites of mini crab cakes and sips of hot cider, it was easy to see the strong connection that exists among veterans at the College. "Anytime you meet other military members, you automatically have this baseline of understanding with each other," said Daisy Rosalez '25, a first-year student who served in the U.S. Air Force from 2014 to 2021.
Campus Safety Services (CSS) officer Pete Mazzacco, who served in the U.S. Air Force from 1985 to 1989, said that the event allowed him to make connections with student veterans in a way that he wasn't able to before. "I didn't know that those students served in the military," he said. "I've seen them around campus, but I had no idea until then, so it was nice to see them."
Similarly, Mandel said she wanted the event to be a way for connections between these different communities of veterans to be made. "They have a very distinctive life path and history, and finding others who share that history with them is meaningful," she said. 
Brandon Hashemi '23, who served in the U.S. Navy from 2014 to 2019, said he also valued the presence of non-veterans at the event. "Generally, a lot of people come out to support us whenever we have events," he said. "It just makes me feel good."
Joseph Grillo '24, who served in the Marine Corps from 2012 to 2020, contrasted the casualness of the event to "mandatory fun" events he had to attend during his service. "This didn't feel like a dog-and-pony show," he said. "It didn't feel forced; it felt genuine."
"We're all there as long as we want to be there," Hashemi added. "You could have gone there and left immediately, or you could have not gone."
Rosalez said she appreciated that this event created a space to honor veterans. "Across the country, there's been a lot of talk about holding space, not just emotionally for yourself, but also holding space physically," she said. "President Maud literally held space, not just for us, but symbolically for all veterans, and that was beautiful." 
This recognition was especially important for Rosalez in light of the Kabul airport attack on Aug. 26 — around when she was moving onto campus — in which 13 members of the U.S. military were killed. "It's very easy to live in this school and this Purple Bubble, as they call it, and to exclude yourself from the reality of events," she said. "The casualness of life here really bothered me. And the majority of the military members that died were the same age as most of the students here on campus."
"We do have family and friends that are serving in the military that do pay the ultimate price," Rosalez added. "And so I think it's really nice when the community here is aware of that and makes it a point to be more inclusive of the veteran community."
Building a community of student veterans
This year's reception highlighted the recent growth of the College's student veteran population. Having dropped from five U.S. veterans in the 2019-20 academic year to three last year, the group has now grown to seven — all of whom attended the event. Also in attendance was a student veteran who served in a foreign military.
Rosalez expressed support for admitting more veterans. "Our military members aren't very well represented in these top universities, which is such a shame because some of the most hardworking, creative, loyal and passionate, extraordinary individuals that I've met are in the military," she said. 
Mandel said that diversifying the student body is one of the College's goals. "We have really been seeking to grow our non-traditional student population, both community college students and the veteran population, and we've been steadily growing, and this event is an opportunity to bring together a subset of that group," Mandel said.
Hashemi said he felt that veterans were well-integrated into the College community. "We're not just here to be veterans to be shown around," he said. "We're here to be students because [the College community] appreciates the fact that we care about learning, just as everybody else here cares about learning and wanting to better ourselves through our education."
In her address to guests, Mandel also took the opportunity to highlight that fall 2020 marked the first semester that female veterans had attended the College.
Rosalez described how significant her admission to the College felt, especially as an Indigenous woman who did not take the traditional path to campus. "My admission really showed me that Williams was on a different path," she said. "They were evolving. They were transforming."
As the College continues to expand and diversify its student veteran population, Grillo and Hashemi, the leaders of the College's Student Veterans Association, plan to strengthen the student veteran community by forming connections with their counterparts at other NESCAC colleges.
Hashemi said he hopes to build a structure that will last. "In future generations, ideally 10 or 20 years from now, I hope that there are veterans who are still coming here … and the community still cares enough about its veterans to hold an event on Veterans Day, or to go out of their way to just understand that these people are a part of the community," he said.