As students struggle with mental health, unprecedented demand for therapy overwhelms IWS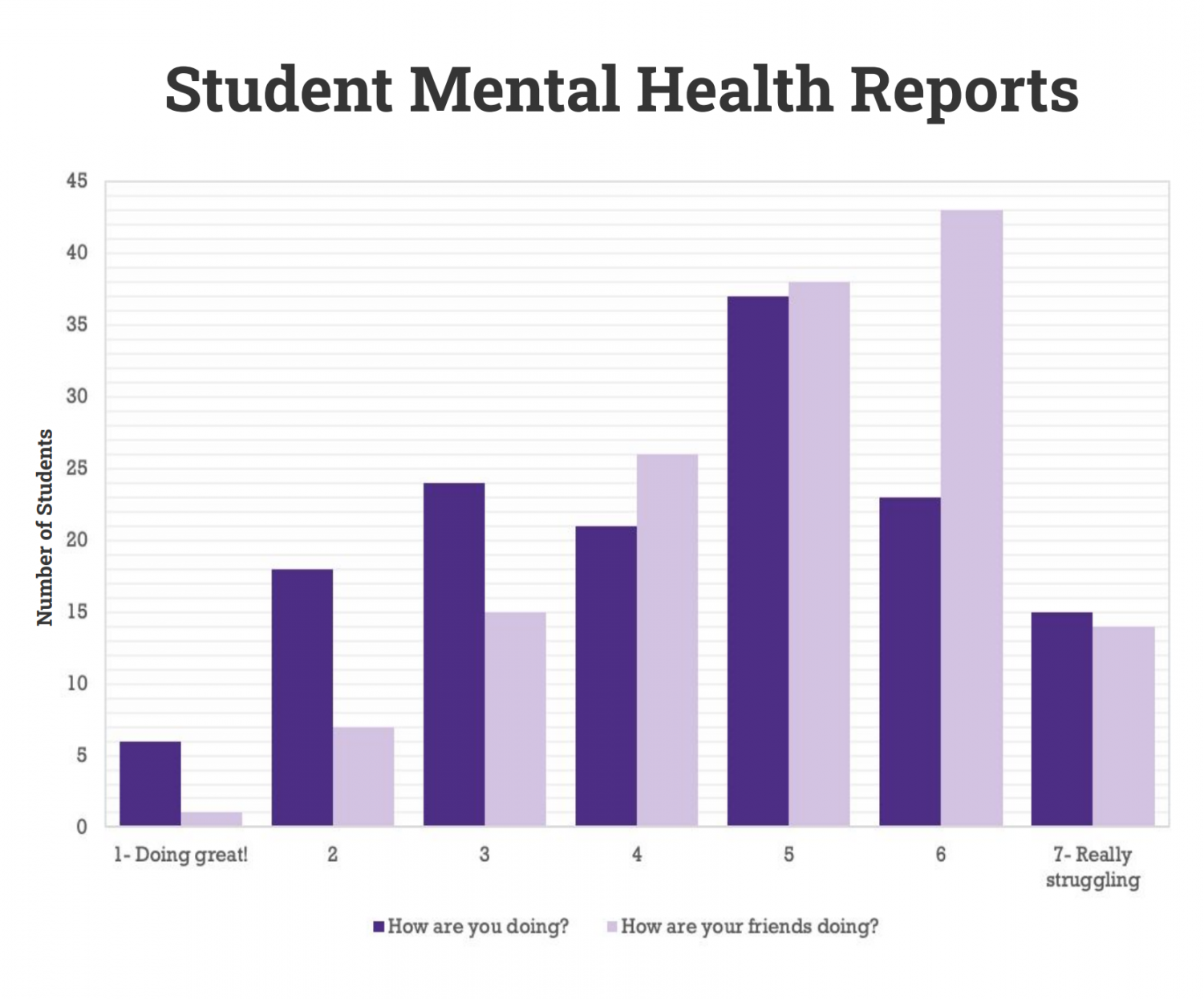 Amid a nationwide crisis in student mental health, a Record survey found that students at the College are facing significant mental health challenges this semester, while the College has struggled to keep up with unprecedented demand for mental health services. 
Integrative Wellbeing Services (IWS) has seen 549 students already this semester — about two dozen more than the 525 who visited IWS throughout the entire fall of 2019, which Director of IWS Wendy Adam said was its busiest ever semester before the COVID-19 pandemic. 
More than half of the Record survey's respondents (51.7 percent) rated their mental well-being at 5, 6, or 7 on a scale from 1 ("I've been doing great!") to 7 ("I've really been struggling"). Furthermore, 65.5 percent rated their peers' mental well-being at 5, 6, or 7 on an analogous scale. The survey was sent to 500 randomly selected student email addresses, and it garnered 145 responses.
These findings point to a national trend that Dean of the College Marlene Sandstrom and Adam referred to in a Nov. 1 email to the College community as an "emergency in adolescent mental health."
Sophia Trone '24 noted that the past year has been especially difficult for sophomores in light of the deaths of three members of the Class of 2024. One student died last fall and two students died over the summer.
"We're all really struggling," said Lulu Whitmore '23, a member of the Committee on Student Life. "And it's definitely gotten worse over the course of the semester." 
As a result of high demand, IWS has had to establish a waitlist for individual counseling appointments for the first time since January 2020, when it made the controversial decision to free up availability by shifting away from weekly 45-minute sessions. 
This year, the standard is half that, with most students seeing a therapist for 45 minutes every other week. Even so, Adam said that 50 students are already on the waitlist, with more requesting counseling every day. 
"It is unacceptable for an institution with this many resources and with such an obvious mental health crisis on [its] hands to fail its students in something so essential," Ashlyn Oh '23 said. "I think the school has a responsibility as an institution to make sure that students have access to medical and mental health resources."
Adam said that when it became clear over the last few weeks that a waitlist would be necessary, she met with senior administrators to devise ways to respond to the surge in demand for therapy. "They were basically saying, 'How can we make this happen? Let's figure it out,'" Adam said. "It felt terrific in terms of support." 
In that meeting, senior staff approved initiatives such as expanding the IWS psychiatrist's hours to a full-time appointment from the current 0.6 Full Time Equivalents, a change that will involve hiring a new psychiatrist through a national search. Adam said they will also seek to hire several therapists on a contract basis from across the state if possible. 
Many students who responded to the Record survey called on the College to hire more therapists. These demands draw upon a line of student activism that has thrived over the last few years, as exemplified by an October 2016 petition on change.org titled "Williams College: sell 4–5 marble slabs to pay for a new therapist at the Health Center," which garnered hundreds of signatures.
Adam said she understands why students often push IWS to expand its staff, but she stressed that even now, the College is "staffed a whole lot better, and has more resources, than the vast majority of colleges across the country." Moreover, Adam said, local and nationwide demand for therapy has made it much more difficult to hire more therapists at IWS.
In fall 2019, IWS relied on six contract therapists to supplement its regular staff. For most of this semester, it has had only one, and efforts to hire more have been unsuccessful because private practices in Berkshire County are fully booked, Adam said. 
Adam recommended that students use Talkspace, a teletherapy service the College subscribes to through which students can have four 30-minute video-sessions per month with a licensed therapist free of charge. Around 200 students use Talkspace, with 18 using it for psychiatry. Because Talkspace providers offer virtual therapy, they are based all over the country, and there are no waitlists.
Still, many students expressed hesitancy about using Talkspace, citing negative experiences with the platform or with teletherapy more generally. "It's definitely good that Williams has it for students that might prefer to use that," Trone said. "But to have Talkspace as a replacement for IWS is completely ridiculous to me."
Beyond the expansion of the College's mental health resources, many students in the survey called for faculty to take steps to support their students' well-being. Dozens of respondents cited the College's workload as a factor influencing their mental health, particularly in the context of the attempt to return to a state of post-COVID normalcy. 
"Mental health resources are great, but they don't get at the root of the problem," Deion Hammond '25 said. "A lot of the time, exhaustion just compounds over time, to the point that people don't even realize that they're drowning."
Maddy Lawler contributed reporting.