Darlingside, band of four alums, returns 'home' to perform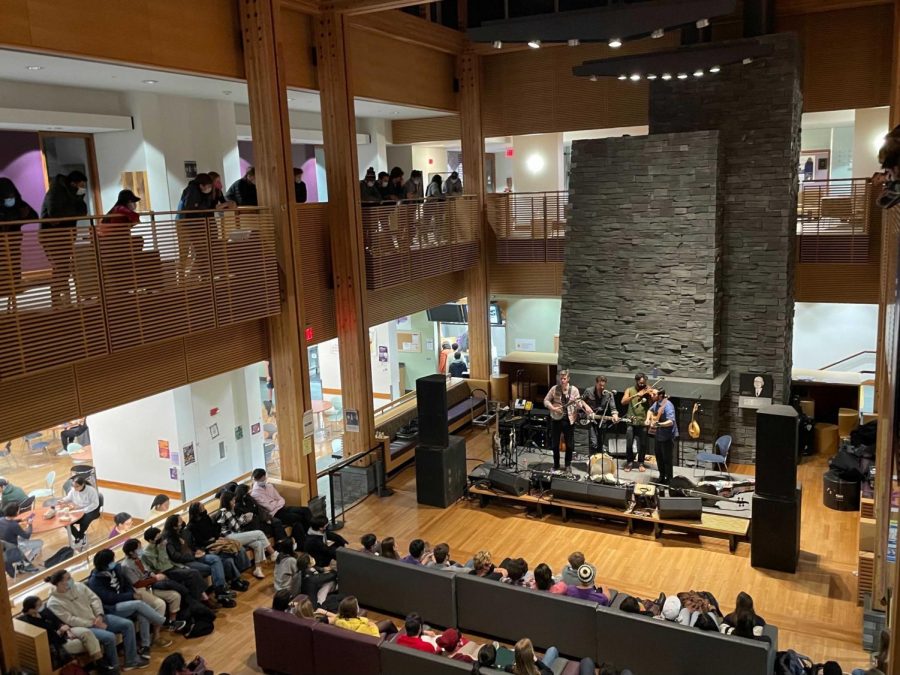 To Auyon Mukharji '07, one quarter of the band Darlingside, returning to perform in Baxter Hall on Nov. 5 felt like "coming home." Over the course of the evening, the band's first performance on campus since June 2019, Darlingside serenaded the College community, cracked jokes among themselves, and even inspired a short dance number from two audience members.
Ahead of Darlingside's concert, the Record interviewed Don Mitchell '06 — one of four members of the band — in Paresky, a place he described as both "familiar and not familiar." He spoke about the history and creation of the band, their song-writing progress, and their return to the College. 
Darlingside began the concert with five songs from their 2015 record Birds Say. They then played three songs from their 2020 release Fish Pond Fish, threw in a song from 2012's Pilot Machines, and closed out the show with two songs from 2012's Extralife. Their closing number, "Best of the Best of Times," was also played at Saturday's Homecoming carnival. 
Toward the end of the concert, two students rushed to the front of Baxter Hall and danced with each other. Audience and band members alike cheered. Darlingside, as the members told the audience, encourages dancing at their shows. But a slow-dance is "about as rowdy as it gets," Mukharji said. 
Along with Mitchell and Mukharji, the band is composed of Harris Paseltiner '09 and Dave Senft '07. Their time at the College overlapped for just one year, but they were all members of The Williams Octet, the College's  oldest a cappella group, and took, in different years, Artist Associate in Vocals and Songwriting Bernice Lewis's Winter Study course "Contemporary American Songwriting."
"It was just a gaggle of boys," Lewis said of her time teaching the band members. "When I had Auyon and Dave, they would stay after class a lot and run around the room and climb on the furniture while they were singing." 
Despite the chaos they wreaked, Lewis said she is a fan. "To come together as four nowadays is so unusual… and they've sustained it, and they sustain their relationships with each other," she said. "That is totally admirable."
Even though they did not take the Winter Study course at the same time, the band members felt connected as alums of the course. "There's sort of a community around [Lewis' class], and some mutually supportive songwriting," Mitchell said. 
After college, the band members separated to do "all of the responsible things that Williams students tend to do,"according to Mitchell, but ended up coming back together when Paseltiner graduated in 2009. "We started writing songs, and it kind of just worked," Mitchell said. "We figured that we liked writing songs, and why don't we give it a go for a year? And it just didn't stop."
The band's name is a derivation of Lewis' class motto: "Kill your darlings," or, take out an idea that may be dear to you because that idea might be the very thing holding you back. "Darlingside is to darlings as pesticide is to pests," Mitchell said. "We changed the 'C' to an 'S' just to have people not calling us 'darling-kh-ide' all the time."
The band members play, as Mitchell put it, "a smorgasbord" of instruments. Each plays some guitar and some keyboard. Paseltiner grew up playing cello; Senft plays bass guitar and kick drum. Mitchell plays banjo and sometimes dabbles in "atmospheric electric guitar stuff." 
At the College, Mitchell was an English major, Mukharji a biology major, Senft a math major, and Paseltiner a math and philosophy major. Mitchell said that his English major comes in handy during their songwriting process. Recently, the band has discovered a new songwriting strategy. 
"We'll do little poetry-writing exercises, or we'll do prose-writing, and then we'll pass it to the person to your right," Mitchell said. "They turn it into something with a meter or a rhyme …  We'll just have huge Google Docs filled with every iteration of exercise as you pass it around in a game of telephone and it morphs over time."
For Darlingside, it's not a question of whether the music or the words come first. Between their massive word bank and collection of voice-memo guitar parts, band members simultaneously find linguistic and musical inspiration to compose entire songs. 
 "I think we have enough trust where [we can just make] something and pass it off, and then really live up to the band name, and kill your darlings," Mitchell said. 
While Darlingside's songs do not feature any explicit references to the College, listeners should watch out for lyrics about mountains, especially from songs written in the early 2010s. "We are [often] writing a little bit surrealist lyrics that aren't as easy to break down into a narrative," Mitchell said. 
While each band member is a musician and lyricist, at the concert they revealed that they might also have a future in stand-up comedy. A running joke throughout the concert centered around a hypothetical "Big Tea" lobby. Mukharji introduced all the band members with tidbits about what they might be interested in at the College if they returned now — examples included taking French classes out of spite and botany classes in the hope of growing food. 
 As for their return to the College, Mitchell said that it was amazing being back. "Fall colors are hanging on a little bit later this year," he said. "It seems like they were hanging on especially for us, to give us the best kind of welcome that we could imagine."