A long-awaited Homecoming: Class of 2020 returns to campus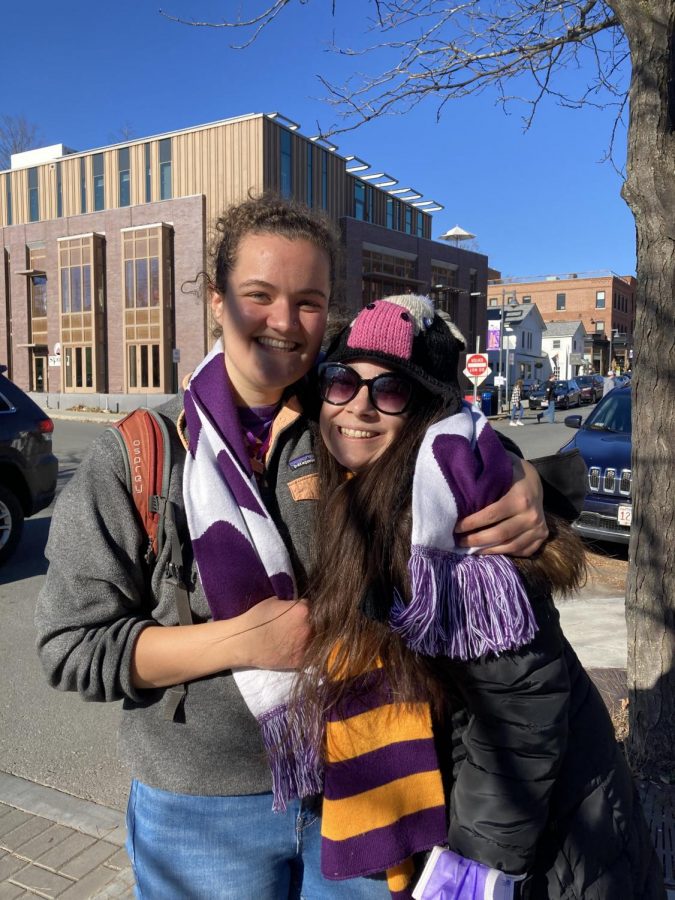 The Class of 2020 had its senior spring cut short by the COVID-19 pandemic, but this weekend, many members of the class came back to campus for Homecoming. For some, it was the first time they had been back since March 2020. With the football team's big win against Wesleyan, the bouncy houses at the Homecoming carnival, and a return to popular Spring Street restaurants, members of the Class of 2020 were able to enjoy a day back in the place they called home pre-pandemic.
Thea Lance '20 was living off-campus during her senior year, so when the College closed its doors in March, and students packed their bags to return home, Lance remained in the area. Returning to campus for Homecoming, however, was a reminder of just how special the College is, she said.
"I don't really think about it as much when I'm not here, but then when I come back, it just totally brings [me] back to how much I value this place and all the relationships that I had here," Lance said.
Brooke Horowitch '20 also made the trek back to campus, marking her first return since March 2020. "I feel like that made it all the more special," she said.
But Horowitch also said being away from the College for so long made the visit feel strange. "At times, it was a bit bizarre because [it was] such a familiar place and yet, I hadn't been there in a year and a half," she said. "I was so glad to be able to see a bunch of friends and former frosh who are now seniors and just spend the day with everybody. Everywhere you turn, there would be someone new to hug and freak out with — that was so special."
Lance also expressed that the environment of Homecoming was both exciting and nostalgic. "We definitely never had closure, so it kind of feels like we're coming back, we're back in college," she said.
For Jacob Lezberg '20, this weekend was not his first time back on campus since his senior spring. Lezberg lives in Pittsfield and has come to Williamstown to visit friends and go to the Clark a few times. But he said being back on campus with a large portion of his class made the day special.
"You keep in touch with some people, but it's totally different seeing them all in person," Lezberg said. "You run into a bunch of people that you didn't even think you'd see today, so that's exciting. It's a really good atmosphere."
Emma Levy '20 has also been living in Pittsfield since 2020 and has visited Williamstown a few times, but she said her previous visits felt lonely and sad compared to Homecoming. "It was the middle of September when I came to visit and it felt like finals season," she said. "You know that crushing [feeling] — everyone's a little bit sad. I was kind of expecting that when I came back to visit this year, but it seemed so incredibly normal and really great. It felt like Homecomings from the past."
Levy also said that seeing so many people together outdoors was especially exciting after going through the thick of the pandemic. "Having everyone outside and unmasked — seeing each other and getting to hug each other and eating lots of food and just having fun was really, really cool," she said. 
While Levy was happy to be back on campus, she said not knowing half the students currently on campus felt disorienting. "It was just a very weird combination of feeling very normal … and then at the same time seeing so many new faces and feeling like it was not exactly home anymore," she said. "I had this really awful moment when I couldn't remember the name of a building, and I was like, 'Oh my God, it's been too long.' [I had] lots of conflicting emotions. Like, this still feels so familiar, and yet it's not my home anymore."
With an in-person commencement for the Class of 2020 planned for July 2022, class officer Daiana Takashima '20 expressed uncertainty about how many of her peers would actually be able to return to commemorate a milestone two years after the fact. "I think it's just hard when it's two years out to be able to get as many people to come back for you," she said. "They're just moved on… but I hope people will be able to come back."
As one of those people who hopes to return for commencement, Lezberg said that being back on campus with his class for Homecoming made him even more excited for the Class of 2020's graduation. "I'm looking forward to whatever graduation we end up getting in a few months," he said.
After waiting a year to hear from the administration about plans for a commencement ceremony for the Class of 2020 and the frustrations felt by members of the class, Takashima said that Homecoming was a welcome reminder of not only of the appreciation she has for the College, but also of the College's appreciation for her and her class. "Williams does such a good job usually of making us feel so cared about that it's obvious when they're not putting in that effort," she said. "So I think that period was a time where I was just more shocked and just really sad by how they weren't putting in the effort for us."
She added, "I think it's evident … they're putting in the effort [with Homecoming], so it feels more like, 'OK, we're kind of back.'"