From classroom to the court: Faculty and staff find community in pickup sports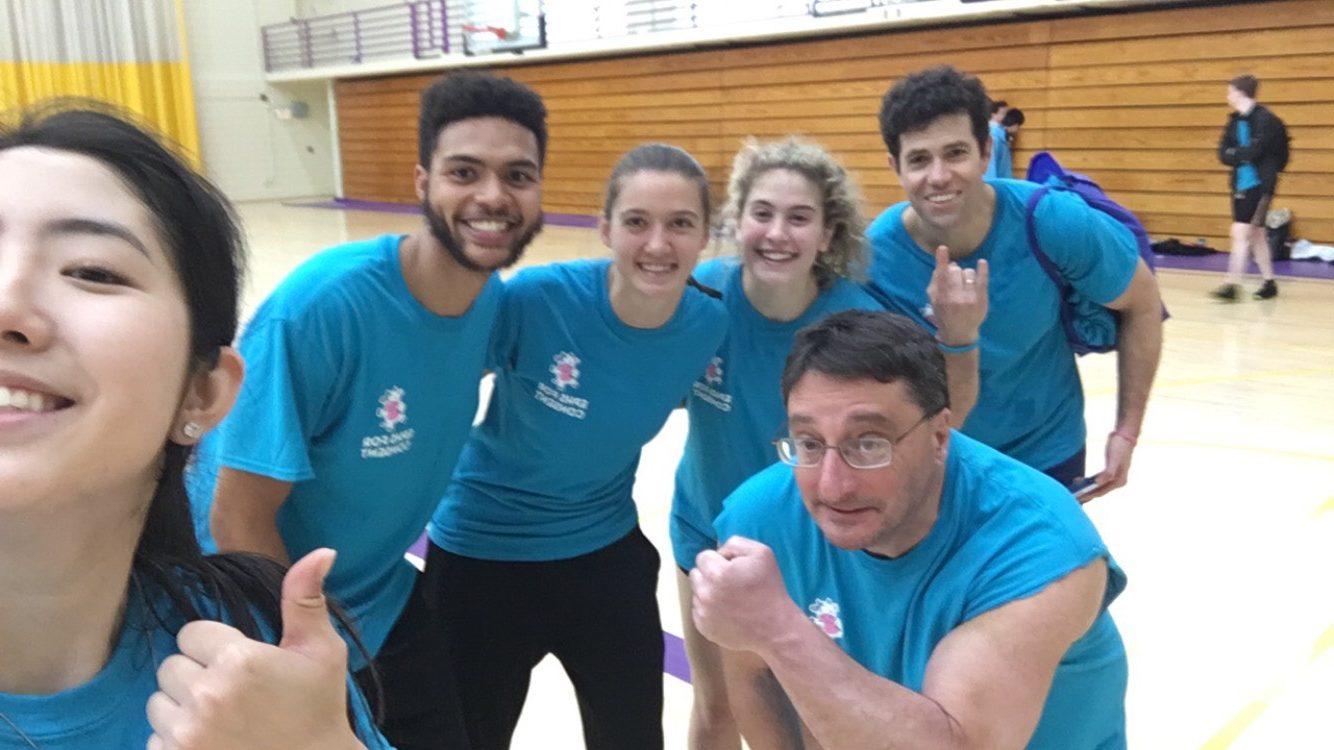 The College is known for its athletic student body — according to the athletics department's website, 60 percent of students participate in athletics at either the varsity, junior varsity or club level. But Ephs' love of sports extends beyond students: Many faculty and staff make time in their busy schedules to participate in athletics, competing against other College community members or Williamstown residents. The Record checked in with a few of these "non-student athletes" to hear about their athletic endeavors.
Intramural frisbee (IM) has long been a favorite among members of the College community. Professor of Economics Jon Bakija has been playing IM since 1999, the year he arrived in Williamstown.
"Since the fall of 1999, I think I've played every season, except when I've been out of town on sabbatical, and except for last year due to COVID," he said. Bakija started playing organized ultimate frisbee while he was in graduate school at the University of Michigan and hasn't stopped playing since.
Like Bakija, Chief Information Officer (CIO) Barron Koralesky has been playing ultimate for many years — IM is just the most recent of a plethora of experiences.
"As soon as I got to college as an undergrad, I just fell in love with ultimate immediately," he said. "I've played for 32 years. It's very crazy considering most of you are between 18 and 22, and I've played for 32 years — it makes me feel a little old. But the fact that I'm still playing makes me feel young."
A year after arriving at the College, Koralesky joined the IM league after being persuaded by students whom he met at pickup ultimate. "A number of students I got to be friends with drafted me to an IM team, especially Lane Davis '17," he said. Davis introduced him to the IM scene and La WUFA (Williams women's and trans ultimate frisbee team), for which he eventually became the advisor.
Koralesky said he doesn't have many opportunities to interact with students in his daily role as CIO. The opportunity to get to know students on a more personal level, therefore, is one of the most important aspects of IM for him.
"The friends that I've made through ultimate, both pickup and advising the team, have been really important for me to connect with students here," Koralesky said. "And when the alums come back for Purple Valley, or for something else, I get to see them, and I'm so happy."
Assistant Professor of Statistics Daniel Turek, who has played IM since his arrival at the College in 2016, echoed this sentiment. "I've played on IM teams with and against students of mine," he wrote to the Record. "I think it's fun. They get to see that I'm a real person outside of class, and I appreciate the casual environment, also, where I just go by Daniel (or just Turek is also fine)."
For Turek, IM also offers an opportunity to get involved in the sport of ultimate. "I play IM just to get a chance to play some disc … otherwise I wouldn't have any opportunity here in Williamstown," he wrote.
While IM builds community among frisbee-loving students, faculty, and staff, it also offers an outlet for competitive spirit. IM teams are drafted at the beginning of the season, and teams compete throughout the fall for the championship title.
"I think I've won the championship like the last two times in a row," Bakija said. "So I'm going for number three this year. And we're undefeated."
However, faculty and staff have forged relationships across team lines. Despite being on different IM teams, Koralesky and Bakija are good friends. When asked who they would most want to be on a team with, they both chose each other. "He's so nice, and he's also an excellent player," Bakija said about Koralesky.
"He's a terrific player — it is great to battle on the field," Koralesky said about Bakija.
Pickup basketball is also a popular pastime among some professors. Professor of Psychology Nate Kornell is a regular at these pickup games, using his formidable 6-foot- 3-inch frame to his advantage on the court. These pickup games are known to participants as "noon hoops".
"I started playing with the 'noon hoops' bunch in 2015," Kornell wrote to the Record. "[But] I've been playing [basketball] for 40+ years."
Assistant Professor of Computer Science Bill Jannen '09 has also frequented the lunchtime basketball scene since he was a student at the College.
"I started playing in the 'noon hoops' run when I was a Williams student and the unfortunate trifecta of a serious injury, a serious illness, and a general lack of athleticism ended my varsity career early," Jannen said.
According to Kornell, Jannen's varsity experience makes him a valuable asset on the court. "Among the faculty, Bill Jannen is the first one I'd pick," Kornell stated.
Jannen attributes his skills to his long history of playing organized basketball. "I played on the varsity team at my public high school, where I had some great coaches and some very successful teammates," he said. "One of my teammates played in the NBA, and three others played professionally elsewhere. I learned quite quickly how to pass the ball to them."
Even though there are no NBA players in noon hoops, lunchtime basketball games at the College attract a mix of faculty, staff, and community members, giving professors the chance to test their skills against their coworkers. "It's a great way to meet wonderful people with other roles at the College," Jannen said.
Sometimes students even join in. "Students bring a lot of positive energy, but I am still hoping that someday I get to see a student pass [the ball]," Kornell said. "No, just kidding, playing with students is fun."
"It's usually fun to play with senior athletes whose seasons have ended because they are in much better shape than I am," Jannen noted.
One of the most active faculty members in the pickup sports scene is Professor of Psychology Steven Fein, who plays both volleyball and softball in a local Williamstown league.
"I never really played volleyball other than in high school gym class until I stumbled into the volleyball group here in Williamstown about 15 years ago," Fein said. "But I've played softball, basketball, and other team sports all my life. And I've had a long, long list of injuries to prove it."
Fein has also participated in College-specific pickup games and organized tournaments. While the COVID-19 pandemic halted much of the possibilities for campus-wide competition, Fein has fond memories of past victories.
About two and a half years ago, student organizations working for sexual assault awareness and prevention organized a campus-wide volleyball tournament. Fein and two senior thesis students he was working with organized a psych team with some students and professors.
Playing alongside his intradepartmental peer Kornell, Fein and his team emerged victorious, despite being the only team with professors on it. "[Professor of Psychology] Noah Sandstrom was supposed to play as well, but he hurt his back, sadly," Fein said. "I think he was just too scared."
Along with volleyball and softball, pickup soccer is also a favorite among residents of Williamstown. Professor of Physics David Tucker-Smith and Assistant Professor of Physics Graham Giovanetti are often in attendance. "This is my 19th year at Williams, and I've sort of been playing off and on since I showed up here," Tucker-Smith said.
Giovanetti, who is in his third year teaching at the College, was introduced to local pickup by Tucker-Smith. "My first year here, I started playing [pickup], actually because David [Tucker-Smith] told me about it," Giovanetti said. "During COVID, there was nothing happening, but they've since [resumed] this summer again."
The physics department representation in local pickup games is not just limited to professors, according to Tucker-Smith. "A couple years ago … we had an unusual number of really good soccer-player physics majors," he said. "They would show up and run circles around us old folks."
Fein also enjoys the opportunity to see his students outside of the classroom through sports. "We've had volleyball and softball games where I've played with and against my students," Fein said. "It's always been a lot of fun, and none of them have killed me yet. Although as I get older, that's only a matter of time, I'm sure."
While the appeal of competition remains ever-present, the most meaningful part for Jannen is the community that these sports sustain. "Life, especially at Williams, can be very stressful and isolating," he said. "I think it is important to have a community and an activity where you can be yourself and unwind. Pickup basketball has always met that need for me."