One in Two Thousand: Maddy Andersen '25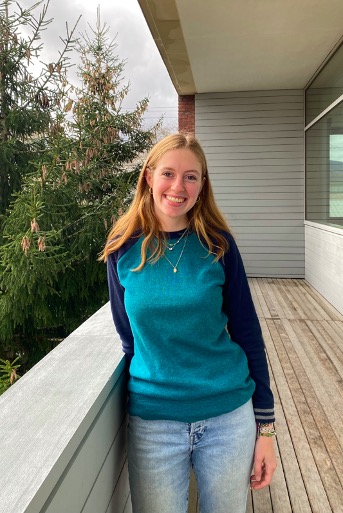 Each week, we randomly select a unix from a list of all current students at the College for our One in Two Thousand feature. As long as the owner of a selected unix is willing to be interviewed and is not a member of the Record board, that person becomes the subject of our interview. This week, the computer (using a script in R) chose Maddy Andersen '25, who talked about the crew team, friendship bracelets, and Halloween near-debacles. This interview has been edited for length and clarity.
Shizah Kashif (SK): How has your morning been so far?
Maddy Andersen (MA): It's been nice. I woke up, and then went down to Goodrich, just got some coffee and a bagel, and got ready for this interview.
SK: Go-to Goodrich order?
MA: I like a plain bagel with chive cream cheese and then an iced oat-milk latte with caramel. 
SK: That sounds beautiful. Also, you mentioned earlier you had a race yesterday. Tell me more about that.
MA: Yeah! This fall I walked onto the crew team, which was super exciting. I didn't play a sport in high school and I was like, "I'm just going to completely mix it up, do something totally different at college and Williams." And so, I decided to join the crew team. Both my WOOLF [Williams Outdoor Orientation for Living as First-years] leaders were on crew [and] another girl in my entry was joining, so it just sound[ed] like there were a lot of forces kind of pushing me towards this. This whole season has been really exciting, learn[ing] to do something completely new from scratch. Like, I had no idea how to row or erg, and now, I know how to do both of those things. 
SK: That's really exciting. I've heard you're also a big fan of the outdoors.
MA: I'm from Brooklyn, but a lot of my dad's family lives in Vermont, and I've gone to summer camp and worked at a summer camp in upstate New York. So I spent a lot of time outside hiking and swimming. It's been really nice, in terms of crew, to have a chance to go off campus every day. We drive to Lake Onota everyday, which is about 30 minutes away. Recently the sun's been setting while we've been on the water, and it's just beautiful. Our coach sometimes has us take these "nature moments," where you just stop and really look around — look at the sunset or the mountains and gaze at the Purple Valley. I think one of the things I like about being here at Williams has been all the opportunities to get outdoors and go hiking, whether that's through WOOLF or Mountain Day — I've done some WOC hikes as well. Previously, I was living in the city, which I also love, but it's been kind of cool to have this moment to be connected and in nature. I'm really enjoying that.
SK: I love that for you. Also, I noticed you're wearing a lot of bracelets right now. What's the story there?
MA: Yeah, I have a ton of friendship bracelets on my wrist, which I've had for a really, really long time. Some of them I've had on since, like, 2015, which is kind of crazy. People usually ask, "Oh, do you make them?" and I've made some of them, but a lot of them are gifts. I made a lot of them for my campers and my friends and then, kind of in return, they made them for me. During the pandemic, when I wasn't at camp, it was really fun to do them because they provided this sense of connection. I would make them while listening to my online classes and stuff. I really enjoy it, but more generally, I think it's just like a really fun way to be creative and have a little token of the summer with you throughout the whole year. I get lots of compliments on them because I don't take them off and they're quite visible.
SK: They do look really pretty. That's a lot of summers on your wrist right there. But let's move away from the summer for a minute: Halloweekend. How did it go? What was your costume?
MA: So, I went as a cowgirl, with a cow-print dress and a cow-print hat. Classic first-year-at-Williams costume, you know. I ordered my dress from Target, … but I ordered it well in advance because I knew there were lots of shipping crises that I didn't want to be involved in. So, I got an email saying that it had been delivered, but I never got an email from the mailroom, and it wasn't in my mailbox at all. And then I checked the UPS's tracking order, and it said that my order had been returned to the sender.
SK: No!  
MA: Yep, which was quite awful. I spent one Friday afternoon trying to track this package. The mailroom didn't know where it was. UPS had no tracking on it anymore. The post office didn't, either. I eventually called Target and they were like, "Oh, the post office is sending it back to you," but later that day they refunded me for it. So, finally, I had to reorder the dress. But it turned out OK, despite the fact that I had to reorder. I got lots of compliments, and I'm glad it kind of sorted itself out. I had matching costumes to some of my friends as well — we were all kind of variations on the cowgirl theme. So, it was really fun to be able to participate in Halloweekend in the way that I wanted to initially. 
SK: I'm really glad that worked out for you. This is a bit of a tonal shift, but I've heard you're really involved in Shabbat dinners on campus too?
MA: Yeah. I am Jewish, and I was very involved in my Hebrew school and community in high school, from kindergarten up until 12th grade. Most people kind of stop after their bar or bat mitzvah, but my class was really, really close. And so, we continued to go [to Hebrew school]. Throughout high school, we did a lot of trips together. We went to Israel, and we also went to the American South. We went to Washington, D.C., to learn how to lobby, and then we also went to Poland and Germany to learn about life before, after, and during the Holocaust in Europe. So, I was very connected to my synagogue and was also on my synagogue's youth group board for planning events.
Coming to Williams, I wanted to still be connected in some capacity, so I've been going to Shabbat dinners as much as possible just because I think it's really nice to have a Friday night with other people who are also Jewish. I don't think it's necessarily the same connection I'd had with the people at my Hebrew school — which is understandable because I knew them from kindergarten — and I'm still just kind of getting into the Jewish community here, but it's nice. I have a Jewish "big sib" as well. I just had coffee with her, which was really sweet. And Rabbi Seth Wax actually knows my rabbi from home, so that's a really nice connection. I haven't done a ton outside of Shabbat, but it's nice to sit down for a meal, see people week to week, and just feel connected at Williams.
SK: That sounds lovely. What was your trip to Israel like? I'm really curious.
MA: It was in eighth grade. And so, it was a long time ago, and I wasn't fully aware of all the dynamics that were present in the conversation about the country. I think it was really interesting, but it has led to a lot of conversations within my group about what that trip was like: What does it mean that we get to go on a trip to Israel in the eighth grade, and about all the conflict that's happening there? I think it was very interesting to have been there. But I don't think that I was fully aware of all the nuances at the time. And I think it's been kind of good to be able to reflect on it since then. 
SK: Here's one for the clichés — what's your story coming to Williams?
MA: My dad actually grew up in Massachusetts, and he ran track in high school. Because he was in Massachusetts, he was attempting to be recruited by Williams, and they even came to watch him run a couple times. He applied to six schools, because that's what you could do back in the day, and he actually got into five and was waitlisted at one — and the one he was waitlisted at was Williams. So, it's very funny to actually be at Williams. When I got in, he was like, "This is my redemption arc, 30 years later, my revenge story!"