In Other Ivory Towers: Lafayette students protest Greek life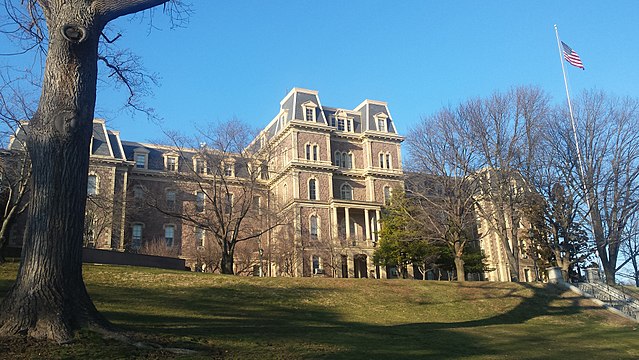 In recent weeks, protests against Greek life have erupted at the University of Massachusetts Amherst, Northwestern, the University of Mississippi, and other colleges across the nation. At Lafayette College in Pennsylvania, calls to abolish Greek life have been intensifying for more than a year, documented by the @AbolishGreekLifeAtLaf Instagram account.
The account, which has accrued more than 1,000 followers, lists nine reasons to abolish Greek life: racism, classism, interpersonal violence, transphobia, homophobia, alcoholism, safety, sexism, and ableism. Other posts include attributed and anonymous answers to the question, "Why abolish?" Two other Lafayette Instagram accounts, @anti.violence.laf and @black.at.laf, share reports of violence and racism committed by Greek life organizations.
In the spring of 2021, Lafayette's Vice President for Campus Life Annette Diorio wrote in an email to all Greek life organization presidents, "There has not, in the twenty years I have worked at Lafayette, been a higher level of anti-Greek sentiment than we have seen over the last few months."
In March 2021, The Lafayette, the campus's student-run newspaper, interviewed women who had left their sororities, and found that they initially joined for two reasons: peer pressure and social opportunities Their reasons also included issues with the rushing process and a lack of racial and LGBTQ diversity.
While Greek life continues, students who refuse to or cannot find a place in it are seeking alternatives. Lafayette alum Lulu Kirtchuk '21 created a club in her senior year called SHEESH, which she described to the Record as "an alternative social, professional, and academic space for women and nonbinary people on college campuses."
Kirtchuk was a member of sorority Pi Phi her sophomore and junior years but quit in her senior fall. After quitting, she released a statement on the @AbolishGreekLifeatLaf Instagram account calling for the abolition of Greek life. "I would rather put my voice and power towards creating a more welcoming Lafayette than accepting the flimsy cards Lafayette and national [Greek life chapters] continue to deal," she wrote in the statement.
Unlike Greek life organizations, Lafayette students do not have to rush to join SHEESH. The process to join is open year-round and involves a recruitment form consisting of basic questions and then attendance at four events.
SHEESH — and Kirtchuk — faced opposition early on. "I was afraid to walk out of my house," Kirtchuk said of the time after she released her statement. An anonymous report to the Lafayette administration also criticized SHEESH for being "way too similar to Greek life."
Kirtchuk pushed back against the accusation that SHEESH is too similar to Greek life. "Do you think it's similar to Greek life, or are you just not used to an organization being primarily women and non-binary people?" Kirtchuk said to the Record. Ultimately, though, she said that she believes the Instagram posts started "necessary" conversations.
Cia Negron '23, the current president of SHEESH, said that SHEESH has held general discussions where students can ask the executive board questions and provide suggestions or concerns.
As of last spring, according to The Lafayette, Lafayette was looking to build more community-based housing independent of Greek life. This year, however, students have continued to rush Greek-life organizations, even after a 2020 campus-wide survey in which 71.4 percent of Greek-unaffiliated students indicated that Greek life negatively affects social life at Lafayette.