Family Day held in person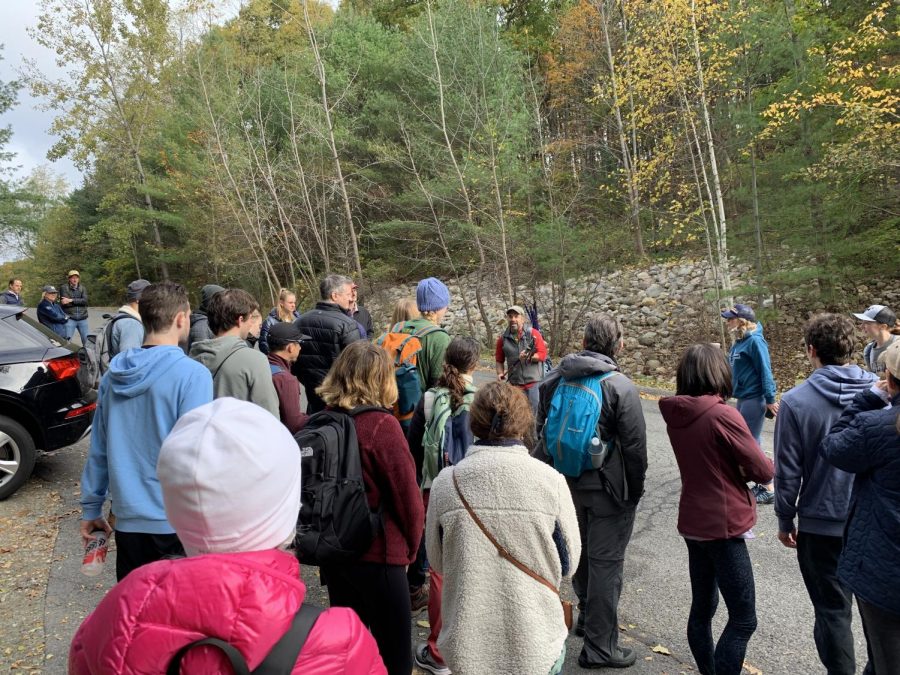 After a virtual version in fall 2020, the annual tradition of Family Days resumed in person on Saturday — this time as Family Day, singular.
"As much effort as would have been put into a virtual event, it's simply not a substitute for being at Williams," Rob White, director of parent and family programs said. "We're trying to make it possible for families to visit campus while also keeping students, faculty, and staff safe and healthy."
Until mid-September, the College had tentatively planned for Family Days activities to run from Friday through Sunday, as they would in a regular year. At that point, however, "it became clear that Berkshire County CO- VID infection rates weren't abating, and that our current campus policies weren't going to loosen up," White said.
The College's current visitor policy states that, with the exceptions of Sawyer and Schow Libraries, the Williams College Museum of Art, and weekly lunch services at the Faculty House, off-campus guests are allowed only in outdoor spaces.
White said that the traditional Family Days, spanning the entire weekend, were limited to one day of events on Saturday because of this policy. "Most Friday and Sunday programming for a normal Williams family weekend can only happen indoors, including Friday classroom visits and Sunday faith-based gatherings," he said.
Even with safety measures in place, "a single day's worth of programming is a safer strategy than three days' worth," White said.
Saturday's activities included campus tours led by student ad- missions guides, hikes of varying difficulty levels with the Williams Outing Club, and an assembly with talks by President Maud S. Mandel and Dean of the College Marlene Sandstrom.
In her remarks, Mandel said that this academic year "is neither like last year, nor is it like any other year prior to that."
"Family Days is one of those things where a lot of innovation and work went into rethink- ing systems and ways of doing things," she continued.
Family Day events also included the panel discussions "Inside the Williams Classroom" and "What Your Student Should Know About Internships, Jobs, and Leveraging the Williams Network," followed by 13 student music, dance, and comedy performances at an afternoon-long jamboree on the quad.
White stressed that only around a fifth of students had family visit campus for Family Day. All major events, including the assembly, panel talks, and performances, were livestreamed on the Family Day webpage so that people unable to attend in person could still participate. The College also made recordings of sample classes available online, in part to make up for the lack of in-person class- room visits this year.
Ella Ball '25 said that her father, who lives in California, texted her throughout the day about the events he was watching on the livestream."I think he definitely had a bit of FOMO about not being able to be here," she said. "So having access to it, even virtually, was very nice."
Michael Keegan '25, whose family lives in Michigan, said his parents had already booked their flights well before the College's change in plans. "I know they were kind of disappointed because their one chance to see the College is really short," Keegan said.
Keegan's family decided to still make their planned overnight trip despite the lack of programming on Friday. "It's basically a vacation for them and they're going to be here anyways," he said ahead of their arrival. "I'm kind of excited because it's basically just going to be them and me on Friday. Coming from so far away, it's my only chance to see them."
White described family engagement in the 2020 virtual Family Days as "pretty lackluster" based on the web traffic patterns. So giving parents the opportunity to come to campus was a priority for the College this year, White said.
White expressed gratitude that families were understanding of the weekend's unusual format. "I honestly thought that there'd be some entirely understandable blowback," he said. "Instead, the response to our September announcement was basically, 'We totally get it, and we're grateful that Williams is offering us any opportunity to visit our students.'"