BFFs stands for Best Faculty Friends: Professor pals bridge interdepartmental divides
I remember, as a young child, wholeheartedly believing that my teachers lived under their classroom desks. While we went home every night, my classmates and I could not fathom teachers having lives outside the walls of my elementary school. Most of us grow out of this conviction well before adolescence, but the feeling that teachers, and later professors, exist primarily in the classroom lingers into young adulthood. 
Associate Professor of Biology Matt Carter remembers subscribing to this belief once too. "I felt that way as a college student," he said. "Like, I just always thought that it was really cool when I saw two professors who I didn't know knew each other — because they were on different floors or something — eating lunch." 
Now, as a professor himself, Carter said he can confirm that this is, in fact, not true. Professors too, he said, have social lives, hobbies, and — believe it or not — friends. For many faculty members at the College, friendships with coworkers arise naturally, in shared office hallways or weekly department meetings. There are other duos, however, whose connections overcome departmental divides. To get the real scoop on professorial pals, the Record sat down with three pairs: Carter and Associate Professor of Mathematics Julie Blackwood, Assistant Professor of Biology Cynthia Holland and Assistant Professor of Psychology Shivon Robinson, and Professor of History Tom Kohut and Chair and Associate Professor of Religion Jeffrey Israel.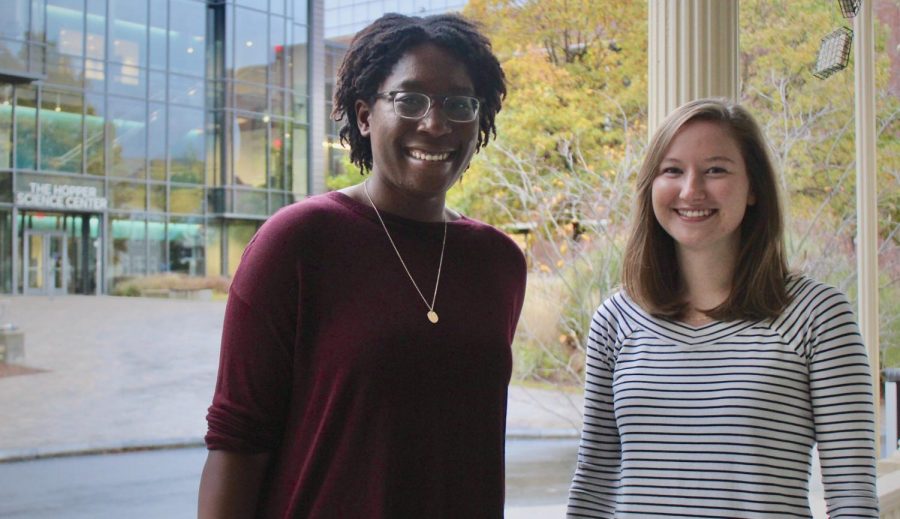 Cynthia Holland (biology) & Shivon Robinson (psychology)
Holland and Robinson first met during new faculty orientation before the start of the fall 2019 semester. Robinson was beginning her first semester teaching at the College, while Holland was slated to start that spring. In January, once Holland had relocated to Williamstown, the duo ran into each other again at a science faculty lunch and became fast friends. 
"I think it was just nice to have another young, woman faculty [member]," Robinson said. "Being a young faculty [member] in a small, isolated community, it was nice to have someone in your peer group that you can hang out with, chat [with] academically — but also outside of the job."
When the COVID-19 pandemic shut down campus in March 2020, Holland and Robinson had been living in Williamstown for only a few months. Far from family and many of their friends, the duo, along with their respective husbands, leaned on each other for support.
"During the initial phases of quarantine, we had a little pod going," Robinson said. "That was really helpful for me."
Their favorite quarantine activities? Cooking dinner, playing board games, and getting takeout from local Mexican restaurant Coyote Flaco. When COVID made it difficult to go home for the holidays last winter, they even celebrated Christmas Eve together.
Over last summer, the four friends drove down to Tanglewood in Lenox to attend an outdoor concert. To make the most of the academic calendar's elongated summer break, they also went on a vacation to Cape Cod. "It was a fun time," Holland said, explaining that they mostly spent their time relaxing on the beach.
While the pair's academic interests differ, both women expressed how much they appreciated having someone else who understands the experience of relocating to a remote college town and navigating the world of undergraduate teaching. Though it can be difficult for partners of faculty members who don't have the built-in social network of the College to find community, Robinson said their husbands have also become close friends. "My husband is very happy to be friends with yours," she told Holland, laughing.
"Same," Holland replied.
Despite their close friendship, the pair still run into students who know them both but are shocked to see them together. "I think sometimes it is hard for students to realize that there's a lot of interactions happening across the College," Robinson said. "And I think that's what makes it such a cool, interdisciplinary place to be, as opposed to a big research university, where I would never interact with a plant biologist."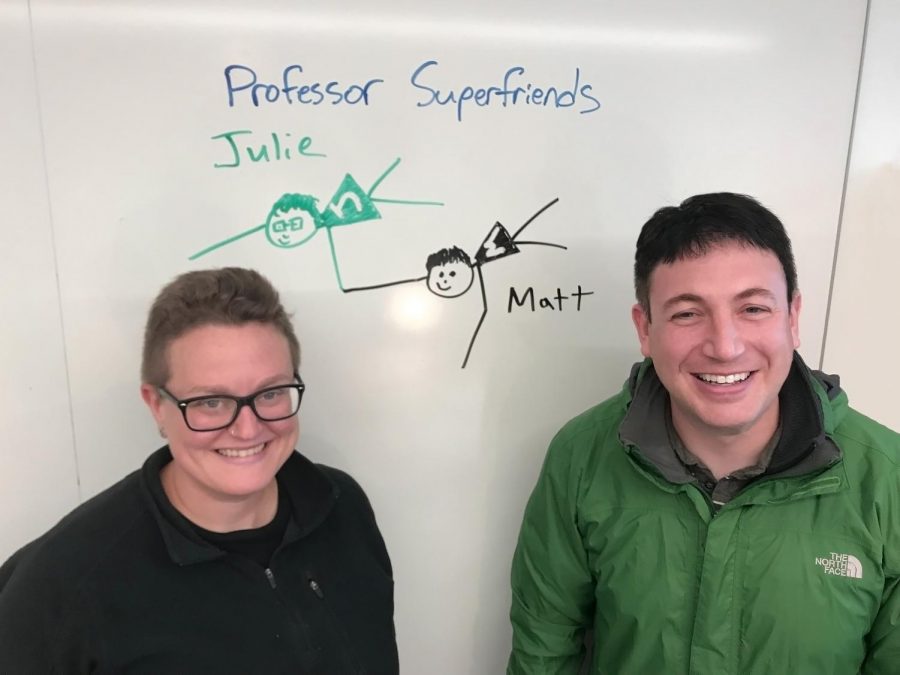 Julie Blackwood (mathematics) & Matt Carter (biology)
Like Robinson and Holland, Blackwood and Carter started at the College in the same year and connected at events held for new faculty members. "And then I unfortunately realized I liked you," Blackwood told Carter, recounting their first interactions.
"And I put up with it," quipped Carter in response.
Despite their sarcasm, the two have become close friends in the eight years since they met. Their daughters, who are around the same age, have been friends since birth. Blackwood and Carter were the only two Div. III faculty members up for tenure in 2019, and said they have leaned on each other for professional and personal support through the years.
Often, Blackwood and Carter can be spotted on midday walks around campus, sometimes stopping at what Blackwood called "the good coffee room" in Hollander Hall. "Sometimes for fun, we fire up the ol' engines and hop on over to Hollander for a coffee that's not made by the coffee machine here in the science center," Carter said. "It's easily 1,000 times better."
While both teach in Div. III and are interested in the natural sciences (Carter teaches biology, and Blackwood researches the math of ecology), their academic interests are fairly disparate. Still, they often end up teaching the same students and said they get a kick out of seeing the surprised faces when they name-drop each other in classes.
"I use Julie for street cred," Carter said, laughing. "I'll be like, 'Oh, yeah, I'm gonna have lunch with Professor Blackwood.' And that buys me some street cred."
Their friendship has not been without its share of healthy competition, though. On three occasions, Blackwood and Carter have gone head-to-head in faculty committee elections. Blackwood has won twice; Carter has won once. That time, he said, he took it upon himself to campaign against Blackwood, making spoof negative campaign posters of Blackwood and hanging them only in her office. "A private, personal smear campaign intended for an audience of Julie," he said. 
Most recently, the pair faced off in a Faculty Steering Committee election. "In the most recent one, we voted for each other, I think," Blackwood said. "At least, I voted for you."
"Oh, you did?" Carter replied with a grin. "I did too. That's what we have in common: We both voted for me."
At one point in their conversation with the Record, Carter and Blackwood asked if any of the other faculty friends interviewed had said anything more interesting than them. "We have to outdo them in terms of how entertaining we are as friends," Carter joked.
They then proceeded to throw out some potential friendship activities they would hypothetically be doing together, in hopes that they could outmaneuver the other pairs. "We are going to go on Jeff Bezos's rocket," Carter said.
"They didn't report about ours," Blackwood responded. "The one they reported on, that was actually the second [mission]."
In reality, the two share funny memories much closer to home and have been there for each other for some of life's biggest moments — from tenure announcements to their children's milestones. "I tried to teach his daughter how to nature pee, and she peed all over herself," Blackwood said. "It didn't go well, but she was very proud of herself, and she didn't seem to notice she was soaking wet."
Tom Kohut (history) & Jeffrey Israel (religion)
Kohut and Israel credit the dean of the faculty for their almost decade-long friendship. When Israel arrived at the College in 2013, Kohut was assigned to be his senior faculty mentor. Then-Dean of the Faculty Denise Buell's instincts in pairing them together, they said, were spot-on, and the pair connected immediately.
"We were matched like on one of those dating sites," Israel joked.
"The dean of the faculty dating site!" Kohut replied, laughing. 
All kidding aside, Kohut said, there are uncanny similarities between the duo's biographies. "We have an incredible amount in common, actually, even though I'm vastly older than Jeff," Kohut said. "We both went to Oberlin. Our partners both went to Oberlin. I grew up at the University of Chicago, going through their entire educational system up until Oberlin; Jeff went to graduate school at Chicago. Both of us [lived] in Cincinnati."
Although the two professors work in different departments, their academic interests also overlap quite a bit. Kohut primarily studies 20th-century German history, focusing specifically on the Holocaust and its reverberations. Israel focuses on Jewish American culture and thought. Both also share a fascination with psychoanalytic theory alongside a deep investment in Judaism. "Two excessively self-reflecting Jewish guys who went to Oberlin," Israel quipped. "How could it not [work]?"
Though the pandemic has curtailed their ability to see each other in person, the pair and their families have become very close over the years. "What we used to do, and what we'll do again, is our families would get together," Israel said. "And also, Tom and I would sometimes just go out for the evening and get some drinks and just linger and talk about everything into the night."
Kohut said that, to him, the pair's connection is emblematic of the intellectual environment that the College fosters. "We live the liberal arts, just like the students, because we interact with so many people in so many different fields," he said. "And I love that aspect."