Club sports grapple with issues of funding, access, and equity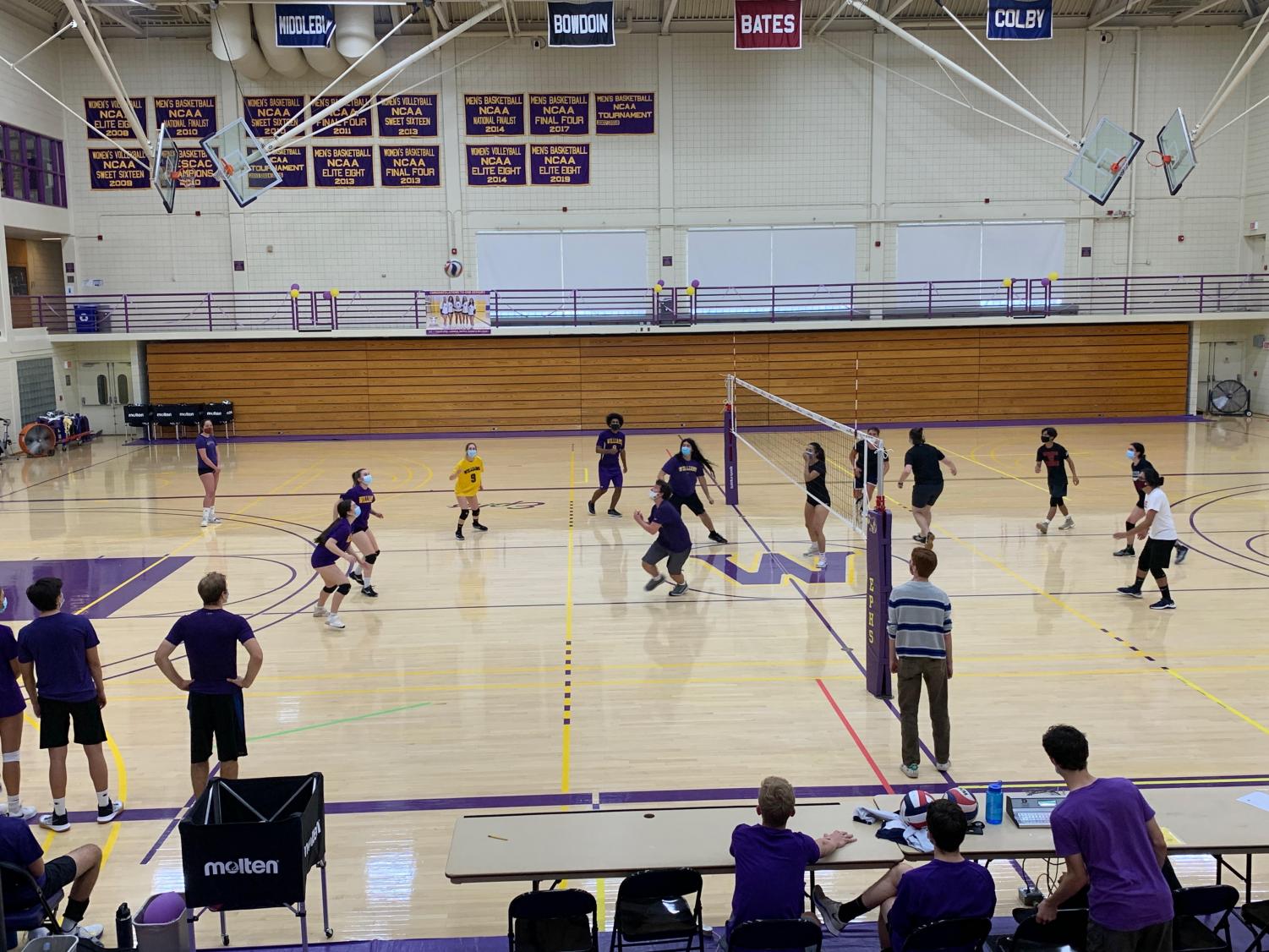 For many students, club sports form a significant aspect of their time at the College, providing a meaningful, open community. "As a water polo team, we pride ourselves on being truly welcoming to truly anybody, whether they know how to swim, know how to play water polo, or truly not at all," said Lizzie Ferguson '22, treasurer for both the women's and co-ed club water polo teams.
However, the COVID-19 pandemic and a bumpy transition between funding systems in recent years have brought to the forefront issues of scarce funds and perceived disparities with varsity teams — issues that club sport members say challenge the values of inclusivity that their teams are based on.
History of club sport funding
The process of securing funding for club sports has varied greatly over the years, making it fraught with confusion and ambiguity for many club athletes. After the spring 2020 abolition of the College's former system of student government, College Council (CC), responsibility for the allocation of funds to club sports was delegated to Facilitators for Allocating Student Taxes (FAST). For the 2020- 2021 school year, club sports submitted budget requests to FAST the same way all other registered student organizations on campus did.
"They were treated like every other club," said Spencer Huang '24, the FAST representative for club sports and competitive teams. "Clubs would send in a budget proposal, or if they wanted funding, they would send in a supplemental budget asking for very itemized lists, like food or hotel rooms or squash balls and that kind of stuff."
This system did not last for long. In accordance with a recommendation in an external consultant's November 2019 report on CC, a new Club Sports Council (CSC) was established starting this school year to provide club sports a more direct line of funding.
"The Club Sports Council was established to aid in supporting club sports [that] traditionally have different and repetitive kinds of needs which differ from other clubs," Assistant Director for Student Organizations and Club Sports Kris Hoey wrote in an email to the Record. "[The council] will allow us to establish more oversight in some areas and apply some creative freedom in others to see a more tailored approach to assisting club sports in the pursuit of their passions."
Headed by Hoey, CSC is made up of 16 student representatives, one from each club sport. The council receives a budget from the College that is then divided among each sport by a smaller executive council within CSC itself. Hoey approves the final funding allocation. For some club sports athletes, the transition has proved sudden, and the process by which funding was allocated seemed unclear.
"In all past years, we got exactly what we asked for," Ferguson said. "Then this past year, we submitted a budget as normal and then just got a flat $5,000 for each team that didn't seem to really consider what we submitted as a requested budget, which were our required needs for the team."
But not all effects of the switch from FAST to CSC have been negative, students said. While club sports previously had to submit budgets that detailed all the costs down to every piece of equipment, the lump-sum approach of CSC offers teams more latitude with spending, co-captain of club volleyball Hisham Tadfie '23 said. "You have a general budget, and they're trusting you to use it for the right reasons and what you need, which is great in terms of flexibility," he said.
For many other club sports, however, whatever flexibility lump-sum budgets offer seemed inconsequential in the face of inadequate funding — especially as rosters have exploded in growth. "Purely at this point, it's not even equal recognition [with varsity sports]," Ferguson said. "It's just equity — can we please have enough resources to function as we want to?"
Limited funding
Ferguson said that, for her team, the math doesn't add up. "If we have the bare minimum number of players, which is seven players in the water, we still need more than $5,000 to actually run the whole thing," she said. This year, club water polo has well over 20 members.
"This year, we can pay league dues, we bought our suits, and we do not have enough money [left in the budget] to stay over at tournaments or buy food at tournaments, meaning that we are driving up and back in the same day when we have games late at night and early in the morning, which is really difficult and honestly kind of dangerous," Ferguson continued.
According to Hoey, CSC uses data from past years to allocate funding for each club sport. "When we initiated this change in funding for club sports, we used the most recent full year of data available to inform our budget," she wrote. "Budgets are loosely affiliated with the allocation from the previous year. In creating change you have to start somewhere."
Like club water polo, many club teams have experienced a surge in interest and participation this fall, meaning more members than there were in the years the budgets are based on.
For co-captain of women's and trans ultimate frisbee Siri Bohacek '22, who has also been a member of varsity Nordic skiing, the disparity in funding between club and varsity teams is "incomparable." "I recognize it's not the same source of money for both of those teams," she said. "But there is certainly a much larger source of funding for that varsity team that I was on."
Insufficient funding during a season when many club sports have taken on more members has also created potential barriers to socioeconomic equity, team captains said.
"The reason we request our budget is to take away individual player costs so that there is no wealth barrier for students to not be a part of our team," Bohacek said. "And that seems like something that the school should cover entirely. There shouldn't be a barrier to participate in a club sport, or really any student-run club."
Unlike many club sports, however, the climbing team has not experienced as many issues with funding — partly because the team, considered a club rather than a club sport, is not funded through CSC but rather still through FAST. "In terms of funding, I think we generally have access to what we need," said climbing co-captain Nick Hollon '22. "I can't think of a time where we've been like, 'Oh, we need this,' but there's not money for it.'"
But the climbing team has still faced difficulty accessing facilities for practice. "We're pretty much at the bottom of the barrel in terms of scheduling for the [Towne] Field House," Hollon said. As winter teams start up, climbing practices are pushed later and often cut short because of varsity practices, which can make them more inconvenient to attend.
Club volleyball has experienced similar problems with scheduling practices. "It's a pretty brutal situation," said Tadfie, who schedules the team's practices. "We're used to practicing four times a week… After [Oct.] 15th, which is when varsity men's basketball started, we have access to four days of court space… over two weeks."
Club volleyball has since managed to schedule more practices by persistently "emailing the person in charge of court space again and again," according to Tadfie. "It is still true, though, that varsity sports have completely changed our schedule and that we are pretty much unable to practice during the week," he said.
While many club athletes recognize varsity sports' needs, especially during season, much of the teams' frustration lies in the lack of concrete alternatives offered to them. "It's difficult because in-season, varsity sports teams, in my view, should have priority for court space," Oliver Cohen '23, co- captain of club volleyball, said. "But I just would think that Williams would have the resources to provide court spaces for both club teams and varsity teams."
Unequal enforcement of COVID regulations
Even before club sports' funding source switched from FAST to CSC, frustrations with access to resources had been mounting, in part due to a perception that the College is enforcing COVID guidelines more harshly for club teams in comparison with varsity teams.
Last year, the climbing club experienced significant difficulties in trying to hold regular practices because of the College's COVID rules. "You needed to have an adult in the building to operate or to be inside, doing practice or something," Hollon said. "And varsity teams have an adult that can be with them … all the time, whereas club sports don't generally have that."
Now, as the campus slowly reopens and club and varsity sports resume in-person seasons, the gray areas of COVID guidelines seem to have exacerbated uncertainty for indoor sports like club volleyball and water polo.
According to Caroline Case '22, a member of club water polo, the College would not allow her team to host a tournament because only NESCAC schools are allowed to compete in the Samuelson-Muir Pool. For this reason, club water polo was able to host a scrimmage with Amherst. However, the conference that club water polo is a member of would not allow the team to host a tournament without the non-NESCAC schools that are in the team's division.
The inability to host a tournament at the College has further exacerbated club water polo's budget concerns, Ferguson said. "One of the big ways we offset costs is by hosting tournaments because then we don't have to pay for hotels, and we don't pay for food because we're just on-campus," she said.
For Ferguson, this outcome is made even more disheartening by the varsity swim and dive team's upcoming season, which includes home games against non-NESCAC colleges. Ferguson said the College has justified this discrepancy by arguing that the varsity team has coaches present to ensure guidelines are followed, and that water polo is a sport involving closer proximity between athletes than swimming and diving.
"I think it makes sense, but is still frustrating because of how these things work in practice,"Ferguson said. "Yes, coaches can enforce guidelines, but swim and dive meets are still 60-plus people in the pool unmasked."
Requiring a staff member to be present to enforce COVID guidelines seemed particularly prohibitive, Ferguson said. "Water polo doesn't have a coach, and we don't have anyone that could supervise us like varsity sports do," she said, "so it feels like we are automatically dismissed from hosting just because we don't have the administrative backing and resources of varsity sports."
Moving forward
The question of how to balance club sports' and varsity sports' needs has had a long history at the College. To a certain extent, according to Hoey, CSC was established with the hopes of moving toward a solution. "These concerns have come up since I have been in this position at the College," she wrote. "Establishing the Club Sports Council gives us an opportunity to address some of the inconsistent funding concerns of the past and look toward a future where club sports can thrive."
Club sport captains' consistent criticism of insufficient funding suggest that the transition has not been a smooth one. Even so, many captains expressed hope about the future of club sports funding and had suggestions for how to improve the new system.
One of the key issues that many captains brought up was their confusion about COVID rules and funding processes, a problem that Cohen said could be solved with clearer communication. "Even I wasn't really clear on exactly what the nuances of the masking… I think just more clarity on that would be great," he said. "I try to see both sides. Like, I understand there's administrative challenges, and there's always trade-offs in the decisions that the College makes, so even if, from our end, something seems unfair, burdensome — sometimes, there's not a reason behind it, but sometimes there is."
In the eyes of many of these captains, their difficulties with securing adequate resources for their teams indicated the College's lack of appreciation for club sports' role on campus. "Club sports are growing in numbers, and a lot of them are a very inclusive space for everybody," Tadfie said. "We don't have tryouts, we let anybody play, we'll teach people how to play, so I think just access to resources is pretty important… So it'd just be nice to know we have the resources available in order to be able to help other people enjoy their time here at Williams." 
Correction: A previous version of this article incorrectly referred to the women's and trans ultimate frisbee team as the women's frisbee team.