Students split over College's COVID rules, Record survey finds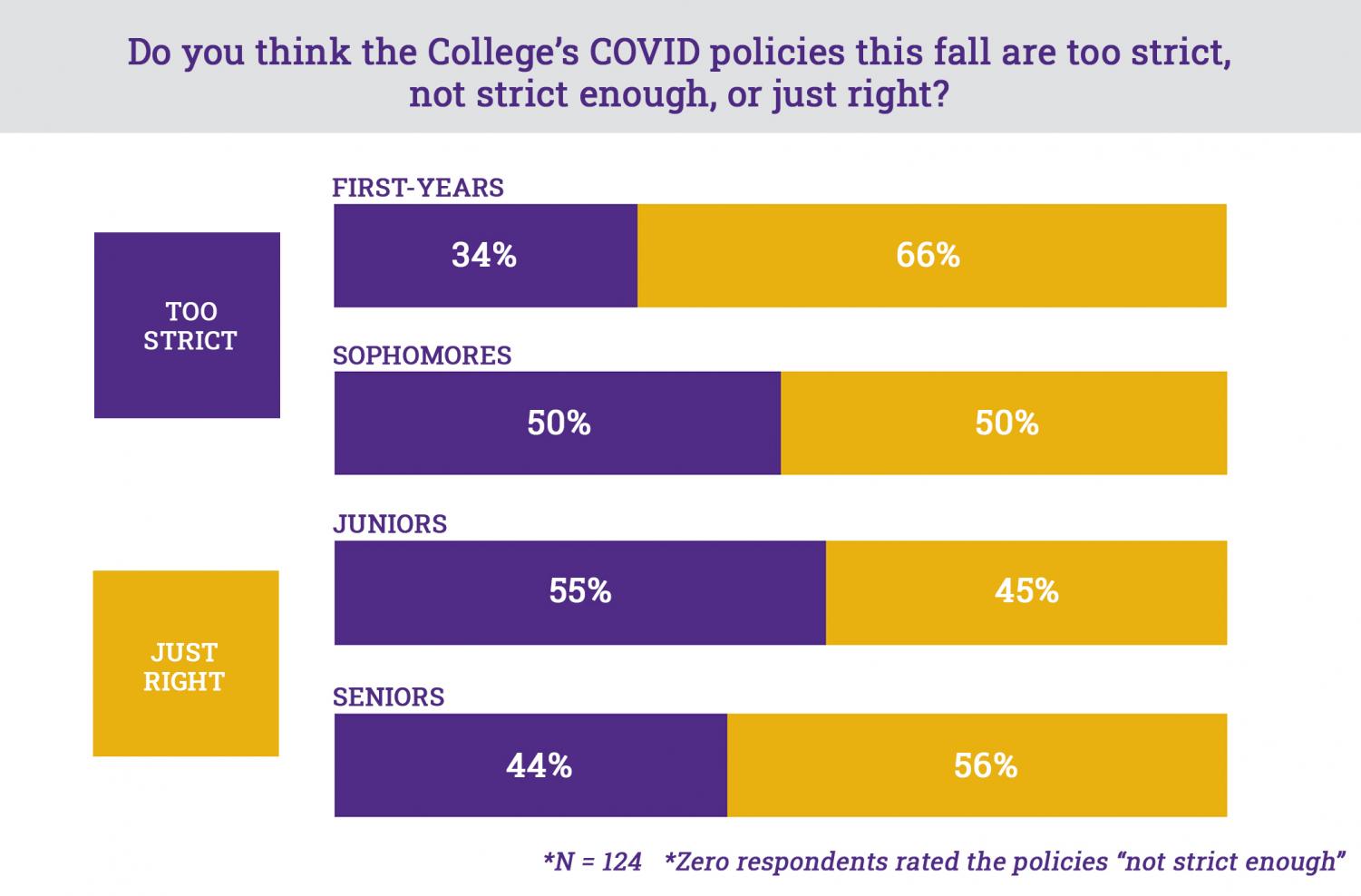 Student opinion on the College's COVID-19 policies is divided, a Record survey found, with a slim majority of students in support of the College's overall approach and a plurality disapproving of aspects of the masking and visitor policies.
The survey, which was conducted last week, was sent to 350 randomly selected student email addresses and garnered 124 responses — 38 first-years, 30 sophomores, 20 juniors, and 36 seniors.
A slight majority of respondents, 56 percent, rated the College's COVID policies overall as "just right," while 44 percent said the policies were overall "too strict." No one said the policies were not strict enough.
First-years were more likely than more senior students to approve of the College's policies. Sixty-six percent of first-year respondents rated the policies overall as "just right," compared to only 50 percent of sophomores, 45 percent of juniors, and 56 percent of seniors.
Charlotte Luke '25 expressed her approval of the College's policies. "In general, I think the College is being cautious, but I think at the same time, that's smart," she said. "And in general, I don't have any complaints."
Dan Vaughn '22.5, meanwhile, said that while COVID restrictions may have made sense last year, they serve little purpose now that the campus community is almost entirely vaccinated. "When subject to even the most basic scrutiny or questioning, [this fall's rules] don't make much sense and aren't even aligned with the stated policies," he said.
Ashrita Iyengar '24, who is largely in favor of the College's COVID policies, said that newer students may be less likely than juniors and seniors to chafe at the restrictions in place this fall. "All we knew last year was the restrictive policies, so already now for us it feels a lot better," she said in reference to the sophomore class." But I can imagine seniors or juniors, if they knew what it was like before, and if it's still much different now — I can imagine them being frustrated by that."
Iyengar and her roommate, Gwyn McLear '24, both said they were glad that this year — in contrast to last year — they could remain unmasked in dorms.
Although the College has no mask mandate for residential halls, it does require masks in almost every other indoor setting. A plurality of respondents disapproved of the College's requirement of masks in dining halls, athletic facilities, and academic and administrative buildings.
The mask mandate for athletic facilities was the most unpopular policy surveyed: 48 percent disapproved of this rule, while only 31 percent approved. Forty-seven percent of respondents disapproved of the rule that students must wear masks in dining halls except for when eating or drinking; 32 percent of respondents approved. Masking in administrative and academic buildings (including libraries) was almost as unpopular — 42 percent of students disapproved, while only 38 percent approved.
Still, about a fifth of respondents said they felt neutral about these masking policies. And multiple students told the Record that they did not mind wearing a mask in campus buildings.
"Unlike Amherst, we can use a cloth mask, and we don't need to double up — I think that's fair," Gabe Miller '25 said. (Amherst students must wear KN95s or double masks when in classrooms that are at full capacity.)
For others, however, wearing masks in campus buildings can be burdensome in some contexts. Artie Carpenter '25, a trumpet player who plays in the Bernhard Music Center and Chapin Hall, has to mask even while playing his instrument.
"One's breath to begin a note or phrase is as important as the articulation which initiates sound," he told the Record via email. "When that process is restricted, it's more difficult to confidently articulate… With a mask, moisture quickly condenses on my mouthpiece and I have to wipe it off — another complication. Before an entrance, I have to compensate and allow myself extra time to navigate my mask."
While Vaughn said the indoor masking rules were not a significant inconvenience for him, he argued that they didn't make sense. "There's going to be no change in the chance of transmission whether or not I wear a mask when I get up to go to the bathroom in the dining hall," he said. "There's going to be no increased chance of transmission when I'm not wearing a mask in a study room by myself."
Students also tended to disapprove of the ban on visitors from outside the College in dorms. Thirty-five percent of students approved of the ban, while 47 percent disapproved.
Rachel Schmidt '25 said she thought that the visitor ban was too strict. "If I want to show someone my dorm room, and they're wearing a mask, I don't think that's an issue," she said.
Many of the College's key policies garnered approval, however. Even though a plurality of respondents disapproved of the masking requirements for most campus buildings, most respondents expressed approval of the masking requirement for indoor classes. Fifty-six percent approved of the in-class masking requirement for students, and 62 percent approved of the requirement for faculty.
Testing was also popular: About three-quarters of respondents approved of the weekly testing requirement for students, faculty, and staff.
"I think out of any single policy that is the most crucial and the least intrusive," Miller said.
Some students — even those who broadly approved of College policy — pointed out inconsistencies between rules.
Miller said he did not understand the reasoning behind where masks were and were not required. "If you don't need to mask in the common rooms in your dorm, I don't know why you need to mask in the gym," he said.
Iyengar noted that even though the College generally bans visitors in dorms, it allowed Windows on Williams (WOW) students to stay in dorms in the last few weeks.
"I understand why they are hesitant to let visitors in dorms — I fully understand that," she added. "But I also think there's a kind of trust between students — I wouldn't let someone who's sick or unvaccinated in my dorm anyway."
President Maud S. Mandel acknowledged that some of the rules were inconsistent with each other. "It's just easier to have a blanket policy," she said. "I will admit that when you do that, there are times when it doesn't seem to make a lot of sense. For me too, right? I mean, I'm wearing masks sometimes where I know I'm not at COVID risk. But it is just a way to keep a kind of consistency, since there are other places where it does make sense. And they're simpler rules to follow when they're all the same."
Regardless of what the rules actually are, students do not always follow them. The Record survey did not ask about student compliance, but students said in interviews that they and those around them do not adhere to all the rules all the time.
For instance, some students have hosted visitors in their dorms. "I do know that some of my friends will have friends from other schools come and visit them," Charlotte Luke '25 said. "But I don't feel very threatened by that."
Miller has observed people eating in dining halls soon after going on overnight trips out of the county. "They're like, 'Nobody's going to know if I was traveling for the weekend and I spent a night somewhere else and I come back other than, like, five people,'" he said.
Mandel said that the College's goal has long been for most students to comply with most of the rules most of the time; the goal was never perfect compliance. She noted that the administration had never expected to have a totally COVID-free campus. "Frankly, we've been so much more successful at keeping COVID off campus than I ever imagined," she said. "And that's with whatever level of compliance we have."
Iyengar expressed approval of the College's masking policies, but she raised questions about when — or whether — they would come to an end. "Are we going to ever stop masking?" she asked. "Are these restrictions going to be in place forever?"
Mandel and Dean of the College Marlene Sandstrom said the College would consider a variety of factors — including the availability of vaccines to children, COVID rates in the Berkshires, and the extent of community spread on campus — in deciding whether to ease restrictions. Expressing concern that COVID would spike as winter approaches, Mandel said she thought it would be unwise to lift restrictions now.
"I don't want to give a specific date," Mandel said, "but let's say early spring sometime and kind of see where we are."