CSS shutdowns of parties elicit student criticism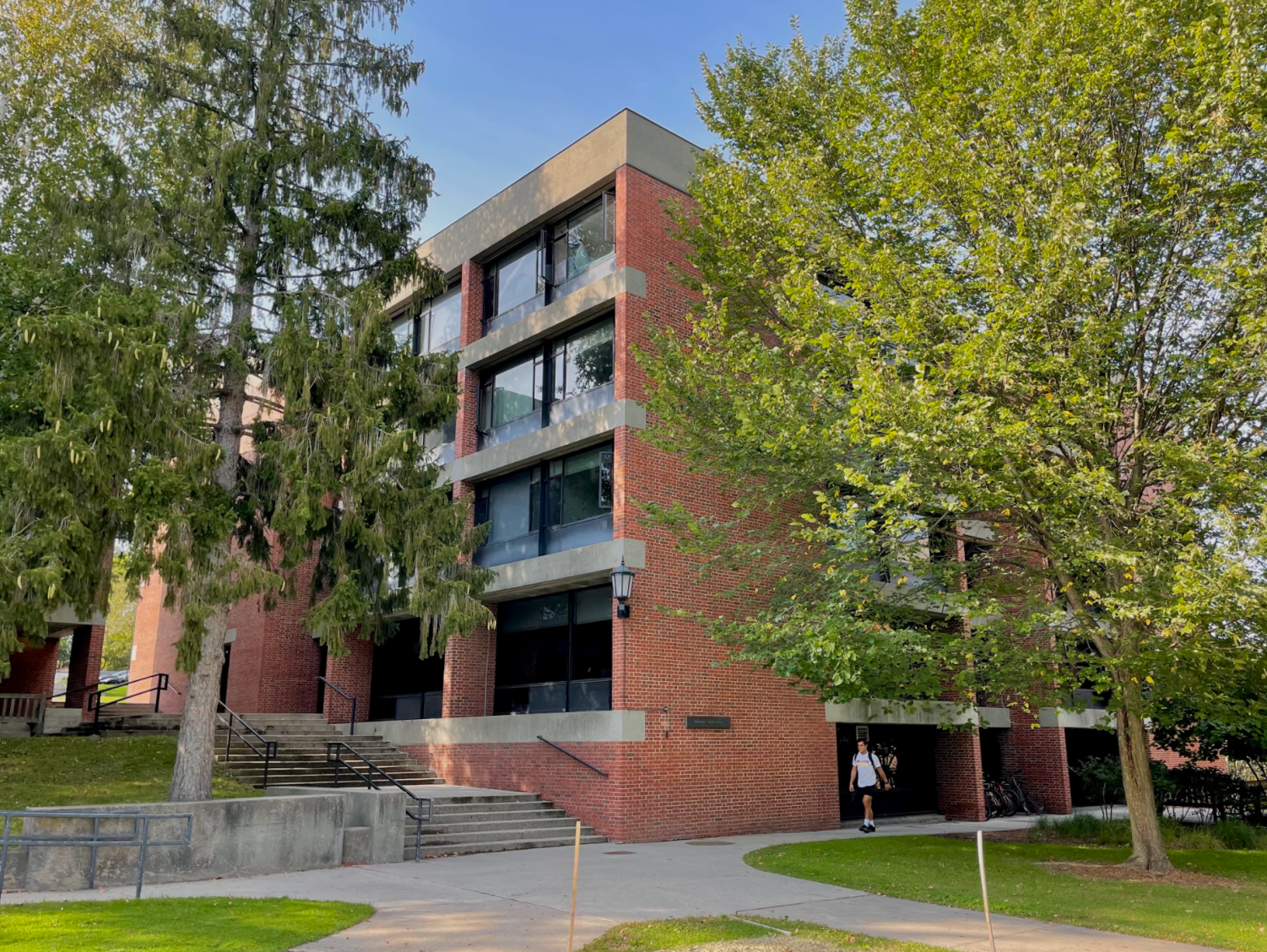 A perceived uptick of Campus Safety Services (CSS) interference in residential halls in recent weeks has left many students frustrated and concerned, according to several students who spoke to the Record. Students reported instances of CSS breaking up on-campus parties without adequate explanation, and stressed the negative impacts on mental health and well-being caused by the increased presence of CSS officers.
"[By] shutting down every single party and pushing people off campus — that's definitely a less safe space," Katie Friedman '22 said. "We want to be passing down how you party safely and responsibly and with respect for other people. We're trying to model that [but] it's making it impossible and pushing things into corners and dark, unsafe spaces."
The College's Responsible Party Standards stipulate that any student gathering of more than 20 people must be registered with the Office of Campus Life (OCL). Although the guidelines have been in place since 2015, many students told the Record that enforcement has gotten significantly stricter this semester, as compared to pre-pandemic semesters. Students reported CSS shutting down multiple parties each weekend night, obstructing on-campus partying.
Director of CSS Eric Sullivan, who began working at the College last month, said that there has been no change in CSS's policies and that officers continue to follow the protocols that they always have. Senior Associate Dean of Students Rachel Bukanc said she has sensed confusion over CSS's role on campus. "CSS doesn't 'patrol' residence halls," she wrote in an email to the Record. "Officers do check in on registered parties and follow up on complaints."
Sullivan also dismissed claims that CSS officers have been proactively seeking out parties to shut down.
"I think there's a thought that we just walk around looking for parties to shut down," he said. "There are students, there are athletes that have events in the morning. There are people that call us on a regular basis. There are these [local residents]. There are faculty. There are plenty of people that say, 'All right, it's just too much.' It's not just us running around saying what party can we shut down today. That's not fun to us."
If officers come across a party exceeding a space's capacity limit, Sullivan said, they must shut it down, but their protocols are not meant to be punitive. "I'm not seeing reports that say, 'There were 21 people in this room, right, so we shut it down.' I've seen, 'The capacity for this room is 28 people and there's 46.'"
Sullivan said that CSS officers are dispatched to residence halls only when they receive complaint calls or if an area is determined to be a "hot spot." As outlined in the Responsible Party Standards, hot spots are locations where students have "exhibited patterns of unsafe/irresponsible behaviors."
According to Sullivan, residence halls are deemed hot spots only if students have repeatedly expressed concerns. "These are places where there have been repeated complaints from students," he said. "Not complaints from us — from students. These are places where students have asked us to be present. These are also places where there have been, in a certain period, several incidents that have been brought up or have been addressed."
Several students voiced dissatisfaction with the lack of communication from CSS and the College administration. While the party standards may have been in place since 2015, students told the Record that they feel blindsided by the perceived ramp-up in enforcement. "For the Responsible Party Standards to be suddenly enforced in this way that they never have been with no notice or clear communication from CSS to students does suggest that maybe the standards are unrealistic and need revisiting," Jonah Martinez Goldstein '22 said.
Although last year's COVID-19 restrictions banned large indoor gatherings, there are no gathering limits this fall. To Bernal Cortes '22, this signaled that the College would return to pre-COVID social life. "We don't have to mask in dorms, there's no gathering limits because of COVID," Cortes said. "I'm sure everyone felt that, coming in, parties are okay under the rules… We come in, and then all of a sudden CSS is cracking down."
Two students the Record spoke to said that CSS officers had cited COVID restrictions as a reason for shutting down parties with large unmasked groups. According to Sullivan, COVID considerations are not a valid reason for parties or other gatherings in residence halls to be shut down. If students encounter misinformation in their encounters with CSS officers, he urged them to appeal to him directly.
"I believe in holding people accountable and I believe in transparency, in doing things the right way," he said. "So I'll never say, 'No, [it] didn't happen [that] my guy said that.' That's not how this works. If we're going to be transparent, I'm going to hold people accountable."
Cortes noted that the sudden increase in party shutdowns has worsened the already contentious relationship between students and CSS. "Them coming down and shutting down parties just creates unnecessary tension when we're [as a community] trying to mitigate that between students and CSS as much as possible," he said.
In past years, students, particularly Black and Brown students, have reported feeling like their encounters with CSS were marked with bias. Several of the students the Record talked to echoed this sentiment, citing a recent incident in Rice House as an example of CSS intruding on affinity spaces.
Last Saturday, CSS arrived at a party in Rice House, which has historically been designated as a community space for Black students. According to Sullivan, officers were dispatched following forced door alarms and discovered the party when they arrived. The capacity of Rice House is 49 students. Sullivan said that the officers told students to disperse after realizing that the party's attendance was over the space's capacity. But some students contested this claim, telling the Record that the party was well below capacity.
Argenis Herrera '22, who was at the Rice gathering, described the incident to the Record. "Two CSS vans drove up the sidewalk into the Davis Center courtyard, and parked directly in front of Rice House," he said. "And then the officers opened the doors inside and declared that everyone had to go. And they stayed present; they stayed outside the house until the entire space emptied out, which evokes a lot of comparisons to police."
Weiwei Lu '23, who was present at the time, said she found the interaction distre ssing, especially because it occurred in what is supposed to be a safe place for BIPOC students. "We all know the connotations of surveillance, and its racist roots, and this is something that the campus has been talking about for such a long time that I'm like, why is this still happening?" she said. "And I feel like that instance is just really out of line for them. Kicking people of color out of Rice House, that's just so inconceivable to me — that just keeps happening."
Even when a party is registered, CSS's presence at social events seems to be unavoidable, Herrera said. "Even when parties are registered, they insist on remaining present, which is extremely concerning," he added.
As a senior class representative of the Williams Student Union, Herrera has been involved in efforts to make CSS's presence on campus more inclusive and welcoming in recent years. He said he had been optimistic about CSS's future, after last year's external review and the hiring of Sullivan, but is dismayed by recent developments.
"They are harming their relationship with students that they're trying to cultivate," Herrera said. "And then they're further ostracizing themselves. I don't think that students trust them, and I think it's for good reason. If [there are] few times that students interact with the officers [and] these are extremely negative interactions, how can they expect students to think of them as a positive resource? And then how can students count on them when they actually do need them when they're actually needed?"
According to the Responsible Party Standards, gatherings larger than  are permitted on campus, as long as the party is registered with OCL, but students told the Record that the system for doing so is confusing and difficult to do correctly. The registration process must be completed at least 24 hours in advance and can hit technical snags, making it an unrealistic option for events not planned significantly in advance, they said. Registered parties sometimes also require the hosts to hire a "professional host" through OCL, which they are required to cover the cost for.
Friedman recalled an instance in which a friend tried to register a relatively small event in a large space and faced these challenges. "One of my housemates tried to register a five-person event and was told that we have to pay someone to be there and watch over a five-person event in a 50-plus-person space," she said.
For Friedman, a senior captain of the men's crew team, the lack of clarity surrounding partying guidelines has made it difficult to promote safe habits among underclassmen. Because of the hard caps on attendance, Friedman said, party hosts are forced to either turn students away or bear the consequences of having too many people present.
"Williams was always super inclusive before, and that was something that we wanted to pass down," she said. "We felt very much responsible for [that], knowing that for a year and a half that hadn't happened. And so we were the only ones in a senior position to pass down how to party appropriately and inclusively."
Goldstein, a former Junior Advisor, said he worries that making social spaces more exclusive will have outsized effects for first-years and sophomores, whose time at the College has been spent in isolating social circumstances. "I worry for my former entry, for example, that they … will continue to live in a college environment that is completely over-scrutinized and being surveilled and devoid of some of the exciting and really important parts of the college experience that they have still not really gotten to ever experience," he said.
Sullivan expressed his desire to work with students and other administrators to find solutions that work for all those involved but stressed that doing so requires community input. "I'm hoping that me, my attitude, my presence, [and] my philosophies, can move this department to the next level of success and can help breach some of the issues we've had in the past," he said. "But I really am trying to identify the issues and where we can come to some happy mediums."
For now, however, students still have significant worries about CSS's ability to create a safe and comfortable campus environment. "I think students want to trust in CSS, they want to rely on CSS," Herrera said. "And I think CSS has great potential to be a positive force on this campus, but only if they listen to the concerns, and they act with students and not against them. I think that is [not] what's happening right now and that's part of my concern."