Students participate in virtual workshop, open mic with poet Porsha Olayiwola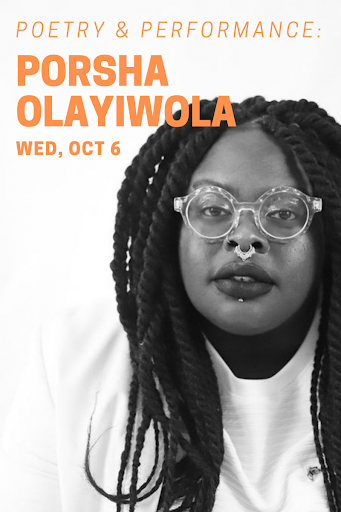 Often an overlooked part of poems, titles were the focus of Boston Poet Laureate Porsha Olayiwola's afternoon writing workshop portion of her Oct. 6 workshop and open mic event open to all students. 
The virtual workshop followed by an evening of poetry was organized by Arthur Leitt, Jr. '52 Artist-in-Residence Franny Choi and sponsored by the English, Africana, and women's gender, and sexuality studies departments. During the session, students participated in an afternoon writing workshop held by Olayiwola. The workshop was followed by an evening open mic and poetry performance by Olayiwola herself. 
Olayiwola, a self-described "Black, futurist, dyke, hip-hop feminist, womanist" from Chicago, is an MFA candidate at Emerson College. Olayiwola has extensive experience with poetry and holds an Individual World Poetry Slam Champion title. Olayiwola's debut poetry collection i shimmer sometimes, too, strives to showcase how the world has shaped her identity through surrealistic verse. 
To begin the workshop, Olayiwola asked participants to share the meaning behind their names. After reading aloud each response from the Zoom chat, Olayiwola asked the group what they felt the significance of names were The discussion focused on the power a name can both take away from a person and give a person. "Names carry power as they are what we allow people to call us and what we call ourselves," Taylor Braswell '23 said in an interview with the Record after the event. 
After initial commentary, Olayiwola prompted participants to think about the difference between a name and a title. Olayiwola explained the impact of titles in her work, detailing not only how they shape the work itself but her writing process. "The first few lines of a poem are a hand that you extend to the reader, but the title is how we can initiate that contact," Olayiwola said. 
After the workshop, several participants expressed enthusiasm about analyzing the role of titles. "It was really amazing to focus on something that I usually overlook or just slap on at the end," Analua Moreira '25 said. "Porsha suggested that titles themselves are like mini poems, which is something I haven't really thought [of]."
To show the role titles can play in a piece, Olayiwola presented a variety of poems, including "Infinity Ghazal Beginning with Lice" and "Never Ending with Lies" by Tarfia Faizullah and a work in progress by Mahogany L. Browne. Olayiwola posed a question similar to her earlier one about names: "Does the poem serve the title or does a title serve a poem?" 
Participants were able to take titling advice from the workshop and apply it to their pieces later during the open mic night where multiple students shared their work. Although the format was virtual, many participants expressed enthusiasm about having a place to connect over poetry once again. "It was nice being able to have that atmosphere to perform in," Jack Davis '24 said. "Even though it was virtual, it was great seeing people with their cameras on, supporting each other." 
Participants ranged from members who performed work from Choi's "Poetry and Performance" class to students who performed poetry they had written in their spare time. To end the event, Olayiwola performed a few of her own works from her collection. 
Although many students were familiar with Olayiwola's work from YouTube, they expressed a great deal of enthusiasm about getting to see her perform in real time. "I was just super star-struck because she was someone who originally inspired me to start writing and to take the class ["Poetry and Performance"] I'm in now," Ethan Richmond '24 said. 
"Even though I didn't remember her exact name or face from sitting at my family's computer six years ago and listening to her perform over and over, I remembered her voice, and I think that says a lot about her impact," he said. 
Participants said they left the event with a great deal of praise for Olayiwola and a deeper understanding of the meaning of poetry and performance. "Hearing everyone else's work gave me a lot of hope," Braswell said after the event. "My God, there's just so much talent and beauty on this campus — in this world. The way I see it, as long as poetry exists, things will be somewhat OK."