Captain's Corner: Jo Kim '22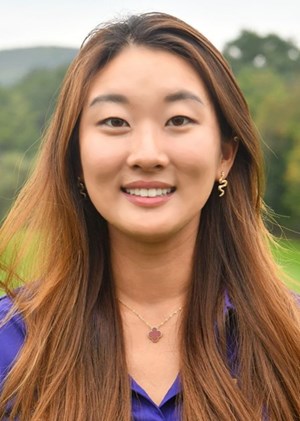 Team: Women's golf
Hometown: Edina, Minn.
Residence: 63 Hoxsey St.
Major: Biology
How and why did you start playing golf?
I started playing golf because my dad really enjoyed it. It was kind of his excuse to get my mom to go golf. So he took me and my younger sister out to the golf course. Then we just started hitting some balls. Actually, I didn't really enjoy golf until I was 13. I guess he kind of forced me to go out with him. But by 13, I was able to beat him in a tournament. And it was really fun for me because I thought if I was a girl who's 13 and I could beat someone who was 40 at the time, it was pretty cool. I got into [golf] from there and started playing more.
Do you have any plans to prepare for the NESCAC Championships next spring?
Yeah, I think so. Our coach [Tomas Adalsteinsson] and the captains work together to make sure that we progress and peak right around the NESCAC Championship. So what we do to prepare is we'll do lifts twice a week, and then we'll go a little harder during Winter Study so that we can build stamina and power going into the spring. By the time we do hit the peak times when we have to perform, we'll be in much better shape. And then we'll go into the [NESCAC Championship]. My coach knows more about this, but he designs it so that players won't get burnt out by the time that we play in the championship.
Some people may not think of golf as a team sport. What's a team-based aspect about golf that you think is important?
Golf is perceived as an individual sport. But how our tournaments are set up as a collective effort. We need four girls to play well together to win a tournament rather than just one person, so in terms of logistics, that is how it is a team sport. But I think the other aspect is just how close you are to your teammates and knowing that you're playing for your team. Because [golf] is an individual sport, and you're out there for five hours just playing by yourself, a lot of the time you can get into your own head and give up. But [with] the team aspect, [for] each stroke, you tend to push harder because you don't want to let your teammates down. So you end up pushing harder to play better, and it's also really nice to see your teammates on the golf course because it does get a little lonely out there playing for four to five hours. Showing that you have your team behind you is helpful in terms of relaxing and taking the stress off. And at the same time, outside of golf, we study together, eat together, and do a lot of team-bonding activities like pumpkin carving or even going to other sports games.
What do you think your role is as a captain, both on and off the course?
I think as a captain, and as a senior, I'm really here to help my teammates grow as people. And I know underclassmen, especially now during COVID-19, haven't really experienced real college life and [know] how to juggle golf, their extracurriculars, as well as their grades, or even their social lives. So I'm really here as a mentor to help them navigate through that. I'm also here to make sure everyone's having fun. I think for golf, especially since Williams has a very good golf team, a lot of players will come from the Junior Tour, really thinking individually with their golf, and everyone is very score-driven sometimes. So I'm here to make sure that they're not spiraling down thinking they need to perform all the time.
What's the most unique pre-round or pre-shot routine that you've seen throughout your golf career?
One of my playing partners carries a light switch. Like a physical and actual thing. She bought this light switch, cut off the side of it, and made it into a keychain that hangs from her bag. So whenever she starts pulling back, she'll physically go up to it, and she'll flip the switch [thinking], "OK, I'm going to play better. I'm going to turn it around here."
If you had to play a full round of golf with not 14 but just one club, what would it be?
I would say a six-iron because it has a decent amount of distance. Depending on my swing, I can shorten it to hit shorter distances or even three-fourths of my maximum distance. So that gives me a little variety to work with. And then I also can putt with an iron. [With] a putter, I would have absolutely no distance off the tee, [a] driver is kind of hard to hit the medium shots. Yeah, I would say six-iron.
Do you have any favorite snacks you like to bring on the course?
I'm actually really big about this. Whenever I go to a tournament, I make an almond butter and jelly sandwich [with] Justin's Almond Butter and raspberry jam. I end up cutting [the ends]. I'm allergic to peanut butter, so it's the closest thing to a PB&J sandwich.
Where is your favorite golf course you played at, and is there a course you want to try playing at?
I really love the Taconic golf course. It's one of the reasons why I chose Williams. It's so beautiful. The course is challenging — it's not an easy course. And it's in fantastic condition all the time. Out of the courses I played, that's my favorite. The course I want to play is Augusta National, which is where the Masters are held. Fun fact, up until the Augusta [National] Women's Amateur, women weren't able to play on that golf course. And even then, [the club] did not have any women members. And that was until 2019. It's so exclusive in some ways, but the course is beautiful, and a lot of fantastic players have played [there].
If you could go on a round with any three people (real or fictional), who would they be?
So obviously Tiger Woods would be on there; I'd love to play with Tiger Woods hands down. I want to play with Annika Sörenstam because she is a phenomenal golfer. I just want to know how she plays golf and how she approaches it. I think the last person would be my mom. My mother actually doesn't play golf at all, but she supported me and my sister playing. A lot of the time golf seems super easy to play. My mom would drop comments like, "All you have to do is putt," or "All you have to do is hit into the middle of the fairway." So I'd love to see her play and see if it's as easy as she says it is.