Faculty members with young children reckon with COVID risks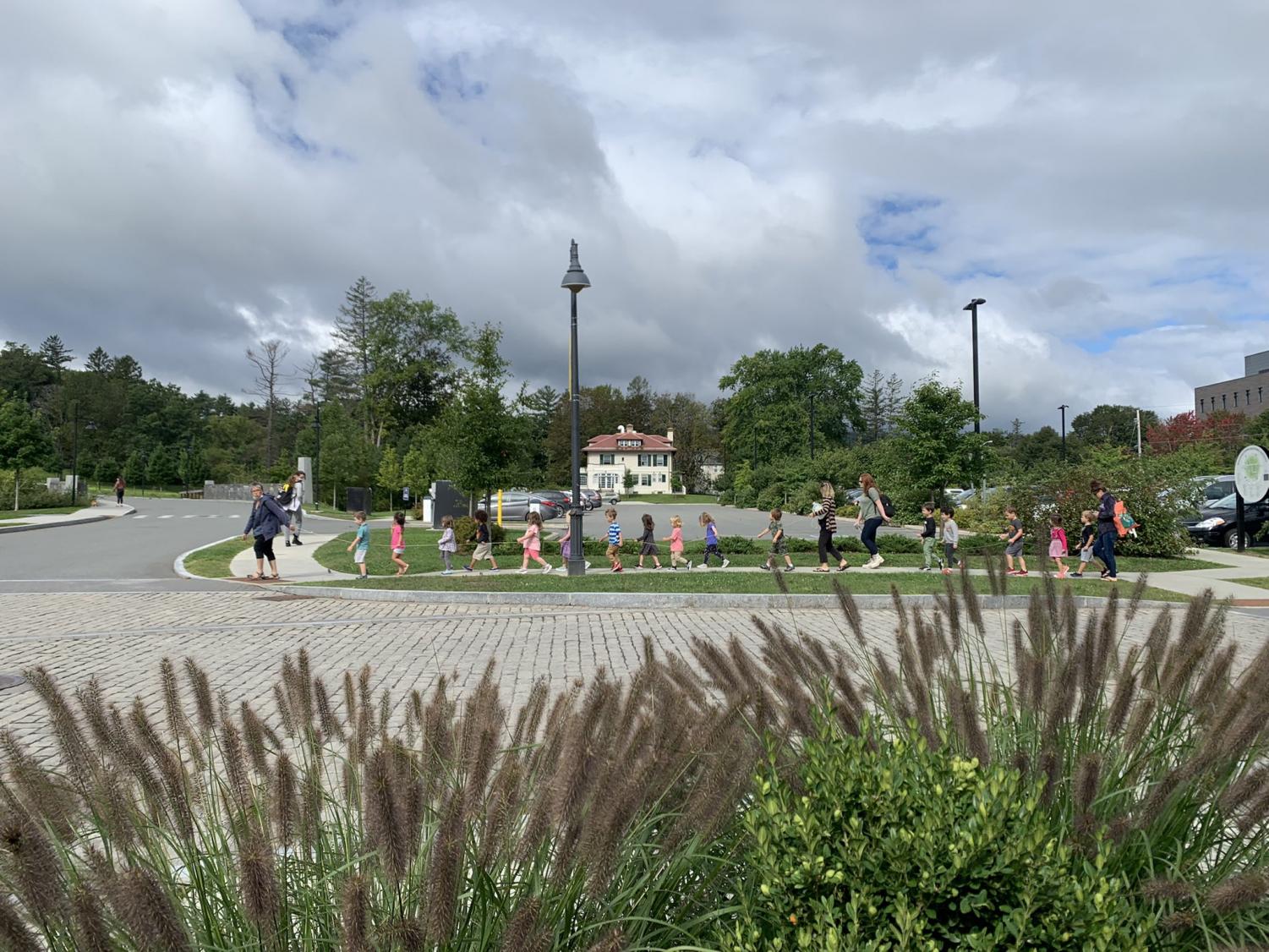 In fall 2020, when Assistant Professor of Africana Studies VaNatta Ford returned to teaching following the birth of her first child, she did so from her parents' guest bedroom in North Carolina. Ford was able to do this because of the hybrid teaching model adopted by the College for the 2020-21 academic year, designed to mitigate public health risks posed by the COVID-19 pandemic and limit community transmission.
Teaching, working on research for her upcoming book, and caring for her son within one room was difficult but well worth it, she said.
"That's where I slept, that's where I wrote, that's where I taught, that's where I took care of the baby — everything was there," Ford said. "But here's the thing: We were safe. We did not have to leave. I did not have to send him out into the world," she said, referring to her son.
This fall's return to pre-pandemic routines and an in-person teaching requirement has brought greater concerns of COVID risks for faculty, like Ford, even with a campus-wide mask and vaccine mandate in place. Those with young children not yet eligible for vaccination or who live with others who are at risk of severe illness are carrying an especially heavy burden, according to several faculty members who spoke with the Record. In-person teaching not only increases the potential COVID exposure of professors, they said, but also requires many with small children to find childcare solutions, which can involve directly opening up their children to heightened COVID risk.
For Ford, who relocated to Williamstown before the start of classes, enrolling her son in daycare while she teaches in person has brought significant health concerns.
"It's very difficult to, every day, hope and pray that nothing goes wrong," Ford said. "As flu season arises, as the months get cooler, I am not feeling better. I don't feel safe. And, frankly, it upsets me a lot."
By making a unilateral decision on returning to in-person teaching, Ford said, the College has taken away professors' ability to make the best decision for themselves and their families.
"I enjoy teaching," she said. "It's something that I know I'm called to, I enjoy interacting with my students, I enjoy being able to have the opportunity to talk to them about a particular subject area. [But] it's really nerve-wracking that I had no choice. I do think that those of us who are caring for loved ones who are either immunocompromised or ineligible for vaccines should have been given a choice [about] whether or not we wanted to be in the classroom."
To Ford, the College's unwillingness to accept input from faculty members in special circumstances has disproportionate effects on those from communities that have been most impacted by the pandemic. The data show that BIPOC people are more likely to contract and die from COVID than are white people, a fact she said she feels the College's administration overlooked in determining their policy.
"When I look at the disproportionate rates of death and sickness, severe sickness from COVID, unfortunately, it's been Black folks and other folks of color — Native folks, Latinx folks — it really gives me pause," Ford said. "What does it mean for a group of which I'm a member to have been disproportionately affected by the pandemic and that not even be taken into consideration [in the College's decision]?"
Without the childcare support of her parents, Ford has enrolled her son in the Williams College Children's Center, a College-run daycare facility that offers six-day-a-week care for children of adults on campus or in the local community. Although the Center operated at reduced capacity for much of last year, it returned to its full services this fall, just in time for the in-person work requirement to take effect. 
Because the Children's Center mainly serves children younger than 12, most of the Center's students are unvaccinated. Kids in the infant program, such as Ford's son, are too young to wear masks. To limit transmission risk, the Center requires all adult caregivers of the children to get tested for COVID-19 weekly through the College's testing center. 
Ford expressed gratitude for those who work at the Center and who kept it running during the pandemic. Still, she said there is a significant health risk associated with in-person, indoor interactions on campus, particularly for single parents without family nearby to provide care should they contract COVID or need to isolate from their children. 
"It's very different for us, right?" she said. "There's no other person in the house who can say, 'Hey, yeah, I'll take over.' There is nothing like that. And I want to make clear that this is not an issue because I have a child or I'm a parent. This is an issue because of institutional factors about how we support people who have responsibilities and who are caretakers."
Dean of the Faculty Safa Zaki did not provide the Record with comment for this article by press time.
Associate Professor of Economics Pamela Jakiela, who moved to Williamstown in July 2020 with her husband, Associate Professor of Economics Owen Ozier, and their two children, expressed similar concerns about what she characterized as the College's lack of emphasis on protecting the most vulnerable members of the extended College community. 
"Last year, there was a sense that almost all faculty and staff were extremely aware of the threat of COVID, and everyone was pulling together to make it through the year," Jakiela wrote in an email to the Record. "But this year is different. This year it feels like there is a real gulf between the experience of those of us with young [unvaccinated] children at home and everyone else — who seem to view the present as 'post-pandemic' and 'back-to-normal.'"
Jakiela, like Ford, expressed trepidation about the return to in-person classes, but she noted that the College's testing and masking requirements, as well as the opportunity to teach in outdoor tents, have made her much more comfortable returning to in-person teaching. Still, the arrival of colder weather, which may make outdoor teaching impractical, and fall break and Thanksgiving travel pose significant challenges for keeping campus cases low, she said. 
"[I]t all feels very precarious," she said.
This feeling of uncertainty was shared by Assistant Professor of Physics Graham Giovanetti, the father of a 2-year-old who is enrolled at the Children's Center and a 5-year-old who attends Williamstown Elementary School. "My main takeaway from all this is it's really hard to actually evaluate risk," he said. "Especially personal risks."
While the College's COVID guidelines have made him feel comfortable teaching in person, Giovanetti still has concerns about his unvaccinated children contracting the virus, particularly because they are spending large amounts of time in groups with other unvaccinated children, he said. 
"I feel fine coming back into the classroom, particularly because of the vaccine mandate and masking in classes," he said. "I feel pretty confident, actually, about teaching in person relative to my 5-year-old being in kindergarten. I think that is a higher risk scenario than this."
Although Jakiela has been able to fulfill her teaching responsibilities while remaining relatively safe, she acknowledged that many other employees at the College do not share that privilege. She noted that all staff members, even those with unvaccinated children, were required by the College to return to in-person work, without the outdoor work solutions offered to faculty members. "I just hope we are treating staff with vulnerable household members as well as we are treating faculty," she wrote. 
Jakiela also raised the possibility that the return to in-person teaching could disproportionately affect untenured or junior faculty, who have less job security than their senior faculty counterparts. "I can't imagine how hard it must be for junior faculty with kids right now, watching the College move back to normal expectations while you are trapped in this nightmare of trading off your kids' health and your career," she wrote.