Student concerns about drink tampering lead College to limit dorm card access to residents only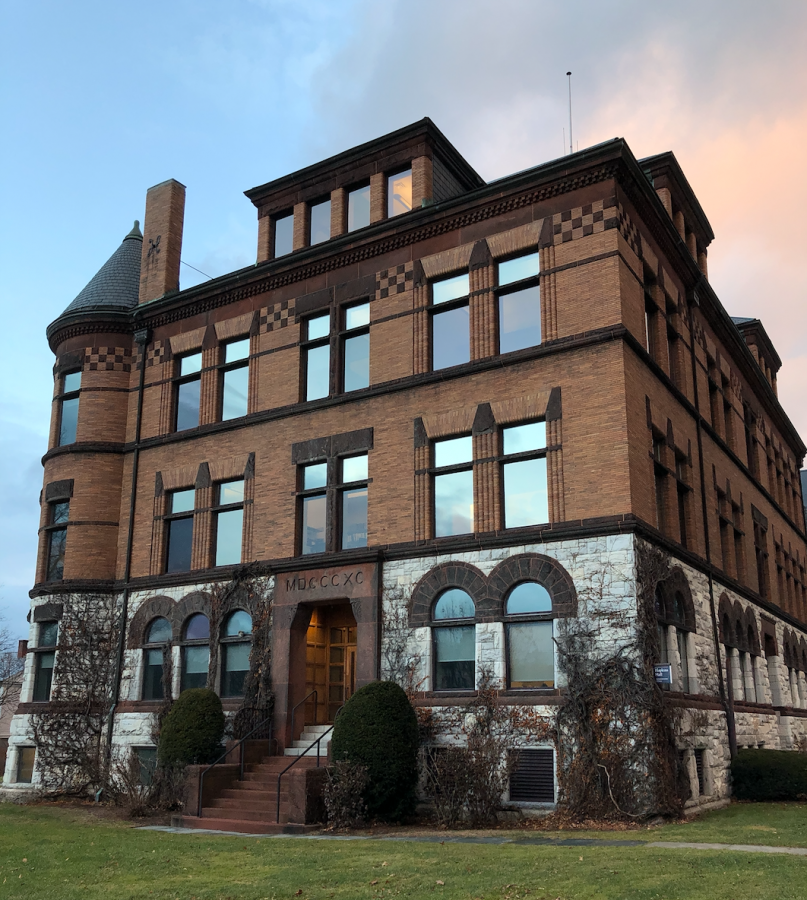 Students will not have card access to dorms other than their own for at least the next two weeks, the College announced on Friday, citing to the Record concerns among students about drink tampering at parties.
In an email announcing the restrictions, administrators said the College had not received any firsthand reports of symptoms consistent with predatory drugging. According to Director of Intimate Violence Prevention & Response Meg Bossong '05, the restrictions came after multiple College offices heard about "descriptions of both [drink] tampering and the suspicion of drugs" from students who had not experienced drink tampering themselves but were concerned about what they had heard from others.
"[We want] to put out that if people have concrete information, firsthand information of events of concern, we really would like to have that information," Bossong told the Record. "Because it seems that there's a lot of conversation that's circulating in the student body that's not making its way [to us] in any way for us to be able to do a more focused investigation into events that have happened."
Bossong said the access restrictions are a preventative measure intended to limit large parties, where it's difficult for hosts to monitor the behavior of other students. Nonconsensual sexual contact and drink tampering, she said, tend to take place at parties where students perceive a lack of social accountability and feel a sense of anonymity.
"What we were hearing from students is when events get out of control, it's because people just show up at those parties — people who weren't invited," Bossong said. "And it feels hard to then say, 'You have to leave, you have to get out of here. So that's where the card access restriction came from."
Shortly after the restrictions were announced on Friday, Bossong and Associate Director for Student-Athlete Services Carolyn Miles sent an email to students living off-campus that asked them to consider limiting access to their houses to just invited guests for at least the next two weeks. The email cited the possibility that, with card access on campus restricted, students looking for parties would gravitate to off-campus houses in hopes of finding open parties.
Students have criticized the access restrictions for inadequately addressing predatory drugging while causing unnecessary confusion and inconvenience.
"Cutting off swipe access does not change the culture that made people think that [predatory drugging] is all right or that it was wrong but they could get away with it," Becca Brody '22 said.
Brian Lavinio '24 questioned why the card access restrictions are in place at all times, including on weekdays. "Those aren't times when someone is going to be going to a party and getting potentially drugged by a predator," Lavinio said. "I completely support what they're [trying to do]. But I don't really understand why it needs to be a Sunday-through-Thursday thing as well as a Friday-and-Saturday-night issue."
Bossong said it was complicated from a "systems perspective" to change card access for certain days or times, noting that the policy is intended to also limit large parties should they occur on weekdays.
After two weeks, the College will decide whether to extend the restrictions depending on the policy's success at promoting smaller gatherings that conform to the College's Responsible Party Standards. According to Bossong, the College will consider whether there are ongoing concerns about drink tampering; the number and nature of calls for medical care related to substance use; damage in buildings, including reports of damaged furniture, urine, or vomit; and reports to Housing Coordinators, Junior Advisors, and Area Coordinators about the condition of common rooms.
In addition to the dorm access restrictions, Bossong said the College's response to concerns about predatory drugging also includes disseminating information about accessing medical care — including the College's medical amnesty policy — and resources for reporting sexual assault or drink tampering.
Since the academic year has started, reports of predatory drugging have emerged at colleges across the country. At Amherst, several accounts of possible drugging incidents have circulated on social media in the last two weeks. In an email to students, Amherst administrators said that the college had not received information confirming student exposure to predatory drugs but urged those with information to come forward.
Over the weekend, multiple people at Northwestern reported being drugged at fraternity houses, sparking student protests against Greek life and leading the university to prohibit fraternities from holding social events for at least three weeks.
If you are experiencing symptoms that could indicate drink tampering, please ask for medical assistance from CSS at 413-597-444 or from EMS at 911. The College's medical amnesty policy protects students who seek medical care for themselves from disciplinary action.
If you would like support relating to sexual assault, you can reach out to Sexual Assault Survivor Services at Williams (413-597-3000).
Those with information about this developing story are encouraged to contact the Record through its anonymous tip form or by emailing [email protected]. The Record will not divulge your name without your consent.