First-year athletes reflect on gap year experiences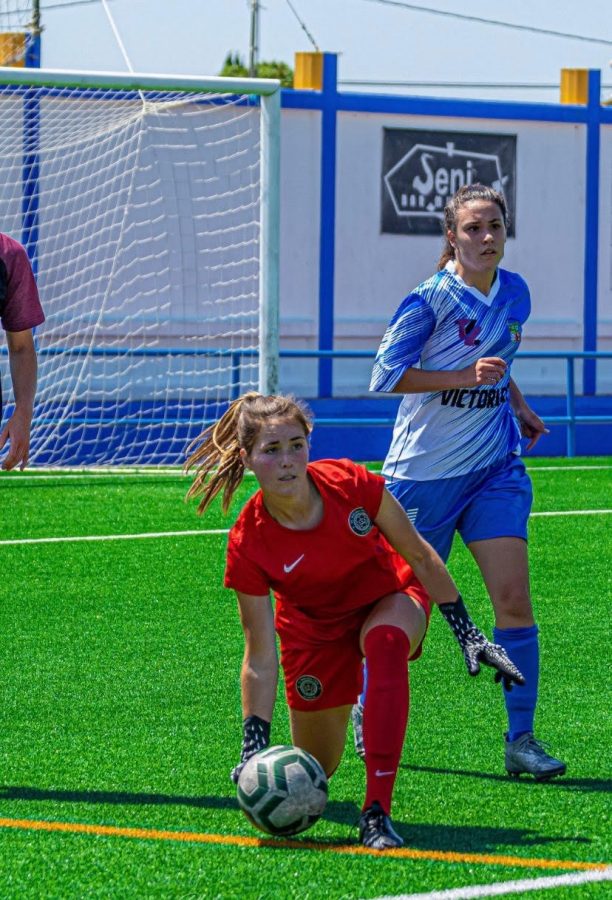 The COVID-19 pandemic caused members of the Class of 2025 to take gap years in unprecedented numbers. Many were athletes who decided to wait a year before coming to the College and joining their varsity teams. The Record spoke with a few gap year athletes about their decision to defer their attendance, how they kept up with their sport, and the transition to life and athletics at the College.
For the majority of her time in high school, Olivia Dabinett '25 did not seriously consider taking a year off before college. "If you'd asked me as a sophomore in high school, I probably would have said that I would never take a gap year," Dabinett, a member of women's soccer, said. However, shortly after the College's decision to cancel fall sports competition, Dabinett found herself on a one-way flight to Spain.
Dabinett was recruited by FC Malaga City Femenino, a Spanish soccer club focused on developing players for professional play. Living with teammates from all around the world, Dabinett would train every day and play several games a week, often against professional opponents. "With COVID and just being stuck at home for so long, I felt the need to branch out," she said. "I think the [College] did a great job, as good as it could have, with creating the opportunities for the students who came on campus … but I just thought on a personal level that I wanted something different."
Lola Kovalski '25, a member of women's crew, expressed a similar sentiment. Like Dabinett, Kovalski was not planning on taking a gap year until late in her high school career. In spite of this, college applications and the pandemic brought about some time for self-reflection. "For my whole life, all I did was work every day and follow this trajectory that had been laid out in front of me," Kovalski said. "COVID provided me with the perfect circumstances to actually take the gap year, take the break, and get off the path I'd been following for my whole life."
During her gap year, Kovalski spent much of her time working as an Emergency Medical Technician (EMT) after getting her license. "In high school, I really was into abstraction, like math and philosophy and things like that, and I told myself, 'I need to do something really concrete in the real world,'" Kovalski said. "So I was like, 'Let me try out healthcare,' until I became an EMT and realized the real world has its own problems."
At the same time, Kovalski made sure to dedicate time to her athletic commitments, training at her high school rowing club while running and biking on the side. Finding a balance between academic and extracurricular pursuits was an important consideration for all gap year athletes. While Dabinett took Spanish classes to fulfill a student visa requirement, her main focus was always her sport. "[For] six hours a week total I was taking Spanish classes, but other than that it was mainly just soccer," Dabinett said. 
For others, the year off provided the opportunity to focus more on non-athletic activities. Eamon Garrity-Rokous '25 spent most of his gap year working at several financial technology startups while rehabilitating his torn ACL on the side. According to Garrity-Rokous, a member of the wrestling team, his primary reason for taking a year off was not athletics-related. "Wrestling did not have any serious impact on [my decision]," he said. "Education and knowing I had something to do over my gap year in terms of work were my biggest determinants."
The isolating nature of remote learning was an especially motivating factor for Garrity-Rokous. "I think I directly benefit, personally, from having close personal relationships with my teachers, my professors, and my classmates," he said. As someone who was recovering from a serious wrestling-related injury, Garrity-Rokous also cited accessibility on campus as a key consideration. "Training and physical therapy wouldn't have been the most ideal on campus this year," he added.
All three athletes credited part of their decisions to the support and even encouragement from their coaches. "[Women's soccer coach] Sarah Raymond was super supportive about it," Dabinett said. "She completely understood, and honestly she was really happy that I was playing almost every day and keeping up with soccer."
Kovalski cited the flexibility of the College's coaching staff and admissions office as crucial factors during her college decision process. "Williams coaches encouraged gap years," Kovalski said. "Same with admissions. They made it easier than any other school… It validated what I already felt about the school. I feel like Williams puts students first in a way that other institutions do not."
After a year away from the classroom, Kovalski, Dabinett, and Garrity-Rokous have had to make the transition to life at Williams. Starting college a year later than they had originally intended, gap year athletes are often older than their teammates, entrymates, and friends. "It's weird because you do feel older, especially having lived with girls [in Spain] who were, like, all college graduates … the average age over there was 25," Dabinett said.
With last year's first-year class taking time off in unprecedented numbers, a large proportion of the class of 2025 is made up of gap year students. "There are about seven total freshmen [on women's rowing], and four of them took gap years, so it's a pretty substantial percentage," Kovalski said. "I feel closest to the other people who took gap years because we're kind of in this in-between … [we're] stuck in the middle."
"I'd say it's a little bit easier for me to relate to people around my age, I guess," Garrity-Rokous said. "But when it really comes down to it … we're all first-years, we're all being bombarded with stimuli and new experiences and meeting new people and such. So in a lot of ways, I can relate [to them], and I have made some really great friends so far."
In spite of the challenges of adjusting to Williams athletics and academics after a year off, all three athletes expressed satisfaction with their decision to take time off. "If I could go back to Spain and do it all over again, I still would," Dabinett said. "I'm super glad I did it. It was a perfect segue into coming to Williams, and it made me super excited about the four years ahead of me."
Garrity-Rokous also had no regrets about his gap year. "It probably will remain easily in the top 10 decisions of my life, if not the top five," he said. "I'd like to say that [choosing] Williams will also be.