Athletic teams return to NESCAC play with COVID-19 precautions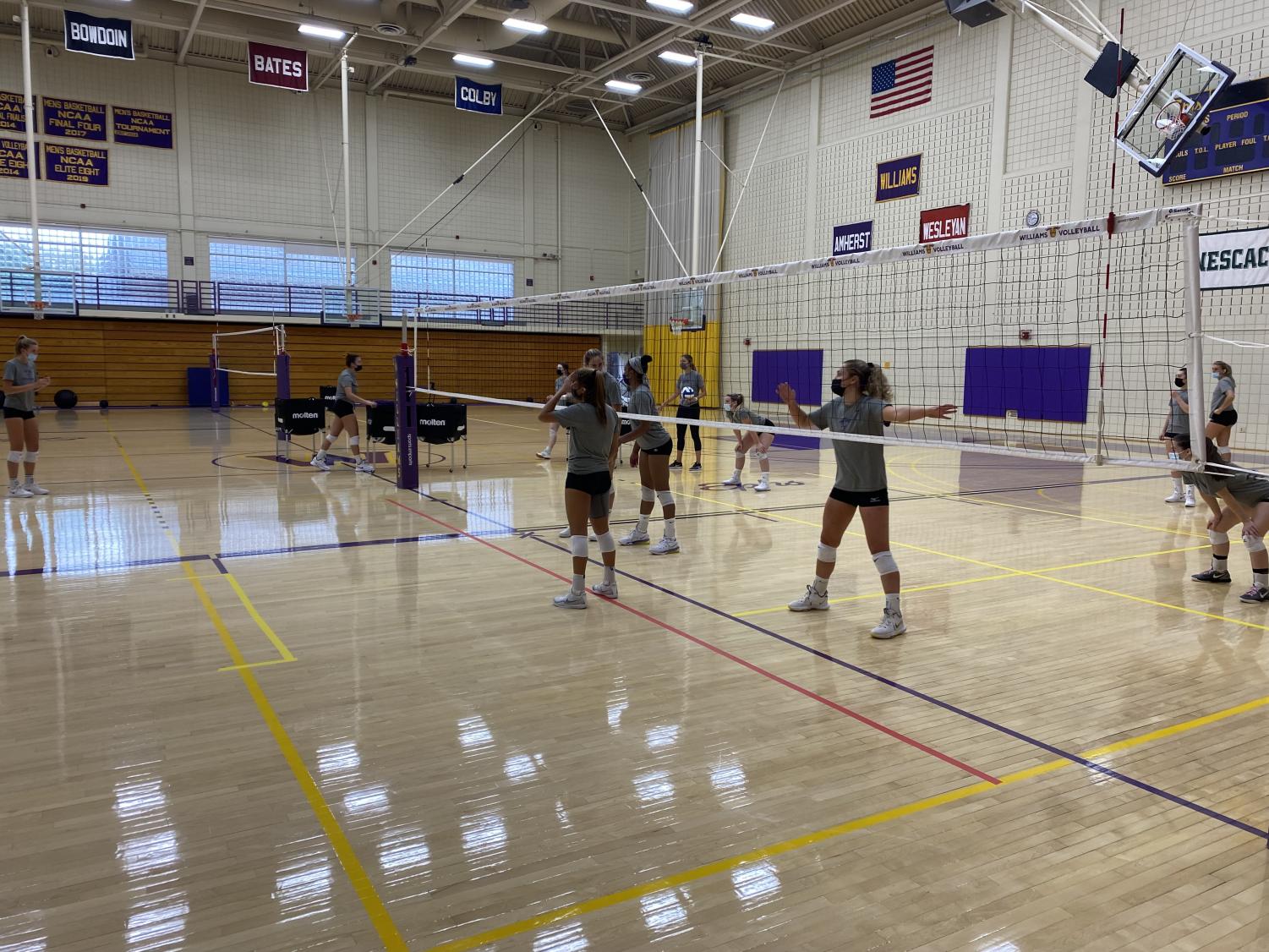 Eph sports fans need not wait any longer: This season, NESCAC athletics have returned to full conference play. After a quiet last fall and restricted spring, it feels like the Eph athletic community is finally returning to normal — almost.
In order to protect the public health of the community, the NESCAC released a series of guidelines detailing COVID-19 protocols for the new fall season. "The biggest difference, of course, stems from the fact that all NESCAC institutions require their students to be vaccinated," Athletic Director Lisa Melendy wrote in an email to the Record. 
The vaccination requirement, which requires all non-exempt students to be vaccinated, was the first step in ensuring a return to competitive athletics this fall. Last spring, student-athletes masked in all competitions, were rapid-tested the day of the competition, and did not travel. "[Now], we can be unmasked outdoors, overnights are allowed, and we are playing non-conference opponents," Melendy wrote.
This has significantly shifted the way outdoor sports have been able to compete. "COVID protocols have definitely loosened this season, although precautions like masking and testing are still omnipresent both within the team and around campus," Pat Theveny '24, a sophomore men's cross country runner, wrote to the Record. "We've been permitted to travel this semester, which has made training and competition more enjoyable."
"Thankfully our practices and competitions have been able to continue relatively unimpeded thus far," John Menton '22, a member of the men's golf team, wrote to the Record. "We are required to wear masks whenever we are inside at Taconic and traveling in hotels for away tournaments, but other than that our practices and competitions have gone forward basically as normal."
"With golf being an open-air sport played in small groups, I am not very concerned at all about the possibility of contracting COVID due to athletic competition," Menton added.
The College has also implemented a mask mandate for indoor athletic facilities. "We're continuing to wear masks pretty much everywhere, except for the shower," volleyball team member Renée DePencier Piñero '23 said.
The mandate poses a particular challenge for volleyball, which is the only fall sport that both practices and competes indoors. "We were told ahead of time that we would have to be wearing masks for being an indoor sport, and [with] the fact that we have no air conditioning inside the gym, it was really difficult in terms of being able to breathe properly," DePencier Piñero said. "A lot of us had to invest in a lot of disposable masks to make sure we were able to change them for hygienic reasons."
Currently, the College does not allow family spectators at indoor events. "Parents are disappointed to not be able to attend indoor competitions at Williams," Melendy said. "We will continue to review this policy and, if it seems safe to do so, will adjust."
While parents can't attend indoor competition, students and faculty are able to. "There hasn't been a lack of spectators because we have all the seating [in Chandler Gymnasium]," DePencier Piñero said. "We're happy that the student body is able to come and support us in our games."
Although competing colleges might have different masking and COVID policies, the NESCAC guidelines state that both teams must defer to the stricter policy in competition. "For example, Amherst is in a double-masking policy or wearing KN95 masks, so when we play them, we'll have to double-mask," DePencier Piñero said.
Additionally, NESCAC schools are monitoring inter-school competition for possible outbreaks and transmission. "Institutions are sharing all of their protocols with one another and are expected to report positive cases," Melendy wrote.
In the case of sustained increased transmission, schools have the responsibility to make an informed decision about continued team activity, according to the NESCAC guidelines. The guidelines define sustained increased transmission as concurrent positive cases of three or more for teams of less than 50, and concurrent positive cases of five percent or more for teams of greater than 50. 
If there is an outbreak and a team has insufficient players, cancellations due to negligence of institutional protocols will be considered a forfeit. However, a game will be rescheduled if a situation arises to no fault of the department.
The athletic community has largely adapted to guidelines to make competition possible. "We've been able to work with the requirements that we need to work with in order to keep this season as normal as possible," DePencier Piñero said.
Melendy said she is excited to see students playing their sports once more. "The smiles on their faces and the joy I can see in them makes me happy beyond words," she told the Record. "I am also happy for our coaches who have been longing to get back to what they love and to be able to work with their students in a much more familiar environment."