In Other Ivory Towers: Other colleges face outbreaks, stricter COVID rules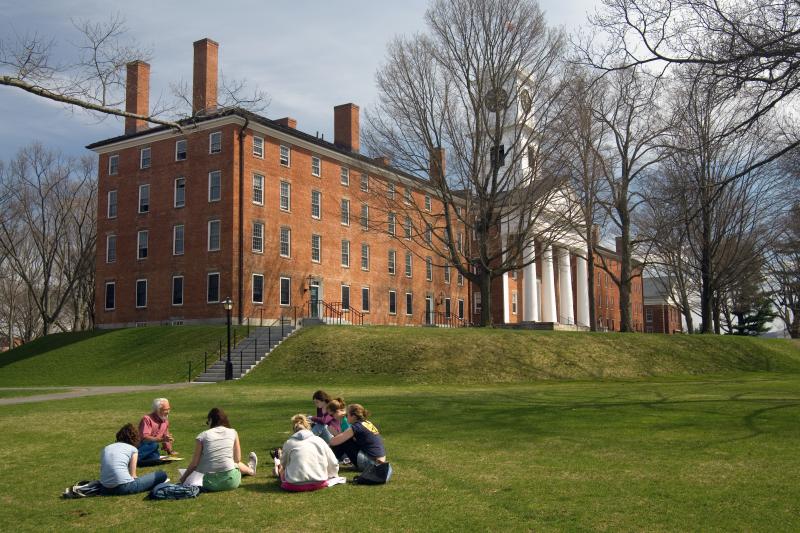 In Other Ivory Towers is the Record's look at colleges and universities outside the Purple Bubble.
As colleges nationwide reopen for the fall semester, some peer institutions have implemented public health restrictions notably stricter than the College's COVID-19 rules. Others have had to change their policies in response to sharp upticks in student COVID cases.
Amherst
At Amherst, students are required to wear a KN95 or double-mask whenever they are in academic spaces at full capacity. Amherst's guidelines on testing, identification, and contact with those outside the campus community also prove stricter than other NESCAC campuses. Amherst students must participate in surveillance testing — testing for those who do not exhibit COVID symptoms — twice weekly, whereas Williams requires only weekly surveillance tests for vaccinated individuals.
Amherst students are required to wear lanyards displaying their college ID card at all times while on campus. Students must remain in Hampshire County and may not eat indoors in restaurants or bars; before Sept. 11, they had to remain in the town of Amherst. Spectators are allowed at sporting events but are also required to wear masks.
Amherst's strict regulations have led to backlash from students. Over 400 students signed a letter to President Biddy Martin objecting to guidelines prohibiting indoor dining at dining halls, restaurants, and bars and requiring outdoor masking through Sept. 13.
"These guidelines are significantly more restricted than our peer institutions," the letter states. "We ask for an explanation of what makes the environment at Amherst so different from similarly sized and located colleges."
On Aug. 29, following the student letter Martin released a statement loosening the outdoor mask mandate to only require that students carry a mask outdoors at all times.
Amherst administrators held firm to other restrictions. "The increases in infections and hospitalizations in Massachusetts continue, but they appear to be slowing," Martin wrote. "Now is not yet the time to relax key restrictions."
Though Amherst's student population is very similar to that of Williams, the local public health context differs. According to the 2020 census, Amherst, Massachusetts has a population of 40,258 and is also home to UMass's flagship campus, while Williamstown has a population of 7,513. Amherst is located in Hampshire County, which has a 2-percent positivity rate over the past 14 days and a vaccination rate of 59 percent, whereas Berkshire County has a 1-percent positivity rate and 63-percent vaccination rate, according to The New York Times.
Connecticut College
In announcing its most recent set of public health guidelines, Amherst cited a COVID outbreak at Connecticut College as a reason for caution. In the week of Sept. 6-12 alone, 169 Connecticut College students tested positive out of the 3,920 tests from that week, for a 4.34-percent positivity rate, according to its Covid-19 dashboard. Due to this high level of cases, Connecticut College's alert level was raised to level 3, "orange," in which parts of the College shifted into "cautionary quarantine" to limit movement on campus and minimize in-person contact.
The Connecticut College Dean of Students Victor Arcelus announced the seven-to-10-day "cautionary quarantine" on Sept. 7. All classes moved to a virtual format for the duration of the quarantine, following a day of canceled classes to give professors a chance to adjust to online instruction. During this campus quarantine, students were required to wear masks indoors and outdoors and were only permitted to be on their floor of their respective residence hall. Dining services were takeout-only, and many public areas on campus were closed.
Arcelus said a lack of compliance with masking protocols caused the positive cases. "Students who had contracted the virus had been socializing in cars, in friends' rooms or apartments, at parties or in bars without wearing a mask," he wrote. As of Sept. 9, 97.5 percent of the student population is vaccinated.
Connecticut College's rate of positive cases has since decreased to 0.57 percent, with 20 positive cases as of September 19. The alert level has also been reduced to 2, "yellow," which still means a departure from standard operations, though the number of individuals testing positive for COVID-19 is still manageable and exposures are confined to a small number of people. Most activities like travel, gatherings, and dining still remain limited.
Correction: Amherst requires students to double-mask or wear KN95 masks only when they are in academic spaces at full capacity, not anytime they are indoors, as a previous version of this article reported.