Fall season outlook: A preview of the upcoming sports season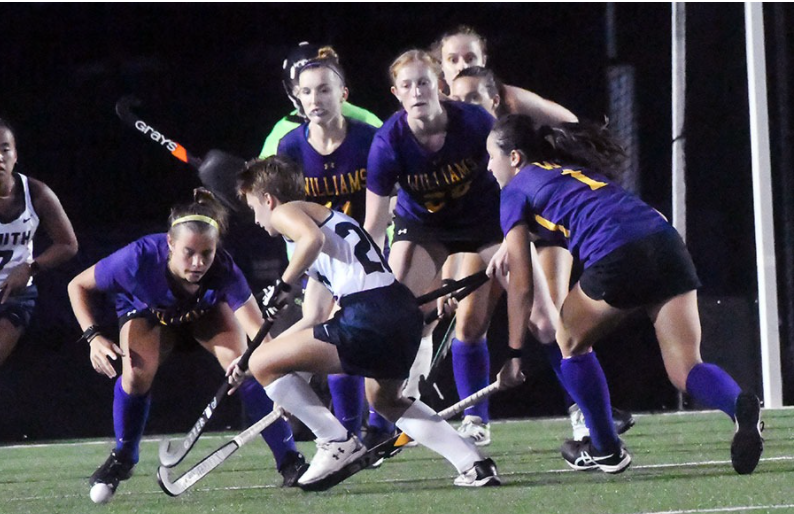 It has been two years since athletics teams have geared up to face an opponent during the fall season. After an unprecedented year of canceled athletic competitions, socially distanced practices, and reduced on-campus rosters due to the COVID-19 pandemic, fall sports have returned to competition in full force.
Despite restrictions on spectator attendance at indoor venues — and a masking requirement for indoor athletes during all games and practices — coaches and players alike have been training for and anticipating their returns to competition. 
Field hockey (5–1) started off strong in the very first game of the fall season, winning its first two games before falling to Tufts 0-1. The women have yet to drop another game since, currently boasting a 5–1 record with their next game this Saturday against Trinity.
The women's and men's cross country teams dominated the Little Three Championship against Amherst and Wesleyan this past weekend, with both teams clinching first. The men and women also swept the top six places in their season opener against MCLA on Sept. 7. 
According to head coach of men's and women's cross country Pete Farwell '73, as the team emerges from last fall's competitive hiatus due to COVID, communication and teamwork will be essential this season.
"This year it is centered on commitment to each other, as well as to the extra components of cross-training, strength-building, proper sleep, and being energized each day to enjoy workouts and racing," he told the Record. "Having good communication between student-athletes and coaches helps immensely, and we feel that is at a new high this year."
Farwell also expressed his anticipation to see the new first-years and returning runners perform during the upcoming season, especially after their summer training sessions.
"The women have several veteran top runners returning from summer injuries and making great progress, faster than I anticipated," Farwell said. "Many of the men built up their mileage and aerobic endurance over the summer, [and they were] getting used to our 'pack running' when quite a few were on campus doing work and research this summer."
The next meet will be the Purple Valley Classic on Saturday, the first 8k race of the season.
Volleyball (7–0) has won every game so far, starting the season with a 7–0 record. The two-year break, according to head coach Christi Kelsey, allowed players to grow on and  off the court.
"We have a great mix of confident upperclassmen that have had competitive playing experience and are incredibly driven to take this program to a different level," Kelsey said. "Combine that with enthusiastic, hard-working underclassmen, and we really do look entirely different in so many ways after having two years off from competition."
The team has four first-years as well as 15 returning players, including four sophomores who competed in their first collegiate games this month.
Football (1–0) started off its season with a 41-13 win against Middlebury over the weekend. The men will be playing against another NESCAC opponent, Tufts, on Saturday.
In 2019, the Ephs had their best season in nearly a decade, finishing 7–2 without dropping a single game at home. With a larger roster than usual due to players taking time off last year, the men hope to continue their winning ways this fall.
"Our biggest priority is to maximize our team's potential," head coach Mark Raymond said. "We had a lot of momentum coming out of the 2019 season, and I think we were able to recapture much of it during training camp."
Women's and men's tennis, golf, and crew teams are split-season sports, meaning these teams have already had a taste of the unique competition circumstances during COVID last spring. Still, they are looking forward to starting fresh with new additions to their rosters.
In the case of men's tennis, first-years make up half the roster. To head coach Dan Greenberg '08, this is an opportunity to form new relationships and reinforce the fundamentals of the sport for everyone. 
"It's rare to have half the team as rookies," Greenberg said. "That said, we also have five returners who've managed to get some really great experience these past few years, even with all the interruptions. So they'll be integral to everybody's growth."
Women's tennis is coming into the season with a more experienced team with the addition of only two first-years to the roster. Head coach Anik Cepeda expressed her excitement for the reunion of the team and watching team members grow on and off the court.
Both men's and women's tennis will have their first matches on Sept. 24 at the ITA New England Regional and the Lindsay Morehouse Invitational, respectively.
Men's crew, on the other hand, is returning to the season with a group of experienced rowers. The Ephs finished a successful spring season as NESCAC champions and the top Div. III team at the IRA National Championship Regatta. This fall is an opportunity to step back from competing and focus more on training and development, according to assistant coach Graham Marks.
"The fall provides us an opportunity to focus on individual technical development with our athletes," Marks said. "Due to campus protocols last fall, we were unable to travel to the boathouse and missed out on this development opportunity." 
Women's crew also performed successfully in the spring season, finishing third in the NESCAC Championships.
While both crew teams will not race until October, Marks said he is looking forward to building on the success of last season.
"I am excited to see the growth of our younger athletes, particularly our [current] sophomore class who really started to hit their stride towards the end of last spring," Marks said. "I am also looking forward to seeing our first-year athletes in action. They are a very talented group that will likely have an immediate impact on our team."
Meanwhile, women's golf has been hitting its competitive stride, winning both the Hamilton Invitational and George Phinney Classic. The team will compete in the Wesleyan Invitational this weekend.
Men's golf finished 10th at both the Duke Nelson Invitational at Middlebury and the Williams Invitational in the first two weekends of the season. The men will compete at the Bowdoin Invitational this weekend.
Men's soccer, which has a 3–1–1 record, will play Springfield College today and Trinity on Saturday. Women's soccer is 2–2–1 and will face Trinity on Saturday and MIT on Sunday.
Steffen Siebert, interim head coach for men's soccer, expressed his excitement to see the full roster perform while remaining cognizant of athletes' health. 
"One of the main [emphases] this year after the 2020 season being cancelled was to make sure to not overload players physically," he told the Record.
Despite the uncertainty of competitive play after a multi-year break and amid a pandemic, one thing is certain for these teams: They have spent the last two years waiting for this moment.