Following a decade of student-led efforts, College enrolls students in American Sign Language classes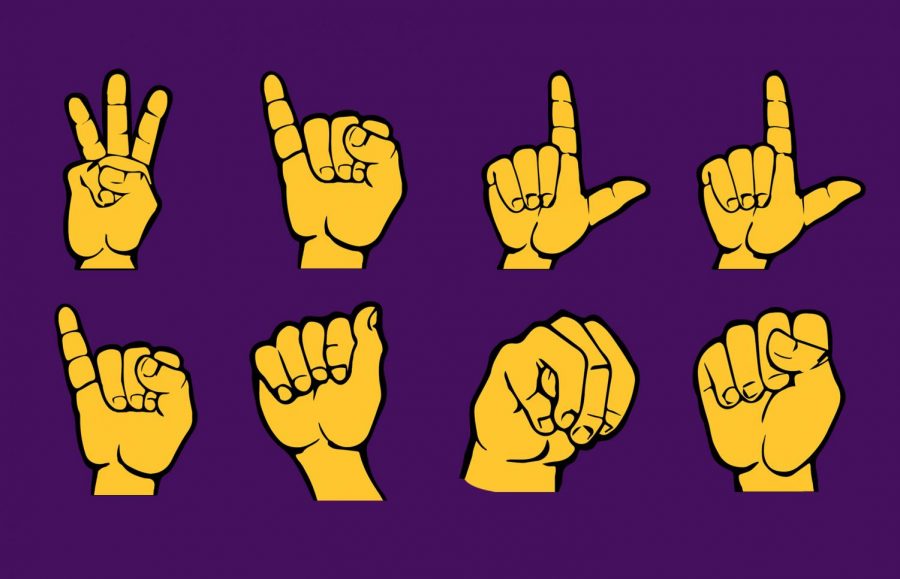 For the first time, two students at the college are enrolled in an online American Sign Language (ASL) course at Gallaudet University, offered to students as a result of efforts by the Office of Accessible Education (OAE) over the summer to introduce ASL classes at the College.
In August, OAE sent out a form in Daily Messages asking students if they were interested in taking fall 2021 or spring 2022 non-credit remote courses with Gallaudet, a university for people who are Deaf or hard of hearing. 
The form also asked students if they would like to take ASL as a critical language for credit in the 2022-23 academic year and gauged interest for a Free University Winter Study course about Deaf culture. (Some members of the Deaf community prefer to capitalize "Deaf" in reference to Deafness as a culture, and reserve "deaf" for hearing loss as a medical condition.)
Over 100 students responded indicating interest. Assistant Director of Intergroup Relations and Inclusive Programming at the Davis Center Aseel Abulhab '15, who worked with OAE to get the form out, was surprised at the overwhelming response. Abulhab's efforts to push the College to offer sign language courses, however, started well before last summer. 
Two alums' efforts to bring ASL to the College
When she was a high school student, Abulhab started taking an ASL course at a local community college after seeing an interpreter on TV. "I thought [sign language] looked visually, aesthetically beautiful," Abulhab said. 
But when she arrived at the College as a student in 2011, she found that there were no formal opportunities to learn sign language.
To remedy this, Abulhab founded a club called Williams Signs. The club met regularly to study ASL, invited speakers to the College, and interpreted songs for the a cappella group the Aristocows.
In her senior year, Abulhab brought the idea of making sign language a critical language to then-Dean of the College Sarah Bolton. Bolton was supportive, and asked Abulhab to start a petition to gauge student interest. "We got close to a hundred [signatures]," Abulhab said. "But then I graduated and [Bolton] left the College, and we weren't able to take that to the next level."
After Abulhab's graduation, another member of Williams Signs, Catherine Tan '18, kept the club going. Tan started learning sign language at the age of 15 when she got into a bike accident and temporarily lost some ability to speak. Before coming to the College, she spent three summers at Gallaudet learning ASL. 
Tan didn't know how she would continue being involved with sign language at the College until she went to the Purple Key Fair her first year. "There [was] this booth that [said] 'ASL club,' and I lost my mind," she said, laughing. "[I] ran up to who I later found out was Aseel … and started signing at her." 
Since Tan was already very proficient in sign language, she became vice president of the club her first year. "Aseel and I would take turns … depending on who knew the vocabulary, and we would teach introductory lessons," she said.
According to Tan, however, it was difficult to make progress in teaching ASL because the group of students who attended club meetings kept changing. "Every time we'd hold a meeting, we'd have to start back at the beginning," she said.
Tan said she is hopeful that consistent, formal classes will be more effective in developing students' knowledge of the language. "Just like any other language class … you need to be able to immerse yourself in it," she said.
Although Williams Signs was discontinued after Tan's graduations, she and Abulhab continued working with sign languages and Deaf communities. Abulhab went on both Watson and Fulbright fellowships working with Deaf communities in Jordan, and Tan completed a Chandler fellowship studying Deaf performance art in Scotland, England, Singapore, Japan, Vietnam, Australia, New Zealand, Norway, and France.
When Abulhab returned to the College in January 2020 as a Davis Center fellow, one of the first things she did was connect with OAE. At the same time, Tan was also working with OAE to expand resources for Deaf students. Abulhab and Tan started conversations with current students working at OAE, which eventually led to this summer's effort to introduce ASL classes.
OAE's summer push for sign language classes
For Yunjin Park '23, one of the students working at OAE over the summer, the effort to introduce ASL classes came to fruition unexpectedly quickly. Once Park and her co-worker Elle Montoya-Kelner '21 realized it would be possible to enroll students as soon as fall 2021, they began the hectic process of preparing to launch the initiative.
The first step was choosing a program. "Since Aseel has worked with Gallaudet in the past, she recommended we try [its] online program," Park said.
Next, Park and Montoya-Kelner had to determine how much student interest there was in taking ASL classes. They created and sent out the Google Form, and spent a week sharing it with students. 
The biggest obstacle facing them was obtaining funding in a short time frame. "It's about $1,000 to enroll [a student] in this online course," Park said. "Trying to look at how much funding we could get from different departments, really last minute, was [a] challenge."
Park and Montoya-Kelner were eventually able to secure enough funding from OAE itself to enroll two students in the course. In the future, however, Park expressed hope that more departments and offices, such as the Davis Center and the Office for Institutional Diversity, Equity, and Inclusion, will assist with funding. 
According to Gwyn Chilcoat '24, a student enrolled in the Gallaudet course, an ASL course at the College was long overdue. "It's identity-affirming for d/Deaf/Hard of Hearing students to show institutional support for the language," Chilcoat wrote in an email to the Record. 
She stressed, however, that it is important for future courses to give college credit. "ASL I through Gallaudet is an intensive course," she wrote. "It's hard to keep up with this on top of my other classes, extracurriculars, and jobs."
Perspective of a Deaf first-year student
Ari Quasney '25, who is Deaf, said they are thrilled at the interest in sign language at the College and have had a positive experience with accessibility on campus so far. OAE provided them with an in-person interpreter for First Days and a virtual interpreter for classes. They also appreciated both professors' and students' willingness to wear transparent masks in class, which make it possible to see the movement of the speaker's mouth. 
"Everyone I've met so far has been so interested and so open," Quasney said. "My JAs [Junior Advisors], before I even got on campus, had gone to the Deaf culture training that the OAE had run, and they learned how to sign their names in sign language." 
For Quasney, students'  interest in ASL is especially important because of the history of sign language in Massachusetts. One of the precursors to modern ASL, Martha's Vineyard Sign Language (MVSL), started to develop in the 18th century on the island of Martha's Vineyard off the coast of Massachusetts among a population with a high rate of genetic deafness. Quasney lamented the fact that, despite Massachusetts' long history with sign language, the state's educational institutions had discouraged its use until recently. 
"It's kind of crazy [that] most state institutions for Deaf students were still following the policy of oralism, not allowing students to speak sign language, well until the 1930s and 40s," they said.
According to Quasney, one of the most important values for the Deaf community is self-determination, which means, in their words, "being allowed to decide for yourself what language you want to speak, the community you want to identify with, because of that long history of oppression."
Quasney stressed the importance of having Deaf instructors for sign language courses, including any future ones at the College. "Having a Deaf instructor who can influence the curriculum that's taught, so the values [of the Deaf community] are reflected in the course, is really important," they said.