20 years after 9/11, commemoration on campus is solemn but muted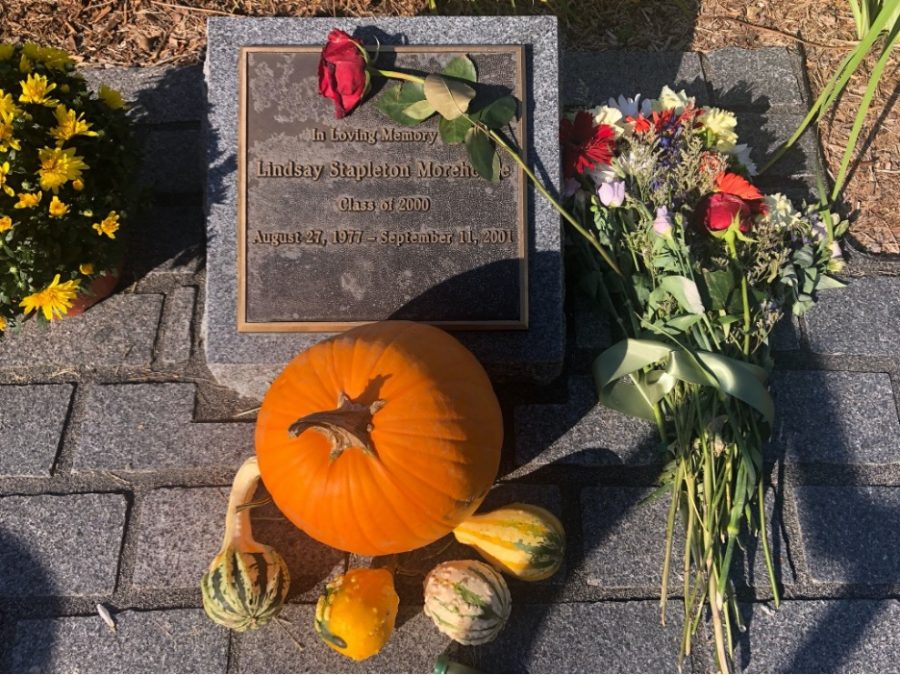 The 9/11 attacks left the Williams campus, as it did much of the world, in shock. Horrified students watched the destruction on TVs in the student center and frantically called loved ones in New York City. The College quickly canceled athletic practices and gave professors permission to cancel classes; many of them did. That evening, hundreds of students gathered in Thompson Memorial Chapel for an interfaith service. The following week, students set up donation boxes for food, water, and clothes, which were shipped to New York. In light of a spike in hate crimes against those perceived to be Muslim, some students of Middle Eastern and South Asian descent expressed worry about facing violence based on their appearance. 
It eventually emerged that among the nearly 3,000 people who died that day were three Williams alums: Howard Kestenbaum '67, Lindsay Morehouse '00, and Brian Murphy '80. 
The front-page headline of the Record the next week summed it up: "College grieves with nation."
Twenty years later, remembering 9/11 on campus was a muted affair. The flag flew at half-staff. At Convocation, held on the morning of Sept. 11, President Maud S. Mandel, Rev. Valerie Bailey Fischer, and Bicentennial Medalist Val DiFebo '84 acknowledged the anniversary of the attacks. Thompson Memorial Chapel was open for quiet reflection, with flowers, a memorial book, and a candle arranged by the chaplains' office. 
Still, Michael Lewis, professor of art history, was insistent on remembering Morehouse, his former student. From 9:03 a.m. (the moment the South Tower was struck 20 years earlier) to 9:59 a.m. (the moment the tower fell) he remained at the memorial to Morehouse located near the tennis courts. He was joined by Professor of Mathematics Steven Miller and two students from Williams Catholic.
At 9:03, Lewis launched into the story of how he met Morehouse. He still remembers where Morehouse sat on the first day of Architecture 1700 to 1900 in the fall of 1999: the second row over to the right. On his first day of class, he typically calls on a student — someone who seems confident — and asks the student questions to get the class discussion going. Morehouse, with her "open, friendly, relaxed face," seemed the natural person to call on. She answered all his questions with energy, and Lewis left the class thinking the interaction had gone well.
At Lewis's first office hours, Morehouse appeared at his door looking agitated. Lewis invited her in and asked if she was OK; Morehouse then started to cry.
"Why were you picking on me in class?" she asked. 
Lewis's heart sank. He had never meant to pick on her; in fact, it was quite the opposite, and he told her so, and apologized.
After that difficult first interaction — in fact, Lewis believes, because they had gone through something difficult together — they became friends. Morehouse was a strong student; Lewis still has her final project, a humorous proposal to wrap the library in a Palladian façade. Although she was an economics major, she loved architecture, he said.
A year after graduation, she moved to Manhattan to work at investment banking firm Keefe, Bruyette & Woods in the South Tower of the World Trade Center, where she was on the morning of the attacks.
The Thursday after 9/11, en route to his class on American art, Lewis heard confirmation that Morehouse had been in the South Tower when it collapsed. At the start of class, he burst into tears.
"There was a sad symmetry to our relationship," he said. "It began with her weeping in my office, and it ended with me weeping in my classroom."
Morehouse, who was 24 when she died, was a star athlete at the College, earning All-American honors in tennis and serving as a co-captain of the women's tennis team. Loved ones described her in obituaries as adventurous and enthusiastic, as well as giving; she had been accepted to be a Big Sister mentor to low-income youth shortly before the attacks, according to a post on the 9/11 Memorial & Museum website.
The Williams community also lost Kestenbaum, 56, and Murphy, 41, that day. 
Kestenbaum, who held a PhD in astrophysics, loved astronomy. He would gaze up at the night sky through his telescope at all hours of the night and in all kinds of weather, his wife, Granvilette Kestenbaum, recalled in a post on the 9/11 Memorial & Museum website. 
At Williams, he was a member of the wrestling team and the St. Anthony Hall fraternity. Friends fondly called him "Kesty."
A senior vice president at Aon Corporation, Kestenbaum was also working in the South Tower on 9/11.
A recurring theme in obituaries about Kestenbaum was his kindness — to his family, to his friends, and to strangers. The New York Times began its obituary of Kestenbaum, "Howard Kestenbaum worried about the homeless. He spent nights in a shelter to see what it was like, and would respond to a request for a dollar with a five, along with a suggestion to get some soup and a sandwich." 
Murphy was a vice president of Cantor Fitzgerald Securities and was in his office at the North Tower of the World Trade Center during the attacks. 
He was a whiz with trivia. "Mr. Murphy's mind was stuffed with facts," The New York Times noted. "You name it, he knew it."
"He was just a really kind soul," recalled a friend in a tribute published in the Record. "He was a genuinely nice person."
Obituaries stressed his devotion to his wife, Judy Bram Murphy, and his two daughters. According to The New York Times, the first thing he would ask upon returning from work was, "Where are my girls?"