Society of Alumni celebrates 200th birthday this fall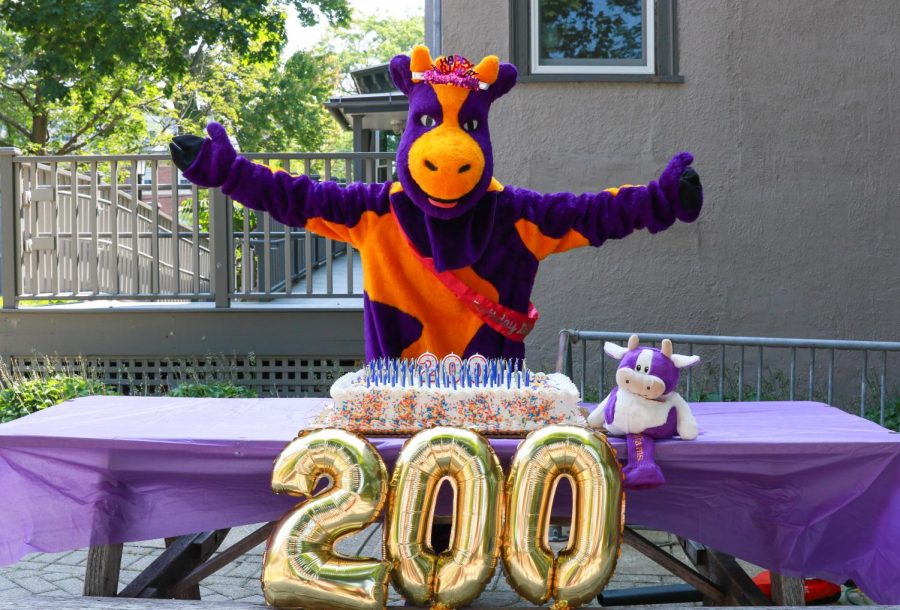 Sept. 5, 2021, marked the 200th anniversary of the creation of the Society of Alumni (SoA) at the College in 1821, making it the world's oldest continuing college or university alumni organization. Programs celebrating the bicentennial began in January and will continue through the end of the year.
The SoA was formed when almost a quarter of then-living alums, about 70 people, met in Williamstown after several faculty members left to form Amherst College. Alums raised $4,000 in the SoA's first capital appeal in the 1830s, and the SoA has organized numerous celebrations and fundraisers since then, according to the Williams alumni website.
Planning commemorative events for the bicentennial started years in advance. SoA Bicentennial co-chairs Aroop Mukharji '09 and Laura Moberg Lavoie '99 first met to prepare for the bicentennial in 2018. Their plans were approved by the College in February 2020 — right before the pandemic. 
"We were going to have these huge regional celebrations in person," Mukharji said. "That was the centerpiece of the bicentennial, these huge celebrations in cities around the world." 
Because of the pandemic, Mukharji and Lavoie pivoted to virtual options, reorganizing the bicentennial celebrations over the course of about six months.
Still, virtual programming brings some benefits, according to Lavoie. "We have reached more people than we ever would have, had it been what we had envisioned to begin with," she said. "The spirit of it is still exactly what we hoped for and more."
This fall, upcoming programs include the SoA's Back to School series of virtual "how-to" classes for alums, such as tutorials on making grilled honey buns, advanced knitting, and Indian cooking, which Mukharji will teach with his brother, Auyon Mukharji '07.
The Back to School series is based on popular Winter Study programming for alums. Although the College did not have Winter Study offerings for students last year, alums had the opportunity to take virtual classes on activities such as yoga and cocktail-making. 
Additionally, the SoA plans to incorporate talk panels into its programming. Purple Prose, a book club for alums, will read books written by alums and host author talks throughout the year. At the end of September, the SoA will host a conversation between President of the College Maud S. Mandel and President of the SoA Kate Boyle Ramsdell '97.
The bicentennial also offers a platform for various alumni networks to connect, including Bisexual, Gay, Lesbian, and Transgender Alumni (BiGLATA). "They've been doing a series of Storytimes with alumni from different decades, talking about their experiences as undergrads and kind of how that has influenced their lives," Lavoie said. "And those are super powerful — highly recommend. They're open to anybody." 
Although the in-person element of many events remains up in the air, Mukharji and Lavoie said they hope that alums will be able to experience some of what they have missed in the past year and a half.     
"Your horizon of decision-making can only really be four to six weeks in advance because things change so quickly," Mukharji said. "[But] the sort of Williams support that is out there becomes all the more important in moments like this."
In July, before the Delta variant worsened, Juan Baena '06 and Mike Rodriguez '17 embarked on a journey called Ephs on the Mooove, traveling the country in an RV decorated with Williams paraphernalia and covering 9,000 miles in 30 days. The pair visited small communities of alums and handed out bicentennial-themed gear.
"The really important objective of the bicentennial is to tell the stories of the everyday Eph," Lavoie said. "We've been kind of conditioned to believe that if we're not making gazillions of dollars and, like, saving the world or running the world, then we're somehow less than. And so one of the most amazing things about the Ephs on the Mooove project was those guys intentionally reached out to alumni that aren't the usual faces and voices."
Lavoie emphasized that the goal of the bicentennial is to actively bring the SoA to people and invite them to share their perspectives from where they are, rather than expecting or waiting for them to participate. 
"That's sort of the big-picture ethos for the entire bicentennial — wherever you are is home, and we're all part of this amazing network of people that are united by having spent four years in this tiny little mountain town in the corner of Massachusetts," she said. "It's a throughline since the very beginning."
Correction: In a previous version of this article, Aroop Mukharji '09 and Laura Moberg Lavoie '99 were listed as SoA co-chairs. Their correct title is SoA Bicentennial co-chairs.
About the Writer
Sonia Prasad, Social Media Editor
Sonia Prasad '22 is a political science major from Great Falls, Va. She is a social media editor, and she previously served as a beat writer and podcast...