A search for the soul of Spikeball: Why the game is such a hit on campus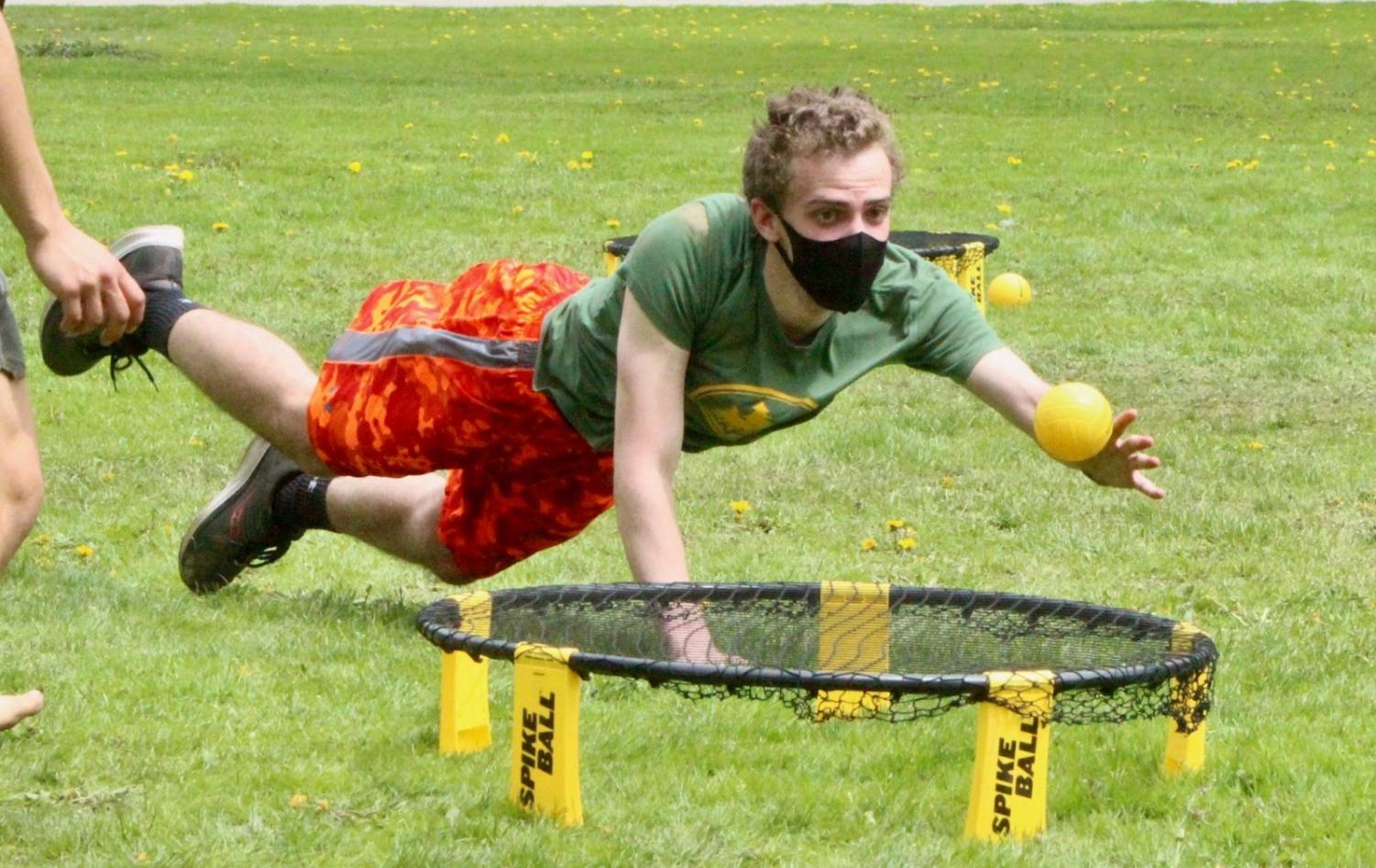 One of the least important changes of the last 14 months is that people here are playing a lot more Spikeball. It seems like every time the sun rears its head, students are out on the quads in groups of four, leaping and diving around yellow and black trampoline-esque nets. 
This is not to say that Spikeball is new. Created by toymaker Jeff Knurek in 1989 as "roundnet" and more recently popularized by Spikeball Inc., the game has been a fixture of beaches and college campuses for years. Indeed, I played Spikeball two or three times in spring 2019. (Those few games underscored for me something I had long known: that hand–eye coordination is not chief among my talents.)
The basic rules are as follows: Two teams of two face off around a circular net. One person serves the ball onto the net. Once it bounces up, the opposing pair has three touches to get it back onto the net, and then it's the serving pair's turn. If someone misses the ball, sends it to the ground, or causes it to bounce on the net twice, the opposing pair scores a point. The first pair to 21 points wins.
Yet as with every sport, there is so much more to Spikeball than the rules. One afternoon, I walked up to four members of a pod — Grant Swonk '21, Alex Trevithick '21, Luke Valadie '22, and Will Zhang '22 — who were playing Spikeball in Currier Quad. I asked them to explain the sport.
"It's kind of like four square," Valadie offered.
"It's like volleyball," Swonk countered.
"It's kind of like volleyball but it goes into the net instead of over it," Valadie clarified.
"It's like the sport for non-athletes," Swonk concluded. "If you're athletic but you don't play a sport, this is the sport for you." 
Despite the distraction of an intermittent Record interview, Swonk and Valadie emerged victorious over Trevithick and Zhang. Another member of their pod, Nick Hollon '22, subbed in for Trevithick, who sat on the sidelines with me and provided me with color commentary. I asked Trevithick what characteristics marked someone for Spikeball greatness.
Being tall is important, he said; it gives you a better angle for serving. On the other hand, being nimble also helps — and taller people sometimes have trouble getting to drop shots in time. Endurance is not as important unless you are playing many games in a row. ("In Spikeball," Trevithick said, "you actually really don't do that much.") A commitment to teamwork is key. So is a competitive spirit. ("You could ask me and Grant — we get super, super tight in Spikeball," Trevithick said.)
But no one is good at first, according to Trevithick.
"When you start playing Spikeball, you suck," he said. "Getting good at Spikeball presupposes that you've gone through a period where you've been really, really bad. So it kind of shows some grit."
I found Trevithick's assessment comforting, given my own sorry Spikeball performance a few years ago. Yet Hisham Tadfie '23, whom I found playing behind Lehman Hall, offered a different perspective on the sport. It is rather because Spikeball is so easy to pick up that it has been growing in popularity, he said.
"It's such a casual sport — you can just hop in," he said. 
The COVID-19 pandemic may have contributed to the sport's popularity. Spikeball offers a way to socialize safely, since it is an outdoor sport where players can more or less distance themselves. Pandemic restrictions also mean that students have fewer alternatives for recreation. As Tadfie put it, "Last year, there were other things to do."
The Spikeball frenzy took on a more structured form on Saturday, May 8, at a tournament next to Perry House. Organized by John DiGravio '21, the house coordinator for Perry, and Chelsey Jordan '21, the residential director for West Campus, the tournament was divided into beginner and advanced brackets. The winners of both brackets received $100 per person ($200 per pair) to a Spring St. establishment of their choice; second place got $50 per person, and third place got $25 per person. Twenty-six pairs played in the tournament over the course of the day, DiGravio said.
The temperature was in the fifties — warm by the standards of early May in Williamstown. On the lawn were four nets, each surrounded by four people wearing shorts, athletic shirts, and expressions of great focus. I saw familiar faces: Swonk, Trevithick, and Tadfie were all in attendance.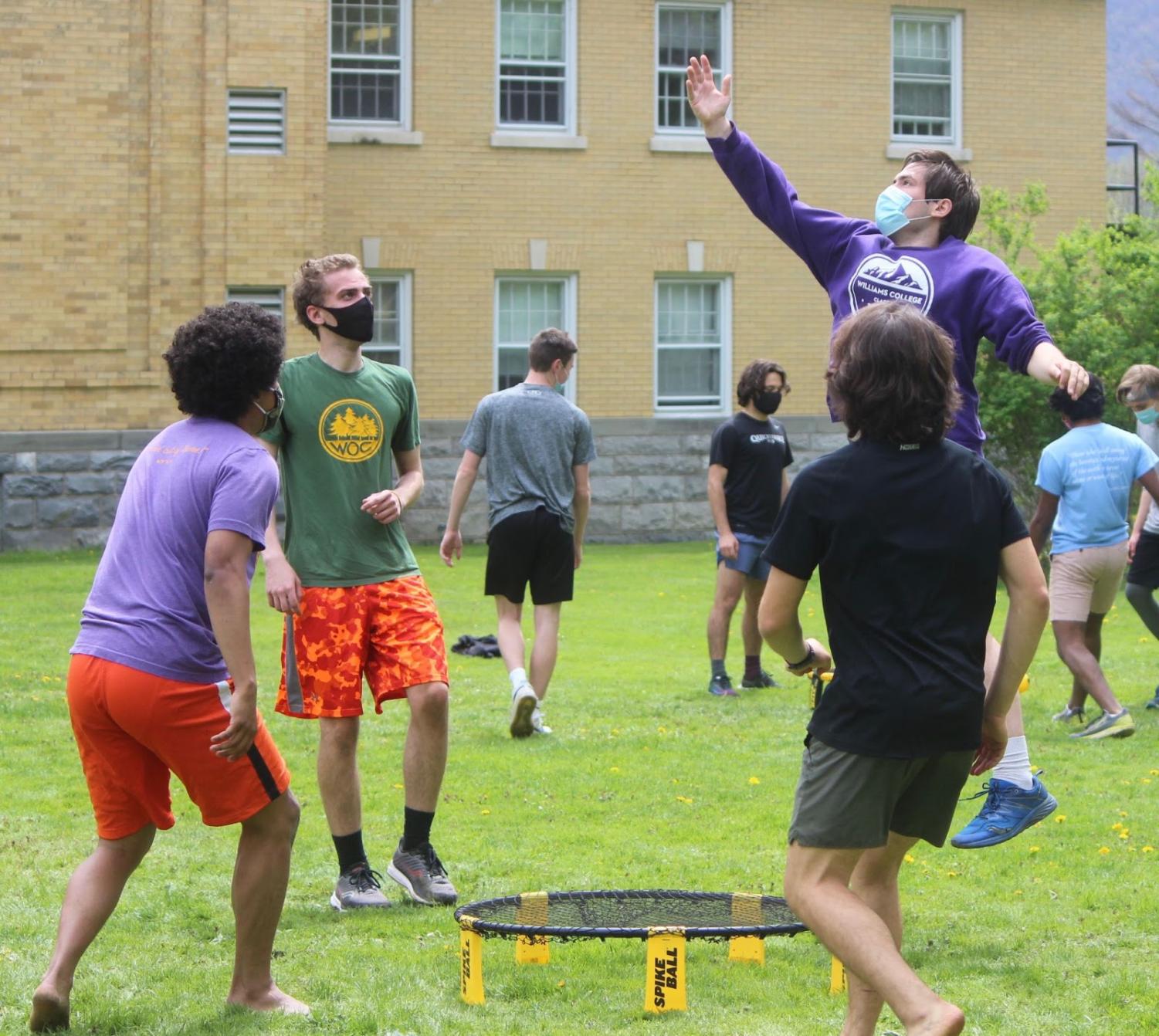 By the time I arrived, the advanced bracket was well underway. Most of the teams left standing were made up of men. But Caleigh Paster '21, who had come in second in the beginner bracket that morning with the help of partner Sameer Khanbhai '21 and was now a spectator, said she had felt comfortable at the tournament.
"I'd say Spikeball is a very male-dominated sport, but as a volleyball player, I felt like I belonged," she said. "I know how to spike, I know how to — well, not hit it into a net — but, you know, you can adjust for the game. So, yeah, I never felt out of place."
Jordan did not enter the tournament herself — "I don't even know the rules," she said with a laugh — but DiGravio competed in the advanced bracket. Clutching the Sharpie that he was using to fill in the bracket as teams got eliminated, he expressed optimism about how he would fare in the quarter-finals.
"I'm feeling pretty good," he said. "I'm really confident in my partner, Will Barrett ['21] — really incredible Spikeball player. Some impressive acrobatic abilities. My job is just to keep him in the game."
Then I watched DiGravio and Barrett in action. "Acrobatic" struck me as an accurate description of Barrett's approach. Barrett dove for a ball and rolled on the ground. He delivered a spike that sent an opponent flying to the grass in vain. More than once, he hopped over the net and slammed the ball through his legs, sending it toward the side whence he came and taking his opponents by surprise. Barrett and DiGravio won the quarter-final game handily.
After the game, I asked Barrett about the between-the-legs move. "Oh, yeah, that's my signature," he said with a laugh.
Few Spikeball players on campus are as seasoned as Barrett, who began playing as a child after his family got a Spikeball set. A skilled player, Barrett seemed optimistic that his team could win the tournament.
But so did True Pham '23, who came up to where we were sitting. Although he and Gus Nordmeyer '23 had just lost to Barrett and DiGravio, he had also entered the tournament in a pair with Jacob Fink '23, so he still had a shot at winning. And he wanted Barrett and me to know it.
"On the record — guaranteed: We will win," Pham said.
As it turned out, neither pair would place first. Barrett and DiGravio were bested by frosh phenoms Olivier Khorasani '24 and Justin Cheigh '24 in the semi-finals. And though Pham and Fink made it to the finals, they, too, ultimately fell to Khorasani and Cheigh.
Both Cheigh and Khorasani have played Spikeball since high school, and they have been playing as partners since the fall semester. They have established a formidable rhythm: Khorasani sets the ball, then Cheigh spikes it, hard.
"Olivier is really good at setting the ball, which is underrated," Cheigh said.
"He's a great spiker," Khorasani said of Cheigh. "One of the best."
Or perhaps, as their $100 gift cards to Spring St. establishments can attest, simply the best.