First years reflect on their integration into the athletic community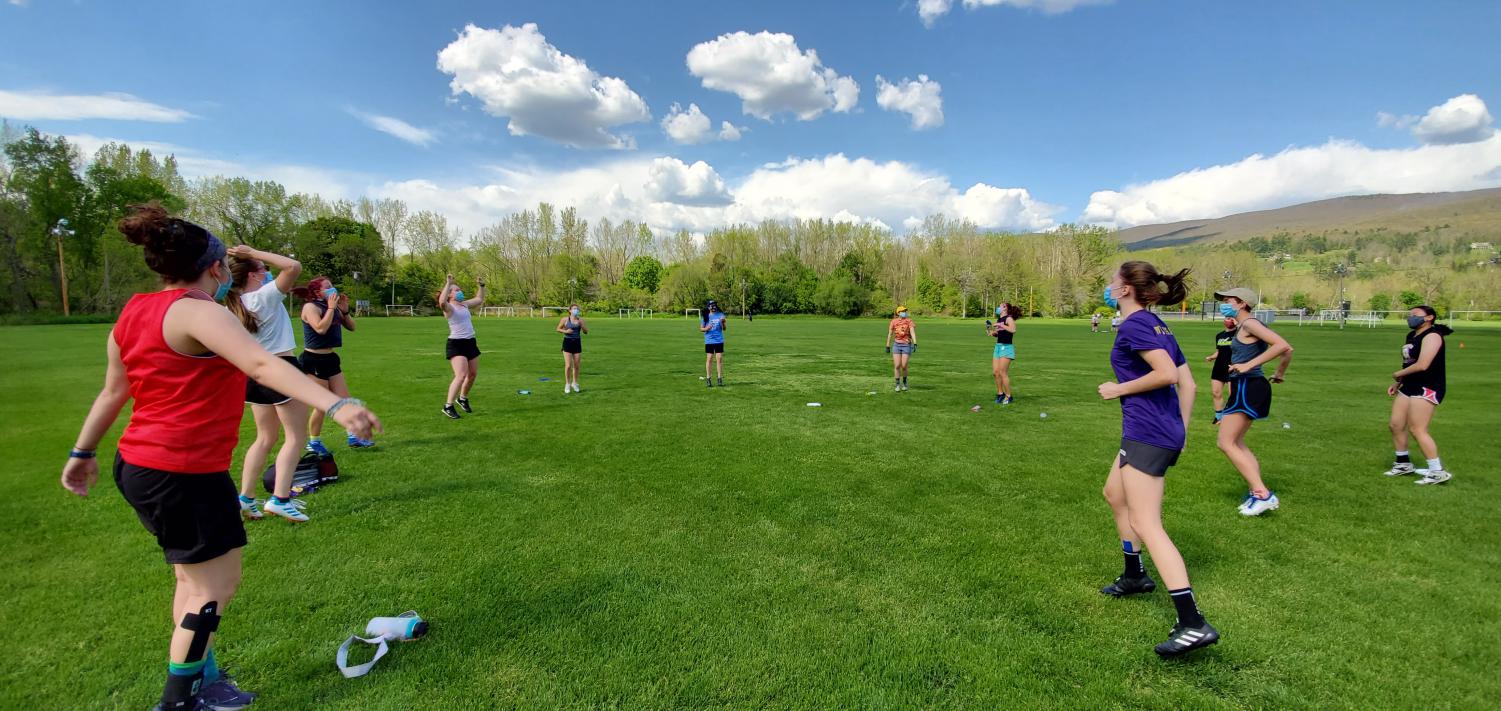 Coming onto campus in the fall, JP Wong '24, a first-year on baseball, was nervous about being in a different environment and joining a new team. "I was worried about fitting in with the team," he said. "Anytime you're joining a new group of people who's already been [an] established group, it's tough to maybe find your place." 
Wong was not alone in his concerns about the transition. Other frosh, including Abby Godwin '24, a first-year on women's lacrosse, faced similar challenges. 
"[I was nervous about] being with a new group of girls, where you kind of have to make a name for yourself and become comfortable with … new teammate[s], [a] new coach, and stuff like that," Godwin said. "I knew the academics were going to be rigorous, so trying to find a new balance in the college atmosphere of playing college sports and being a college student [was a challenge]."
Many first-year student athletes dealt with similar anxieties as they joined the Eph athletic community this fall, either in-person or remotely. In addition to the typical pressures of adapting to a different environment, new Ephs also dealt with the added pressure of transitioning during a pandemic that took away opportunities for practice and competitions. 
"What I was most nervous about wasn't [the] things that would happen as a result of [COVID-19] … but the things that wouldn't happen: the team dynamic and team culture," Zach Houlton '24, a first year on swim & dive, said. "One of the main reasons that I came to Williams is because I thought that the athlete culture that I saw on my recruiting trip was so good… If we didn't [have that], it would have made the year much harder for me. So I was nervous about not having the positive climate and team activities."
Natalie Silver '22, the leader of the Student-Athlete Advisory Committee (SAAC) first-year subcommittee, identified this loss of team connection and "informal information" as one of the biggest challenges for first-year student-athletes.
Silver, a field hockey player, defined "informal information" as receiving information from teammates, learning about the College through their experiences, and gathering "different little pieces of information" that could prove to be important as students first arrive on campus.
"It's the best when you just show up [to Goodrich] and your teammate has a seat and you're like, oh, that's my seat," she said. "It's just that kind of connection that I guess you just don't find as often because you can't share a table."
"That definitely comes through that support network," Rachel Neugart '22, co-president of SAAC and a member of the softball team, added. "In a normal year, you're going in and out of the weight tent, you're going in and out of the facilities, you're going to run into people. Your upperclassmen introduce you to people who will help provide those sources of informal information."
The first-year subcommittee has therefore focused on helping first-years build support systems and identify resources that would help them in their transition to college. In addition to creating small communities of six to eight student-athletes in the fall as a way to facilitate inter-team bonding, the committee ran a panel on student-athletes studying abroad. Additionally, SAAC hosted several different events to bring together the Eph athletics community, one of the most recent being the JR Memorial Wiffle Ball Tournament in honor of Jackson Ronningen '24. 
Events such as these aimed to include first-years in the athletic community and build relationships between student-athletes. Wong, who attended the Wiffle ball tournament, confirmed its success. "That was one of the times that they lifted my spirits," he said.
In addition to SAAC-run events, first-year student-athletes also developed support systems on and off the field with their captains and other teammates. "The minute we stepped on the field, they just made us feel comfortable," Godwin said. "The captains were absolutely fabulous planning stuff on and off the lacrosse field where we could bond in other senses that weren't necessarily having lacrosse as that center point, which was great. And they've been such a good resource with picking classes, and kind of just everything to do with Williams."
Other captains made similar efforts to get to know the first-years on more personal levels and help them feel more comfortable within the team. "Each captain had lunch with the seven freshman guys at the time," Wong said. "Getting to know them, talking about the team, and talking [with] the other class of guys [about] what to expect from the fall, it was definitely super nice."
Additionally, coaches played an integral role in building community and strong team culture. "Our coach was like, 'I want you guys to not play like a freshman, I want you guys to have that voice on the team; you will learn from others and others will learn from you,'" Godwin said. "And I think that just built a lot of confidence in us to know that it was a comfortable environment to be around."
Softball coach Kris Herman emphasized the importance of shared experiences in building team culture. "Shared experience is a key to relationship building," she wrote to the Record. "Our 'team building' always is to have everyone who makes a commitment to our team do the things that are required to make our team great. Preparation, communication, training, getting to know each other… Those things are the same each year."
For Robin Kitazono '24, a first-year who was remote in the fall while on women's ice hockey and non-male identifying ultimate frisbee (La WUFA), meetings with the coaches and other members of the team were especially important. "For hockey, we had bi-weekly check-ins … and for frisbee, we tried to do game viewings and stuff… Just having that little pod when we watch games and stuff, that was nice."
Kitazono, who now boasts an impressive athletic resume as a member of women's ice hockey, women's lacrosse, club volleyball, Williams Ultimate Frisbee Association (WUFA), and club badminton, found that sharing the common interest of the sport made it easier to bond with her teammates, despite the distance between them. 
"I feel like it was easier to integrate … because we're all playing the same sport, so we all have a common goal," Kitazono said. "Once you're all playing the same sport and then you label yourself as a team … it becomes easier to talk to people and it becomes easy to get to know them."
 The community within teams helped Houlton and other first year student-athletes find their closest friends and place on campus. "When I got here, I told myself, I'm not going to be friends with someone on the team just because they're on the team. Like, I'm going to find whoever I like the most," Houlton said. "But the way it worked out is that probably like my closest three or four friends happen to be in swim & dive, which is really cool."
When asked, after a year of being on their athletic teams, whether they felt like they belonged on campus, each athlete answered with an enthusiastic yes. 
"Yeah, I'd like to think so," Wong said. "I enjoyed being part of the baseball team. Really looking forward to next fall. There's a big culture of you know, work hard this summer and get better just so we can all move forward in the fall. So I'm really looking forward to that."