International students weigh choice between going home, staying on campus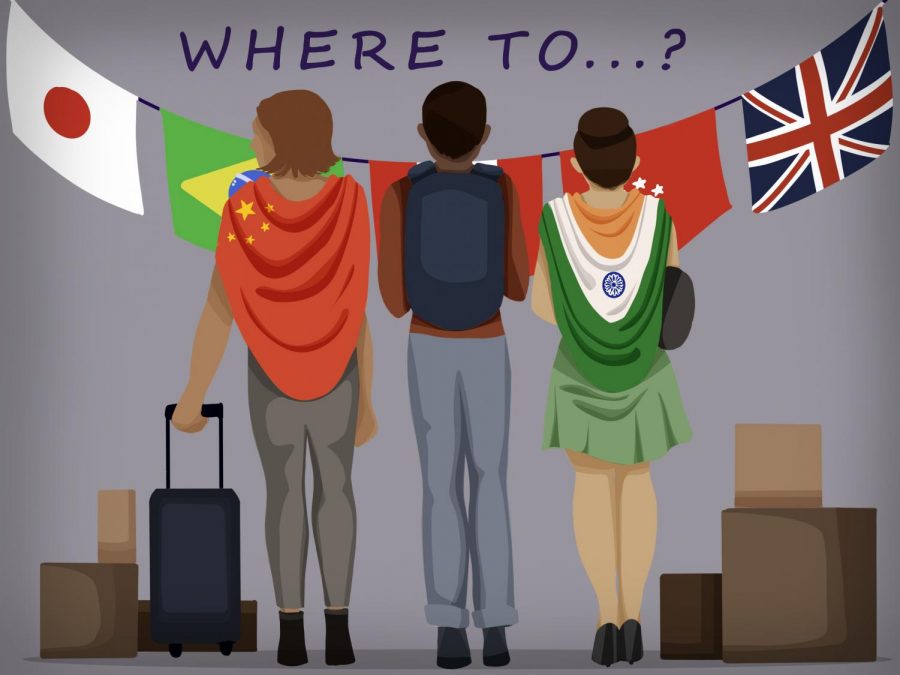 With COVID-19 rates rising in many countries and travel restrictions still in place, international students at the College face a decision as the end of the spring semester looms: to return home — for the first time in over a year, for some — or to stay on campus through the summer.
While most seniors will say goodbye to the Purple Valley for the foreseeable future, Shreyam Misra '21 will be staying on campus over the summer rather than returning home to New Delhi, India, where COVID has been spreading rapidly. India is now averaging 3,000 to 4,000 COVID deaths per day, and its hospitals are facing shortages of oxygen supplies and medical staff.
"It's a tense situation," Misra said. "I've been communicating with [family] pretty much daily at this point, checking up on various different family members, relatives, friends, neighbors. There's always someone we know either being admitted to a hospital or being discharged."
When the College shut down in March 2020, Misra stayed in the United States, first with distant relatives and then on campus. But he was able to return home this past winter break, when the COVID situation in India looked less severe than in many cities in the United States. 
He said his decision to visit India back then stemmed from uncertainty about his ability to return later on. "At that point, it was more a question of, 'Will I get to see my family in the near future?'" he said. "Being a senior who might be entering the workforce as early as June, I didn't want to risk not having been home in years."
Misra is staying on campus this summer because he will be working in Boston after graduation, and he worries he would not be able to easily re-enter the United States if he goes back to India now. The U.S. suspended the entry of non-citizens from India beginning on May 4, requiring travelers to stay in another country until their last day in India was at least 15 days prior.
"Williams was kind enough to offer international students accommodations this summer, especially if situations in home countries are dicey," he said. "It's a nice buffer to have as a senior where I can start looking for apartments and accommodations after graduating."
According to Director of International Student Services Ninah Pretto, "There are international seniors remaining on campus past graduation as they await the start of their Optional Practical Training work authorization or the move-in date for their graduate programs." Most of these students will stay on campus until the first or second week of August.
"Students had to request special approval from the housing office, and it is an exception we have been able to do for last year and this [year] due to the pandemic, but most likely will not continue once travel returns to normal," Pretto added. 
Yash Mangal '23 is staying on campus this summer instead of going back to Jaipur, India, also in part because of concerns that he wouldn't be able to re-enter the U.S. in the fall. He mentioned the severity of the pandemic in India, as well as travel restrictions and time differences, as other factors in his decision.
"The COVID situation is actually pretty bad [at home]," he said. "It's partially because of the situation and also just the borders are closed right now, so I don't really have a way of getting there," he continued. 
Mangal's summer job, which, while remote, will be based in the United States, making working from home in India a logistical challenge. "All these reasons make it make more sense to stay here than go back," he said.
Mangal was remote this past fall, having returned home when the College first shut down. He returned to campus only this spring. "It was so weird, because I was right there across the world, and I used to hear about all these crazy things going on here all the time from my friends and podmates," he said. "I was like, 'Wow, you guys are definitely going through it right now.' That's kind of what's happening now back home."
Though Mangal was able to successfully navigate border restrictions and find flights between India and the United States, he noted the additional burden faced by international students. "It's much more of a logistical hassle, just keeping things in mind and how they're being updated in real time," he said. Many other international students, like Enzo Zhang '23 and Angela Chen '23, are staying on campus this summer in large part because they hold in-person summer research positions at the College. 
Zhang, who has not returned home since January 2020, is from Wuhan, China, where the first cluster of COVID-19 cases was reported. "I left Wuhan right after I heard the rumors about COVID on Jan. 3," Zhang said. "I remember that day. My dad went to that seafood market to buy some seafood to make the final dumplings on Jan. 2."
When the College shut down in March 2020, Zhang found himself confronting expensive and limited flights, as well as restrictive policies requiring travelers to China to stay in a third country for 14 days. As a result, Zhang stayed on campus through the closure and has remained since.
Zhang has a chemistry research position this summer, so he has to stay on campus at least until the end of July. But he said he is not yet sure whether he will return to China at the end of the summer. "It depends on both governments' policies regarding vaccinations and border crossings," he added. "Seems like now it's okay on the United States side; I'm waiting to hear about the Chinese government's side, if they recognize the Moderna or Pfizer vaccines."
The Chinese Embassy announced in April that it would accept Pfizer-BioNTech, Moderna, and Johnson & Johnson vaccine records in travelers' applications to enter the country. Previously, China had recognized only Chinese vaccines, and even now, no foreign COVID vaccines have been approved for use within the country.
Zhang also expressed worry about new variants of the virus around the world. "There's still a lot of uncertainty," he said.
Chen attributed her decision to not return to Taiwan this summer more to logistical reasons than the risk of COVID transmission. "It's only because I have really poorly timed things that I'm not able to go home, not necessarily because of my fear of the travel risk, or any other factors," Chen said.
Taiwan currently requires inbound travelers to undergo a 14-day quarantine at an approved hotel. With her research position starting only about two weeks after the end of the spring semester, and her role in International Orientation requiring her to be on campus two weeks before the next fall semester begins, Chen said the quarantine requirement means returning home would not make logistical sense. "If I go home, I'll have to spend my entire time in quarantine," she said.
Chen decided against returning home this past winter break for similar reasons. "I think I was worried about being on flights and going into quarantine," she said. "I just didn't want to do that."
She was, however, able to return home at the start of the pandemic in 2020 and experience a relatively normal summer in Taiwan, where COVID was far less widespread than in the United States. Taiwan has reported only 2,260 COVID cases over the course of the pandemic as of May 18. 
For that reason, her parents expressed worry about her decision to return to campus last fall. "They didn't really understand why I wanted to be in person in the fall, because I was flying from a safe haven to the heart of the pandemic," she said.
Now, Chen said, the risk of transmission from traveling is no longer her foremost concern. "I think I'm coming from a place of privilege when I say that I feel comfortable making the trip home, because I have had the privilege of being vaccinated, because I live in a place where there's not that much COVID risk," she said. "So me not going home this summer is not necessarily reflective of the COVID situation at large, but just really poorly timed things."
"The accommodations for summer housing for international students have definitely been pretty welcome in the [international students] community," Misra said. 
He also said he appreciated the flexibility of the College's policies regarding international students: Though the College is requiring students to get vaccinated in order to return to campus in the fall, it will allow students who have not been able to access vaccinations to come to campus as long as they get vaccinated upon arrival. "I think that's a very important and helpful distinction to make in terms of equity for international students," Misra said.