Williamstown sees largest Massachusetts forest fire in over 20 years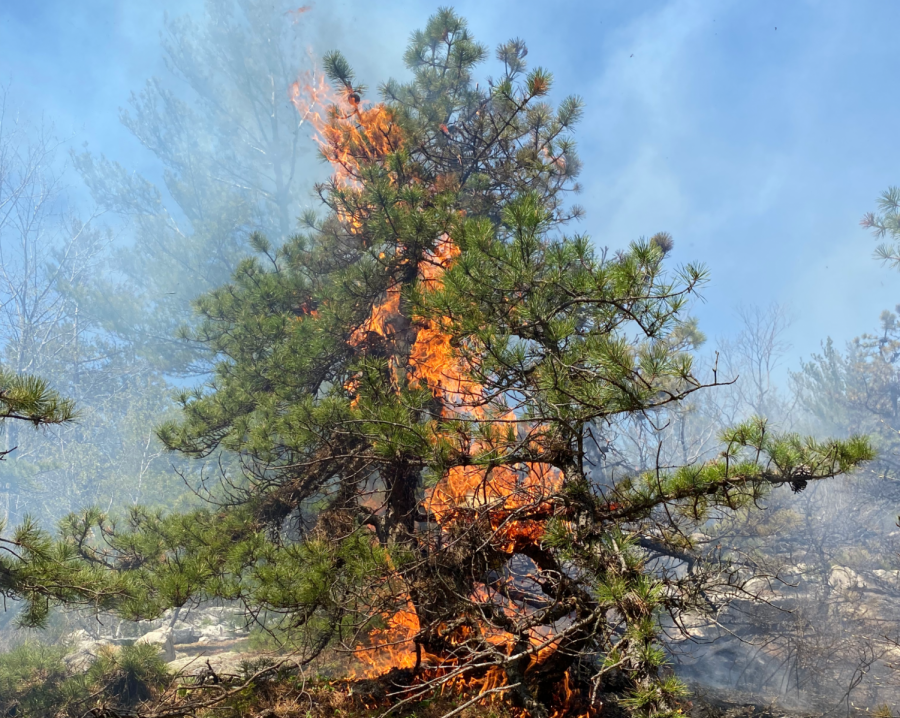 On Friday afternoon, students across campus began pointing at a smoky, tree-covered ridge north of Williamstown and asking each other: Is that mountain on fire?
With nearly 1,000 acres burned and over 120 firefighters responding throughout the weekend, the answer was a resounding yes. The wildfire, which tore across East Mountain, Pine Cobble, and Clarksburg State Forest, is the largest forest fire in Massachusetts since 1999.
One firefighter has been hospitalized but is in "good condition." The cause of their injury was not revealed.
The fire began on East Mountain on Friday and was likely exacerbated by drier-than-average conditions in 2020; As of Monday evening, Williamstown Fire Chief Craig Pedercini said that the fire was 75 percent contained with no structures presently at risk, and a spokeswoman for the Massachusetts Department of Fire Services said yesterday that it is no longer expanding.
However, Pedercini told the Berkshire Eagle on Monday that the fire will not disappear instantly. "The fire is going to continue to burn for several days as firefighters work to contain it," he said. "The public can expect to see smoke even after it's 100-percent contained."
The task of controlling the fire over the past several days has fallen to a mix of full-time and part-time firefighters from 19 different municipalities — among them Grant Gattuso '23, Ben Maron '21, and Will Titus '23, three part-time student members of the Williamstown Fire Department (WFD).
"We were the first ones up there Friday evening," Titus said on Monday, after a weekend of firefighting. "This was before the other departments had been alerted and had responded to assist us."
"Initially we were trying to make an effort to put it out using a combination of rakes and these special brooms that you can use to help put the fire out," Titus continued. "But we quickly realized it was very, very large. And we were going to need a lot of manpower to take care of it."
Not long after the WFD's student and Town resident members arrived on Friday, they were joined by firefighters from other nearby municipalities in Massachusetts and Vermont. Eventually, according to Gattuso, the Massachusetts State Police and National Guard began conducting air operations and water drops over the fire.
Gattuso said that despite the inherent dangers of fighting a forest fire, he felt safe serving alongside non-student members of the WFD whom he trusts. "On Saturday, we pulled out early because it got dangerous," he said. "And so seeing that, we know, 'OK, they're not going to put us in a situation where we're going to be in danger.'"
"You're around folks who you trust and have a lot of experience," Titus agreed. "And, you know, we've done some training too. So we have our training to fall back on."
Of course, Gattuso, Titus, and Maron are students, too, who have homework and classes and finals to attend to; while others were simply pointing at the fire over the weekend, they were actually fighting it. But Gattuso said that he has been able to find a modicum of balance.
"I think it's been pretty manageable," Gattuso said. "I mean, [being] out all Saturday and Sunday as finals are approaching was not ideal."
"You never know when [the call is] going to come," Titus added. "But you go in when the call does come."