SAAC holds wiffleball tournament in honor of Jackson Ronningen '24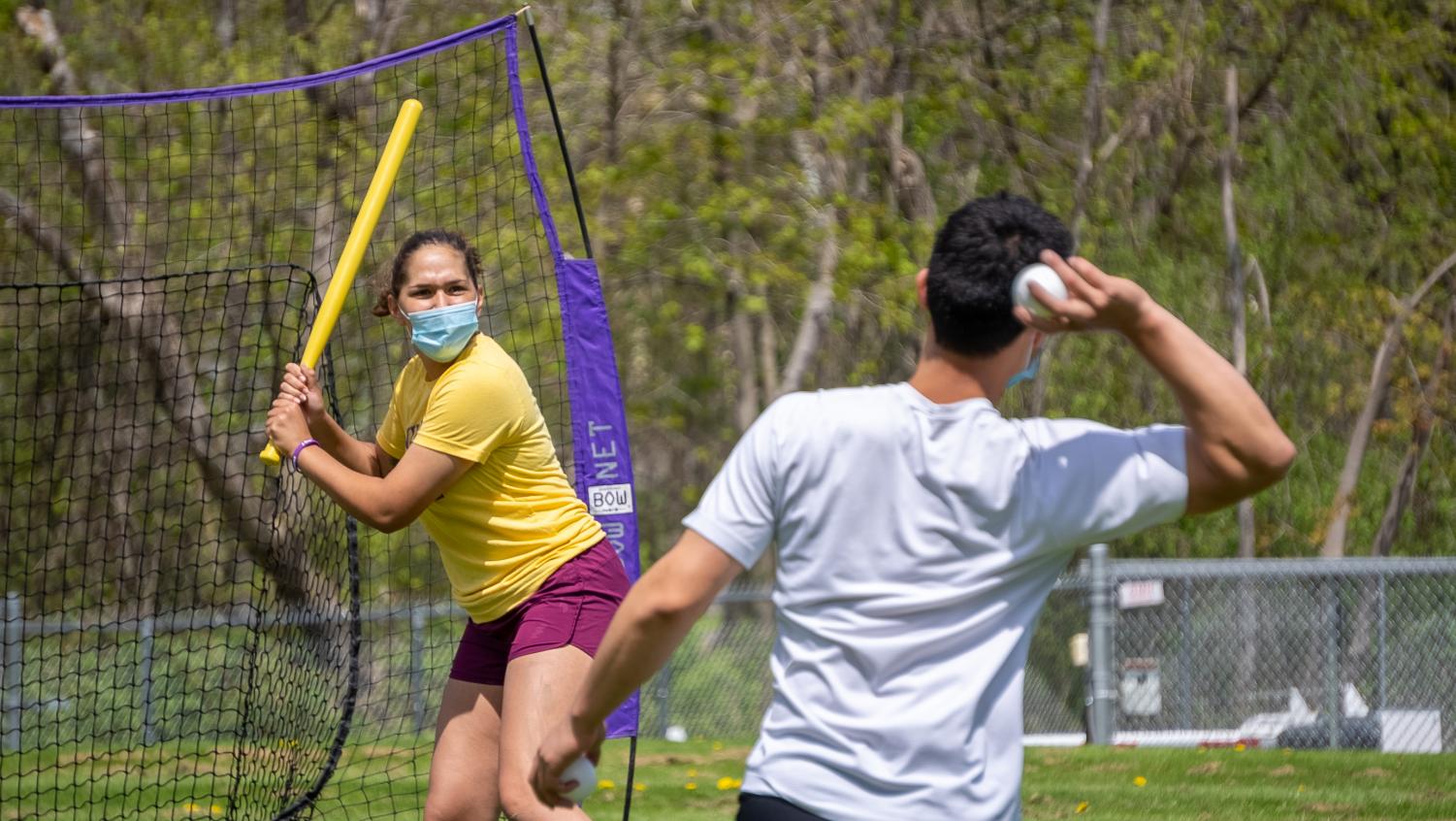 On May 7, the Student Athlete Advisory Committee (SAAC) held the JR Memorial Wiffleball Tournament in honor of Jackson Ronningen '24, a first-year member of the baseball team who died last November. The event was organized by SAAC in collaboration with baseball to remember and celebrate Ronningen's legacy.
The idea for the tournament was originally conceived by Rachel Neugart '22, the SAAC co-president. Neugart, who is a member of the softball team, came up with the idea in the fall and reached out to the baseball captains to make it a reality. "I remember I was like, we need to do something for [the team] and for Jackson," she said. 
"Rachel made it an actual thing more than just an idea, and we just ran with it from there," said Bryan Woolley '21, one of the baseball captains who helped organize the event. Neugart, Woolley, and other members of the baseball team started the planning process in mid-January and focused on making the tournament as organized and successful as possible.
"We expected a fair turnout, but we weren't sure exactly how things would go with COVID and with the regulations and everything," said Nate Orluk '22, a member of the baseball team on SAAC. "But we had a really good crowd… It was a really fun atmosphere to be around."
One goal of the tournament was to raise money for the Positive Coaching Alliance (PCA), a charity promoting positivity and inclusivity in youth sports. SAAC both sold shirts and accepted donations, with all proceeds going to the PCA. "That was a charity chosen by the Ronningen family," Woolley said. "We reached out to them, and we knew that we wanted to do something for them, but wanted to make sure that it was in the way that they wanted." 
Orluk also emphasized that the tournament was meant to "celebrate a person that was really important to a lot of people and made a really big impact on this campus, even though he wasn't here for long, and a really big impact on the baseball team."
The relaxed atmosphere of a wiffleball tournament was part of the appeal. "[We wanted] to give that tribute to him in a way that didn't feel gimmicky, in a way that felt more like something he would actually want to see," Orluk said.
The tournament boasted 15 teams in total, with around 115 people in attendance throughout the day, according to Neugart. With many athletes from varsity sports teams participating, the games were intense and competitive. "I had people yelling at me all day, even after the event happened," Woolley, who volunteered as an umpire, said. "But I think it went well, I think people had a good time."
While participants ranged from varsity baseball and softball players to those who had never played wiffle ball before, players of all skill levels said they had fun. "I think the tournament was a really fun way to do something important, and it seemed that everyone there felt similarly," Daniel Rials '22 said. "It was honestly a highlight of my semester, and having the memorial on a mental health day was so perfect."
Azaria Vargas '22, a member of women's softball and the SAAC Executive Board, agreed that the tournament provided a welcome respite from the stress of the long semester. "Getting to take the day to have fun playing wiffle ball but also consciously taking care of ourselves was much needed in the whirlwind of schoolwork, softball games, and countless responsibilities," she said.
In the end, "Willy's Chicken Marauders" emerged victorious, bringing an end to the day's festivities.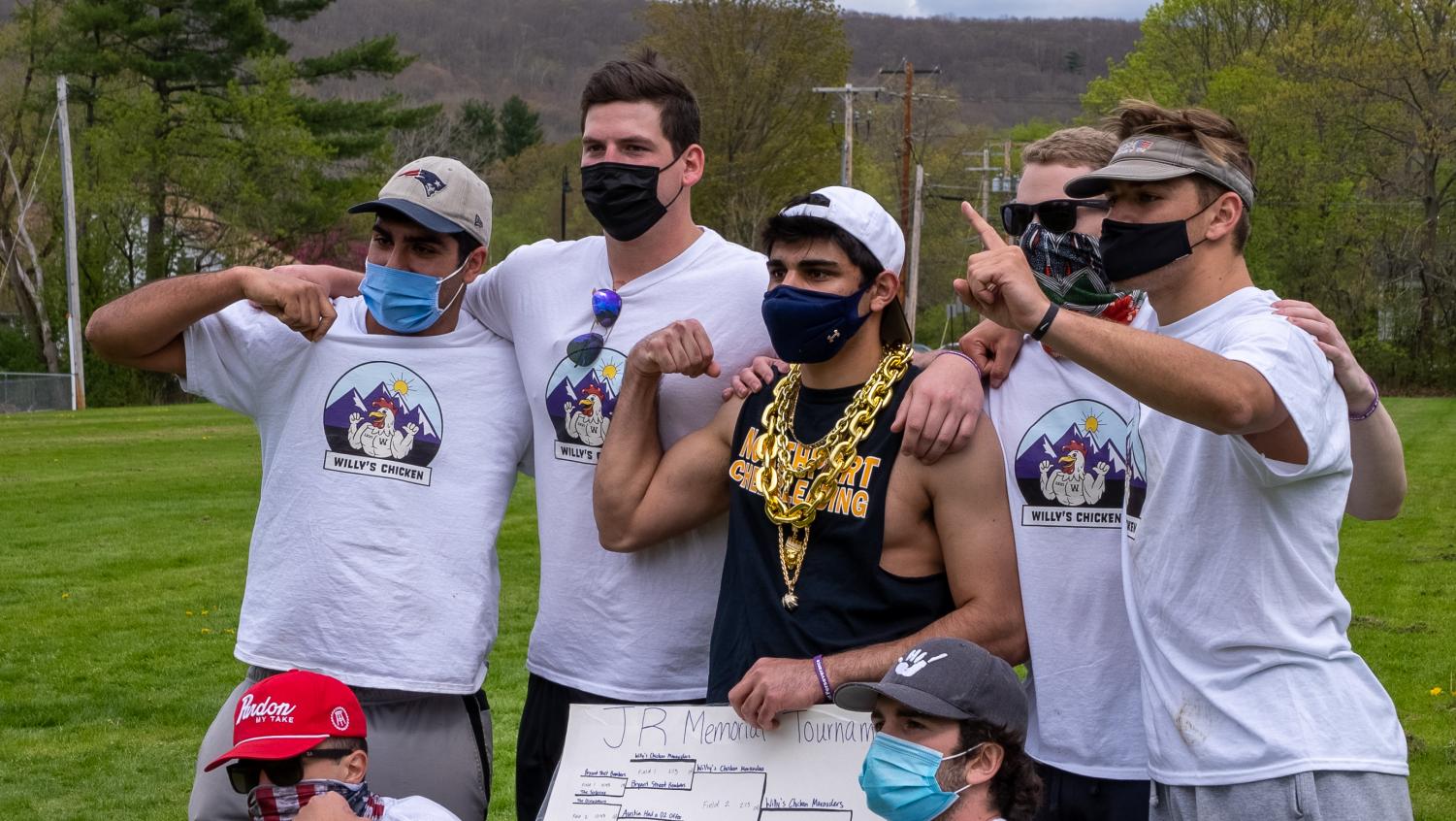 Aside from putting together a successful event, the organizers also hoped to start a long-lasting tradition of self-care and public recognition of wellbeing on campus, according to Woolley.  "I just hope we can continue this as an annual event," Woolley said. "I think it was really nice to do something in honor of Jackson. I hope it made his family happy. I know that it made his teammates and his friends happy to see something so successful, and I hope that we can continue to build on that moving forward."
Woolley commenced the event with a speech in Ronningen's honor. "Bryan's words made us recognize what we were playing for: the memory of Jackson and a recognition of how important mental health truly is, something that can often be neglected in the environments we find ourselves in," Vargas said. "I hope this message continues to resonate with Williams students, and I would love to participate in the tournament again next year."