College holds COVID-19 vaccination clinic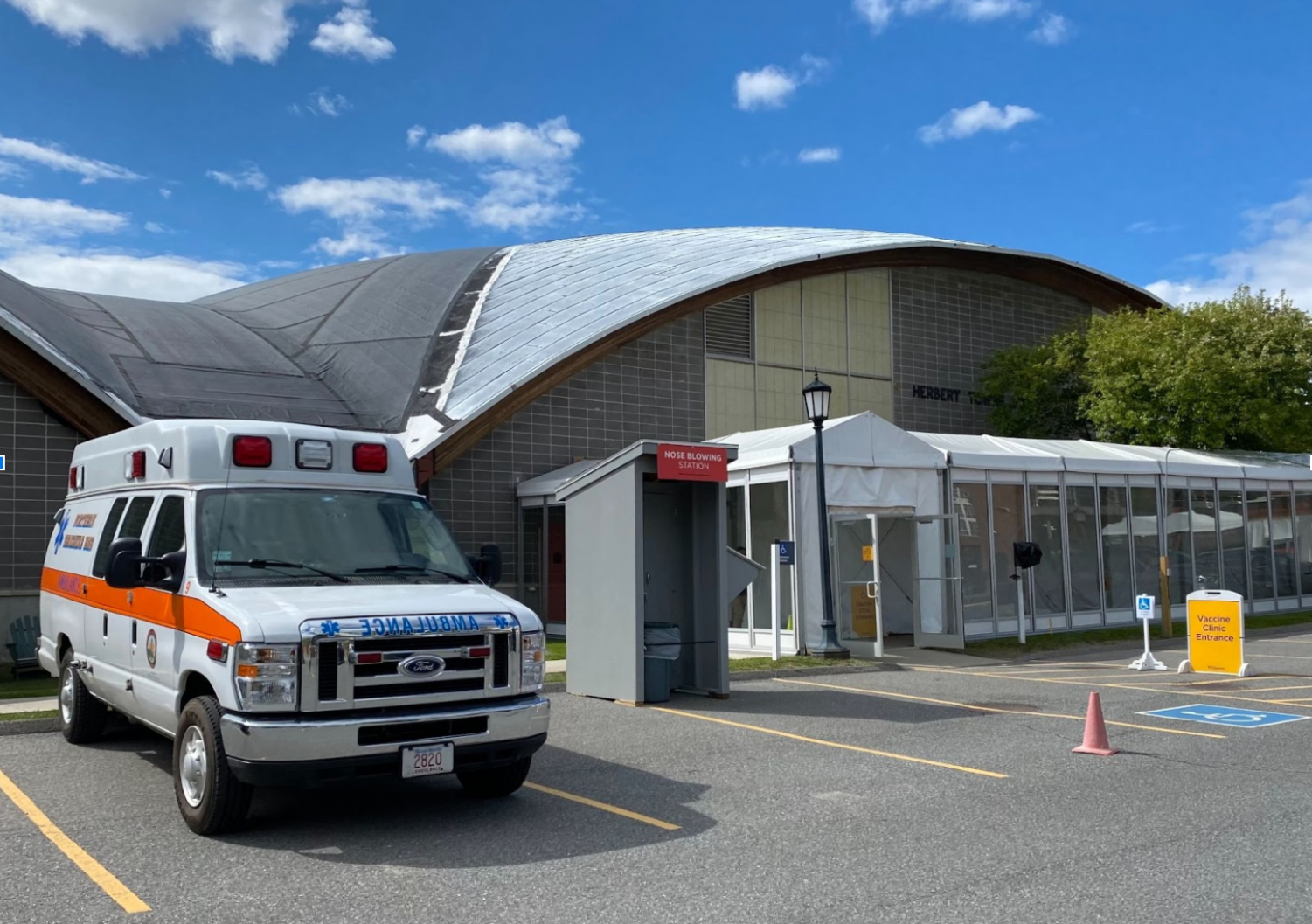 The College partnered with Northern Berkshire Emergency Medical Services (EMS), Berkshire Health Systems, and the Berkshire Vaccine Collaborative to run an on-campus vaccination clinic on May 12, which came after the College was unable to offer vaccines on campus for the first few weeks after eligibility had opened to all adults in Massachusetts.
The clinic accepted people both by appointment and walk-ins but offered first doses only. The Collaborative provided the College with 250 doses of the Pfizer COVID-19 vaccine; 30 people pre-registered, with a total of 46 people ultimately receiving their first shot at the clinic.
Second shots will be administered on campus on June 4 for those who got their first shot through the May 12 clinic. Those who received their first vaccine at another location are not eligible to receive a dose of the vaccine through either of the clinics.
The clinic used the College's COVID testing site in the Towne Field House, offering only a walk-through option, although the site administers both walk-through and drive-through COVID tests. Appointments were available from 2:30 p.m. to 6 p.m., with five appointment slots open every four minutes. 
All faculty, staff, and family members of faculty and staff were invited to get vaccinated at the clinic. The College also encouraged students who will remain on campus through the summer and who have not yet received the first dose of a vaccine to attend. However, students who were not already approved to live at the College over the summer will not be permitted to stay through June 4 just to receive a second dose through the clinic.
According to Safety and Environmental Compliance Coordinator Heather Main, the College wanted to provide a convenient vaccination option for those who had yet to get their first dose. "By allowing pre-registration and walk-in options, we could plan for the volume of the turnout while also encouraging individuals to not worry about the computer portion of the registration process, which was handled by staff at the clinic site," she said.
Appointments were available for pre-registration through the Massachusetts Immunization website. Though walk-in appointments were also available, the Collaborative requested that people pre-register if possible. Walk-in appointments required no online pre-registration, so clinic staff registered vaccine recipients on-site.
The clinic was allocated 250 doses for the first day, and though not all of those doses ended up in arms that day, none were wasted. "The nurses on hand only drew up into syringes the amount of doses needed for those that had pre-registered," Main said. "As additional walk-ins arrived, the doses were drawn up. Each vial contains a number of doses, and, once the vial is open, it must be used on the same day."
According to Main, any vials that were unopened are good for five days, so excess vials were kept chilled and were slated to be used on Thursday at the scheduled St. Elizabeth of Hungary Parish vaccination clinic in North Adams.
Many organizations helped to facilitate this vaccination clinic. Northern Berkshire EMS and Berkshire Health System controlled the operation and staffing of the clinic, providing volunteers to administer vaccines, as well as nurses, scribes, and Emergency Medical Technician and paramedic support. There was also an ambulance on standby in case someone had an adverse reaction to the vaccine.
The College itself provided the location and facilities for the clinic, as well as help with setup and other needs, like technical support from the Office of Information Technology, a Campus Safety and Security officer to direct traffic, and additional staff members.