Two in Two Thousand: Nelly Lin-Schweitzer '21 and Caleigh Paster '21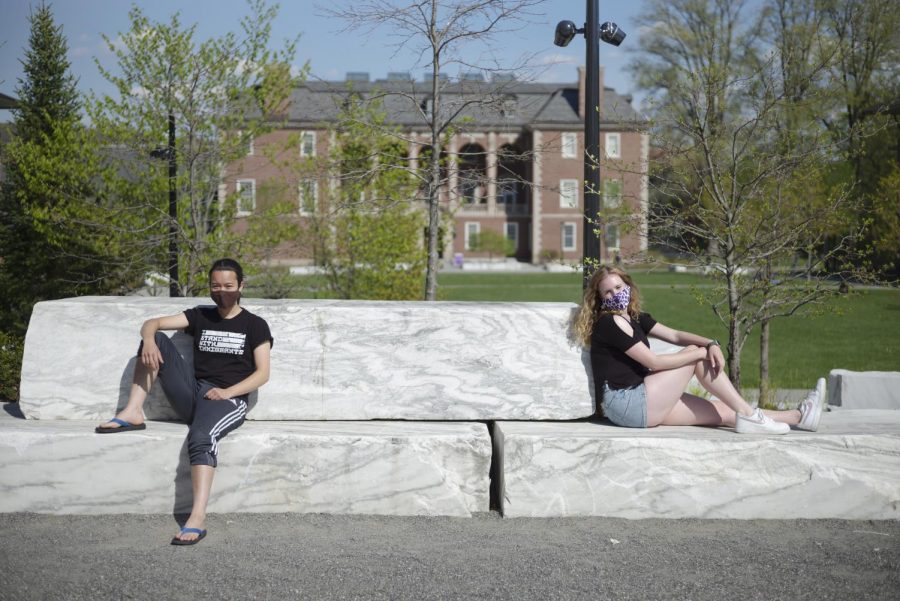 Each week, we randomly select a unix from a list of all current students at the College for our One in Two Thousand feature. For the Class of 2021's last issue of the Record, we selected two. As long as the owner of a selected unix is willing to be interviewed and is not a member of the Record board, that person becomes the subject of our interview. This week, the computer (using a script in R) chose Nelly Lin-Schweitzer '21 and Caleigh Paster '21, who talked about their experiences as seniors during the COVID-19 pandemic, their academic interests over the years, and their thoughts about leaving campus. This interview has been edited for length and clarity.
Katie Jung (KJ): How have you been feeling about your experiences as seniors during the COVID-19 pandemic?
Nelly Lin-Schweitzer (NLS): I'm kind of sad. When it comes to my thoughts on senior week, I go very back and forth. A lot of people say that it's pointless and doesn't do anything, but I was sad that it wasn't at all a thing. 
Caleigh Paster (CP): I was initially proud of Williams in that it seemed the administration had a very comprehensive plan relative to a lot of other schools, and the fact that they were even opening back up last fall was really nice for me. It was nice to know that I'd be able to get a senior year even if it was going to be different, and that at least everyone who chose to stay on campus was going to experience it together. It's not just me alone. But we're not going to be having the same graduation. My parents live in Canada and the borders are closed, so who knows if they'll be able to come. There's been a lot of inequity that comes with some of the decisions that they've made. I understand why they make these decisions, but especially with vaccination rates going up, it is sad to feel like, "Oh, maybe there could be a possibility beyond what they've planned for us," but at the same time at least I have something. It's not just, "Go home. You have no celebration. We're just doing it all online," so I go back and forth everyday.
[Nelly has a brief conversation about an art class with a friend passing by.] 
KJ: Was that for an art project?
NLS: Yeah, I'm doing intro painting, which I was too afraid to take for the past four years, but I'm so glad I did. I was just like, this is my last semester. I need to be not afraid of not getting an A. I need to not be afraid of my ability to produce good creative work.
CP: I also took an art class last semester for the first time at Williams. I really liked it. I was like, "Dang, I should've done that earlier."
KJ: I heard you both are double majors.
CP: Fun! [To Nelly] What are you?
NLS: I'm physics and English.
CP: I'm biology and French.
KJ: Wow, so you're both studying a Div. III and a language.
NLS: That's so funny. Very liberal arts. [To Caleigh] Which is your favorite?
CP: They're very different. I ended up doing French because I studied abroad in France for a semester. If I hadn't gone abroad, I think I would've done a lot of science every single semester. I love science, and I really missed bio when I was gone. But when I came back from France and took three bio classes at once, I was like, "Woah! Why am I doing this?" So I like them both in that they give me different things. What about you?
NLS: I don't not like physics, but it's often harder on me. Recently though, they've been equally hard because I started creative writing and found it way harder than I thought I would. It makes me question myself in ways that are similar to my insecurities in physics. But in both of them, trying to work through those insecurities has helped me a lot.
KJ: What do you think you'll miss most after leaving?
CP: I'll miss the very easy way that you can send someone a text and be like, "Meal?" And they're like, "Sure!" It's just 10 minutes maximum of a walk and you can catch up with someone. I'm probably going to be in a city next year, and that's just not as easy. I'll miss having such a big community despite Williams being such a small school. I feel like my own personal network is very large and I can always find someone new to catch up with. Especially in COVID, because you're not hanging out with people in the normal social scene, I feel like meals are the only times I can see people and catch up.
NLS: I think the place is really special. The place and the people. It weirds me out that we get to be here for just four years. It's meant so much. I've just changed a lot I think. The idea of becoming distanced from this place is very strange to me.
KJ: What are your thoughts on the future?
NLS: I'm definitely terrified. A lot of this last week was actually just me trying to get over fear of what comes next, of this sense of leaving this really warm space where I know a lot of people. If I'm in a good mood, I'm like, "I don't mind. I'll figure it out." And if I'm in a bad mood, I'm like, "Everything is going to collapse."
CP: I feel that, 100 percent. It was really interesting for me because last fall I came onto campus and was like, "I don't want to leave this place. I love it." I was having a great time. It was so sunny all the time, and I was outside enjoying it. And then I came back in January when a few thesis students were coming back, and no one was on campus. I was like, "I think I might be ready to leave this place soon." I realized that the campus and I were growing apart, and that I'm a senior who's about to leave campus soon. I'm really sad to go just because it's so comfortable and things are very convenient here. I love my friends here and the people I've met, and obviously the world beyond Williams is not going to be so forgiving in a lot of ways. I'll have to figure a lot of stuff out on my own. I can't just email my professor, "Please help ASAP." But I'm also excited. I'm stressed because I don't know exactly where I'm going or what I'm doing, but I know that I'll find something. I just have to keep reminding myself that it'll be fine. We've been set up for success here, so hopefully success will come find me.
KJ: Any general advice for other students here?
CP: I think the Williams experience is what you make it. If you go out and take advantage of all the opportunities that are presented to you, you can have a really great time. And obviously there's the other option of just sitting in your room or taking a back seat. I learned this year especially that I had a lot of opportunities to do things these past years that I just hadn't taken, and this year I kind of forced myself to because of COVID. And that made this semester a great semester relative to others.
NLS: Don't be afraid of not having solidity or not having fully figured things out. That's something I'm trying to tell myself as well. It's okay sometimes to just float.
CP: Yeah I think when I came in, everyone knew what they were doing — what their dreams and goals were. I was like, "I don't know what I'm doing." I only kind of figured out what I wanted to do this past year, and I feel like everyone's on their own timeline. If you don't know what you want to do, it's not because you're worse than anyone else. Everyone here comes from such different backgrounds that it's not really comparable. It's your experience, so you just have to own it however you want to.