Mental health in athletics: Victoria Garrick speaks to students on Fresh Check Day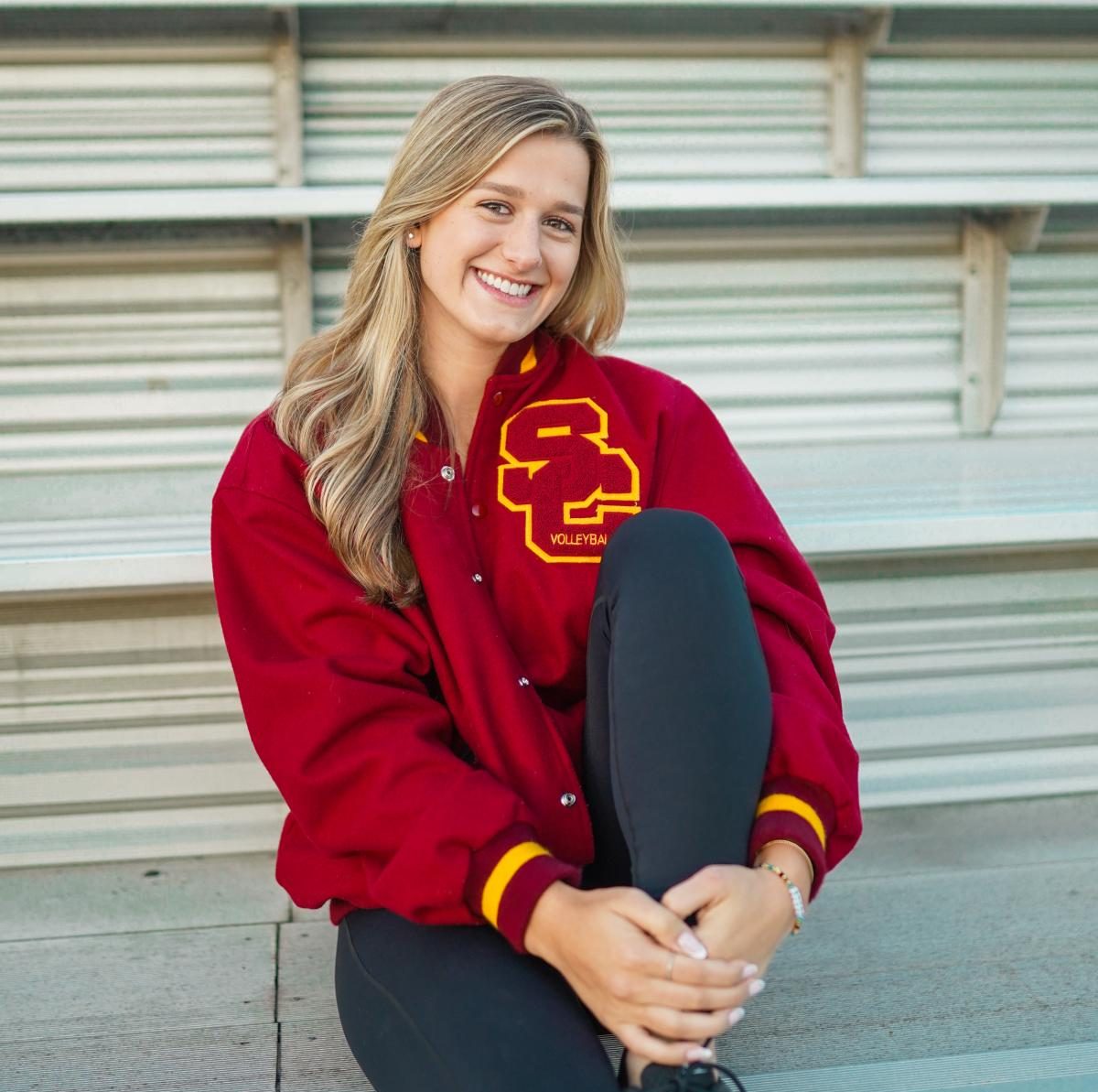 Victoria Garrick, a former Div. I volleyball player at the University of Southern California (USC) and current mental health advocate, spoke at the College on April 20 about her athletic career and struggles with anxiety and body image. She was invited to speak by Lauren Barry '22, the head of the Mental and Physical Health Subcommittee of the Student Athlete Advisory Committee (SAAC). 
Garrick's talk was held on Fresh Check Day, an annual event run by SAAC focused on mental health for athletes and the student body as a whole.
"I know how important [Fresh Check] Day is to a lot of people on campus," Barry said. "Unfortunately, because there are remote students, and they wouldn't be able to participate in this great event that we hold every year, I wanted there to be some sort of amazing feature that they could also access."
Barry first met Garrick while watching her play high school volleyball with Barry's sister. She continued to follow her career at USC and became a big fan of Garrick's mental health advocacy. "I just thought it was so amazing how this girl who I looked up to, in so many ways, was also capable of being so real about these issues that affect student-athletes and college students, across the globe right now," Barry, a member of the volleyball team at the College, said.
Garrick was not a star recruit out of high school; rather, she was a recruited walk-on to the volleyball team at USC. However, determined to prove she deserved to play at an elite level, she pushed herself to her physical and mental limits in her first years of college. "Playing for USC was a dream come true," Garrick said. "I was a walk-on who got a shot, I was playing at the next level."
Without realizing it, Garrick said, she was applying a dangerous amount of stress on herself that would seriously affect her mental health going forward. 
"In my sophomore year at USC, I was depressed," Garrick shared with the talk's attendees. "This was the first time in my life I had experienced something so low. The irony was I was at a place I always dreamed of being. I had everything I could ever want."
Garrick connected the pressure she faced as a Div. I athlete at USC to that of athletes at Williams, as both balance high-level competition and a rigorous academic workload. "One day, I hit this breaking point where I felt that all the cards were stacked and the wind blew and everything fell down for me emotionally," Garrick said. "It got to a point where I thought I could no longer keep ignoring this."
Eventually, Garrick started seeing a therapist who was a tremendous help during her recovery. As an athlete, she found familiarity in sitting down with someone to work on her mental health; it was reminiscent of how she looked to coaches and trainers to help with her physical health. "If you're struggling with your sport, you stay extra, you get more reps, you watch film, you sit with your coach," Garrick said. "Seeing a therapist was like watching films with a coach." 
Garrick also touched upon the body image issues that many athletes face. "As an athlete, there's an emphasis on how we look," she said. "It's all about how we look."
Garrick discussed the stress she felt over her body image during and after her athletic career, as well as the steps she took to overcome it. "My favorite quote is 'our body is an instrument, not an ornament,'" she said. "[I] start[ed] to prioritize celebrating what my body was doing for me, and not how it looks."
The insight Garrick shared about her experiences resonated with many in attendance. "I really valued her talk, mainly because I think there's a lot of pressure in female athletics to live a certain way when you're playing," Barry said. "And outside of that, when you step off the court, there is this struggle of how you're supposed to look and perform as an athlete, but then [also] how you're supposed to look and perform as an individual. And I think that she did a really great job of addressing both those things."
Garrick got her start as a mental health advocate through a Ted Talk titled "Athletes and Mental Health: The Hidden Opponent," in which she talked about the consequences of the stigmatization of mental health, especially for athletes. After the video was shared on YouTube, where it now has over 300,000 views, many people reached out to Garrick to express their gratitude and support for her message. 
"It encouraged me to be open and honest," she said.  
Garrick's online presence and support continued to grow as she brought her advocacy to Instagram, posting unfiltered images  with the hashtag #realpost. She now shares content on TikTok and YouTube, with over a million followers in total across both platforms. 
Morgan Persky '23, who attended the talk, is an avid fan of Garrick's content. "I like the stories on Instagram that she posts the most because they are very authentic and show people that it's okay to not be perfect all the time," Persky wrote to the Record. "I'm not really sure how I came across her page, but my first impression was that she was super real and unlike most of the other Instagram accounts out there. I've followed her for months now and always enjoy her content."
In addition to her work as a social media advocate, Garrick is the founder of The Hidden Opponent, a nonprofit organization that works with student-athletes to promote mental health education. She also hosts "Real Pod," a podcast where she invites guests ranging from professional athletes to models to talk about their struggles with mental health and body image.
Garrick emphasized that the message she wanted to convey through her talk was not just limited to athletics. "Everyone is a part of this conversation," she said. "You don't have to fit a mold. Your body can do amazing things for you and not look a certain way."