Evie Shockley and Christian Snow discuss poetry, activism, and the Black radical tradition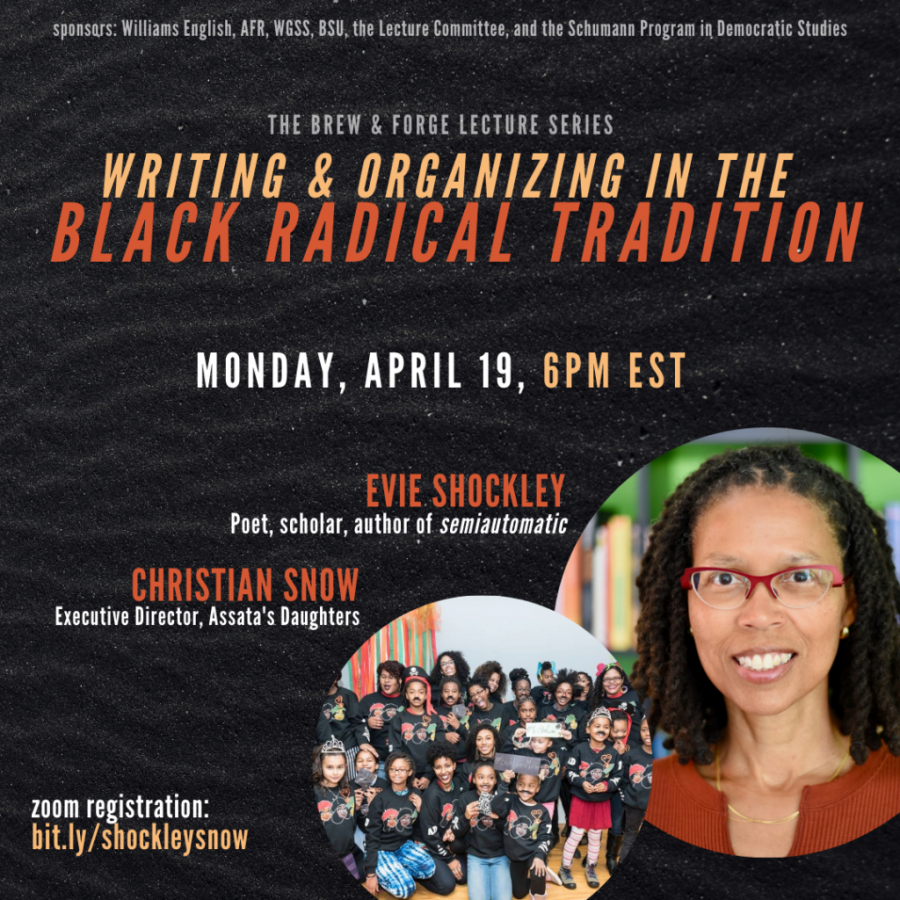 "It is our duty to fight for our freedom, our duty to win and support each other and we have nothing to lose but our chains," is the chant of Assata's Daughters, a political organization whose executive director, Christian Snow, spoke at The Brew & Forge Lecture Series' April 19 event. 
The Brew & Forge Lecture Series, created and organized by Gaius Charles Bolin Fellow in English Franny Choi, "places poets and political organizers in conversation to exchange perspectives and encourage collective dreaming," according to the College's website. The April 19 event included a virtual reading, presentation, and panel discussion centered on writing and organizing in the Black radical tradition. It featured a conversation between Snow, a political organizer, and poet Evie Shockley on the importance of poetry and political activism as avenues to promote social change for Black people. 
Shockley's most recent poetry collections are the new black and semiautomatic. She has also written on the Black Arts Movement in her book, Renegade Poetics: Black Aesthetics and Formal Innovation in African American Poetry. A recipient of the Stephen Henderson Award, Lannan Literary Award for Poetry, and the Holmes National Poetry Prize, Shockley has been awarded numerous poetry awards and fellowships. Shockley is currently a Professor of English at Rutgers University. 
To begin the April 19 event, Shockley performed a virtual reading of her poems. Before reading "circe / odysseus / black odysseys (a remix-collage)," Shockley recommended to "let [the poem] wash over you." The poem's title is a reference to Romare Bearden's painting Circe, which is a Black woman's retelling of the infamous goddess from Homer's Odyssey. A few lines, in particular, stood out while she was reading: "i swear: my voice is honey and venom   picture ithaca   i assemble / love from cut-up color, canvas and glue   daddy, if a year is all /  you got to give, give it here  forever's a big blue illusion."
April 19 was the last night of the trial of Derek Chauvin for the murder of George Floyd. In acknowledgment of the trial, Shockley read "supply and demand," a poem about police brutality. The last few lines of the poem powerfully highlight the importance of Black men and boys: "you don't just find black boys lying in the streets / it takes black boys to make black boys. / most people don't know how to save black boys. / black boys don't grow on trees."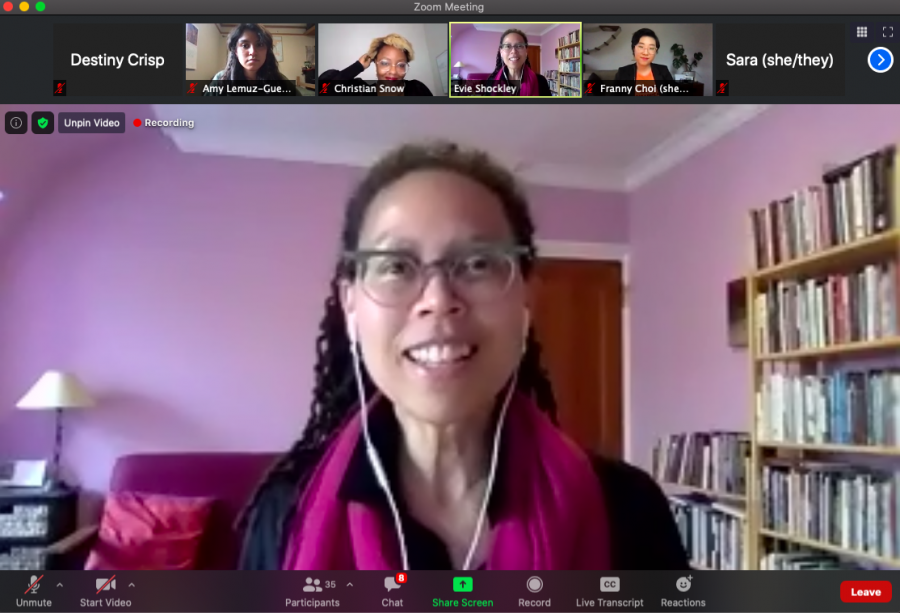 Following Shockley's virtual reading, Snow presented on Assata's Daughters, a volunteer-based collective of Black women, femmes, and gender non-conforming people, and said of the organization, "It is my house, my home, my family."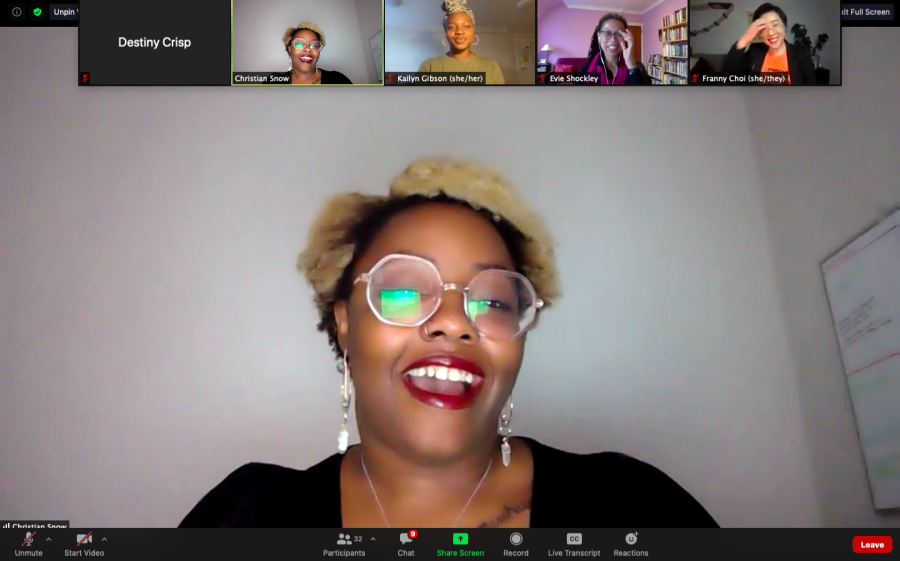 Assata's Daughters is a Black women-led, young person-directed organization rooted in the Black radical tradition, which Shockley and Snow described as being concerned with the dreams, wants, and needs of Black people. Snow said that the Black Radical Tradition is even more specifically rooted in the lives of "folks who have almost nothing but their lives." 
During the presentation, Snow explained that Assata's Daughters was founded to carry on the tradition of radical liberatory activism inspired by Assata Shakur. The goal of the organization is to train and organize young Black people in Chicago through a Black, feminist, and queer lens. Assata's Daughters is a demand for Black liberation, Snow said. More importantly for them, Assata's Daughters is a demand for abolition. 
Snow presented numerous quotes from Shakur that guide the organization. Shakur once said, "Black Revolutionaries do not drop from the moon. We are created by our conditions. We are shaped by our oppression."
"Nobody is born revolutionary," Snow said. "Revolutionaries are made." The political education of the people is one of the three main pillars of Assata's Daughters, which focuses on giving the people the information they need in order to envision a newer, better future. The next two pillars of Assata's Daughters are mutual aid and a nimble, ever-growing organization. During the presentation, Snow said that the three pillars work together to build trust within the community, leading to self-determination and liberation from the state. 
Following Snow's presentation on Assata's Daughters, the event began its panel discussion. Shockley and Snow answered questions on the importance of poetry and activism as tools for liberation for Black people. 
A key element pointed out by both Shockley and Snow is the importance of imagination and fantasy for the road to liberation. When discussing the pressures and constraints of capitalism, Snow said, "Our life in exchange for money, just like how it used to be our bodies in exchange for money or our minds in exchange for money, right? Our hands in exchange for money." 
In thinking about how the world currently functions, Snow motivates people to question everything and ask, "Why is that true?" If, of course, it's even true at all.