Women's crew advances to NESCAC championship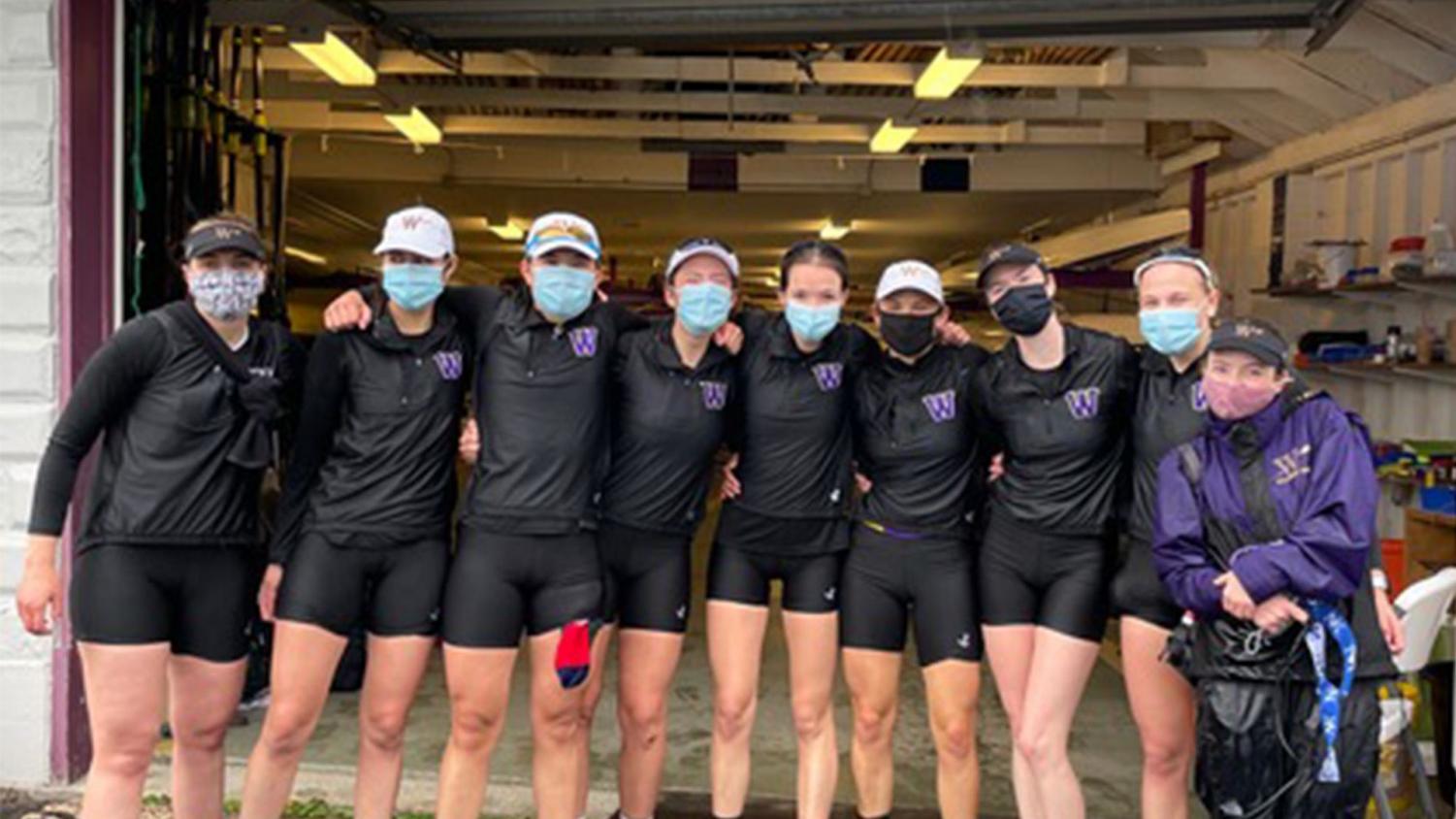 It was a rainy day on the Ephs' home water, Onota Lake, but despite the harsh weather, women's crew qualified for the NESCAC championships. With four boats across — Wesleyan, Trinity, Hamilton, and Williams — the Ephs' 1v and 2v raced with heart.
The championship qualification was determined by the 1v, coxed by Georgia Ganser '22, stroked by Samantha Lazar '21, and followed by Ella Napack '23, Erin Barry '23, Brynn Moynihan '21, Joanie Cha '24, Katrina Wheelan '21, Anna Bruce '21, and Maddie Dyke '21.5.
The first varsity boat finished second in 7:09.99, only 0.6 seconds behind the Continentals' winning time of 7:09.39 and followed closely by the Cardinals with 7:10.39. Despite a difficult start to the race, the team accomplished a comeback to secure the championship qualification. The Ephs finished with an incredible sprint, gaining nearly a boat length in the last 500.
"We worked really hard this week to dial in our boat rhythm, and I think we unlocked something special that really paid off this weekend," Dyke said. "It was such a rush to be in such a competitive race. Nothing compares." 
The 2v was coxed by Julia Lim '23 and stroked by Lexi Cooper '22, followed by Liz Ostermeyer '23, Mia Kabillio '23, Emily Hugo '23, Emma Wuerth '23, Riley Galizio '24, Sarah Dean '23, and Lily Bates '23.
The boat finished in 3rd with a time of 7:21.49. Wesleyan won with a time of 7:12.6, followed by Hamilton with a time of 7:15.59.
"We had a rough start, but then we recovered well and walked back up on the other boats," Cooper said. "We found our swing. It felt really good, and when we crossed the finish line, we were so proud of ourselves and each other because we had just improved so much over the season. It felt like a win even though we got third."
The team will travel to Tufts next weekend to compete in the NESCAC Championships.
The author is a member of the women's crew team.