Men's crew sweeps Wesleyan to win Saratoga Oar and Calhoun Cup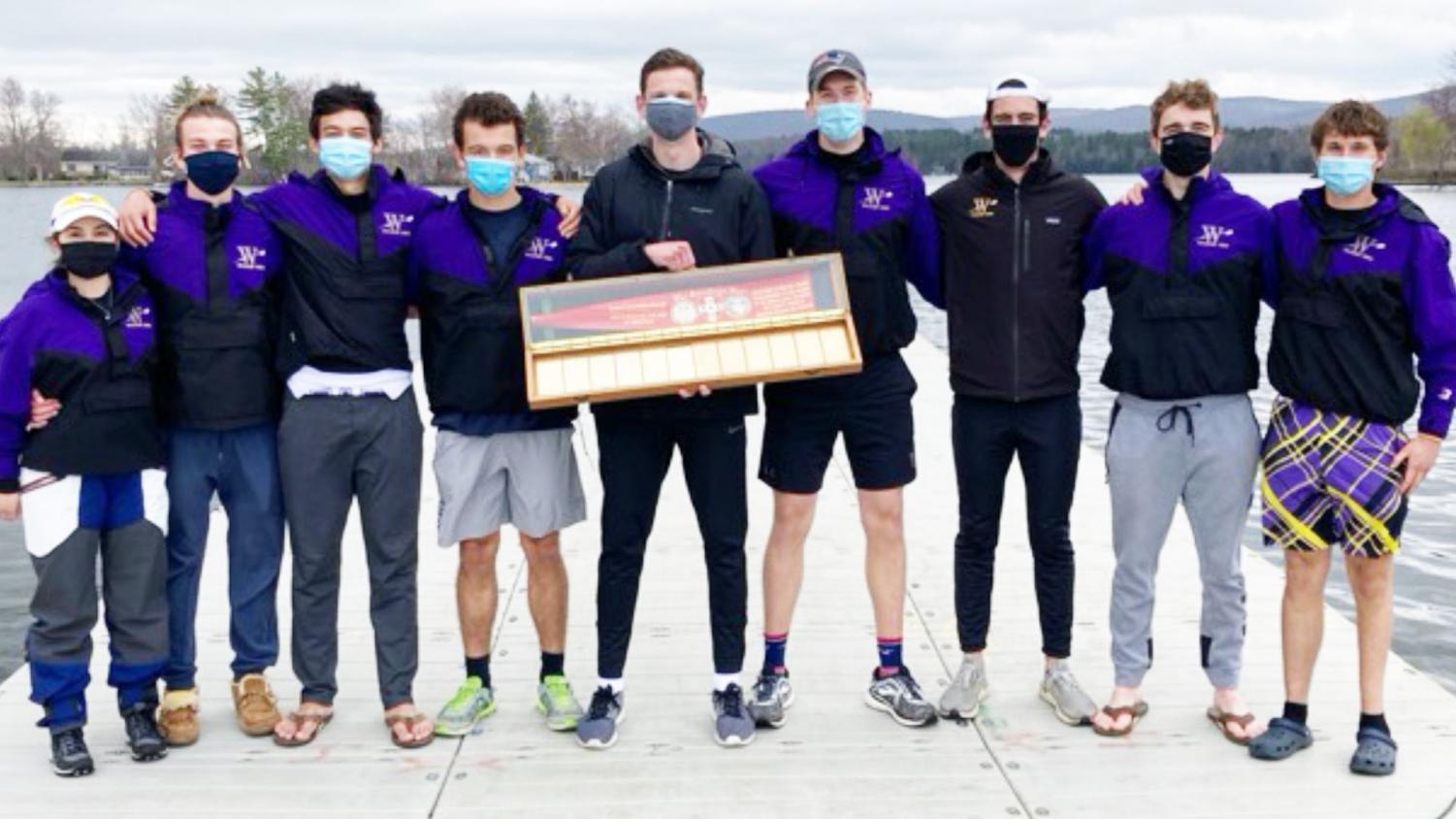 Men's crew lined up against Wesleyan last Saturday for the 52nd annual Little Three Regatta on Onota Lake in Pittsfield, Mass. Despite the long hiatus and poor racing conditions, the Ephs won both the 1v and 2v events, rounding out an exciting return to spring racing. 
After going down three seats off the first 250 meters in the 1v event, the crew fought its way back into the lead throughout the middle of the race. The Ephs' lead ultimately proved unsurpassable, with the Williams boat crossing the finish line in 6:29.5 to Wesleyan's 6:32.3. 
Despite the Cardinals taking an early lead, the Ephs held strong. "We stayed internal and trusted in each other, … built a solid lead, and held on through the sprint," Ben Washburne '23, 2-seat of the 1v, said. "[It was a] great way to start the season and [I'm] excited about where we can go from here." 
With the 1v win, the Ephs brought the Saratoga Oar back home to Williamstown after it spent a year in Middletown, Conn.
Next, the College's 2v and 3v boats raced together against the Wesleyan 2v, looking to bring the Calhoun Cup home for the first time since 2015. Coming through the 500m mark, the two  2v crews sat dead even, going stroke for stroke in gusty conditions while the Ephs' 3v sat a few seats down.
Halfway through the race, the Ephs' 2v rowers managed to walk through their opponents at the 1500m mark before  picking up a fast sprint, putting open water between them and Cardinals. The Ephs' 2v finished at 6:56 to the Cardinals' 7:03, and the 3v closed out the day with a time of 7:22.4.
"We had the boat moving well early in the race but weren't able to hang with the other Williams crew," Nick Iskenderian '22, 2-seat for the Williams 3v crew, said. "Everyone is psyched to be back on the water and looking forward to building speed throughout the rest of the season."
"The last two weeks of practice have been incredibly special—finally getting to row again after 17 months away from the water, and two years removed from our last spring racing season," head coach Marc Mandel said. "My hope for our team going into the race was to really soak up the moment and enjoy every part of the experience, and I feel we definitely embraced that mindset. It was also fitting that our first eight athletes raced in the 'Class of 2020' shell, earning a win in its first-ever race."
The Ephs will race Hamilton College next week in Clinton, N.Y.
The author is a member of the men's crew team.