'An experiment combined with chasing a dream': Dylan Dethier '14 on playing and writing for professional golf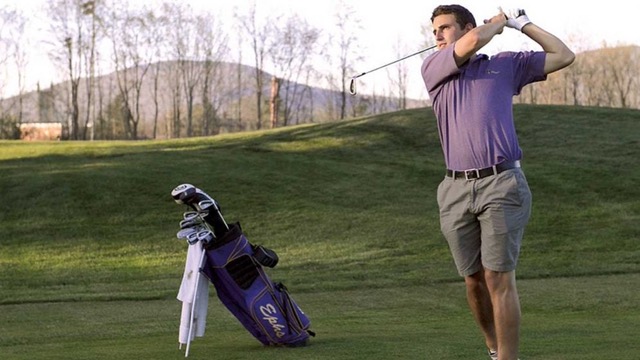 Nowadays, Dylan Dethier '14 is most famously associated with Golf.com, a professional golf news network where he has been working as a senior writer for more than three years. But his career in sport writing began long ago, and his passion for golf goes beyond the sport itself. 
As an 18-year-old high school graduate, Dethier traveled around the country with the goal of playing a round of golf in every state. His journey laid the foundation for his 2013 book, 18 in America: A Young Golfer's Epic Journey to Find the Essence of the Game and his later career playing and writing about professional golf. 
Dethier's golf journey started in Williamstown, where he grew up and learned how to play the sport. However, when he graduated from the local Mount Greylock High School, he realized that he needed to do something before becoming an Eph: travel. 
"I went through the process of, 'OK, if I am going to go to college 10 minutes from the house I grew up in, I should at least get out and see the rest of the country first,'" he said. "Just to get more life experience and get a little more perspective, before I was going to spend four more years in Williamstown." 
At first, Dethier tossed a few options around: caddying for professional golf players on tour, working for minor league baseball teams, even farming. Ultimately, he settled on trying to play a round of golf in every state. 
So he did. Along the way, Dethier chronicled his journey through an online blog, still a relatively new concept back then. For each game of golf he played in each state, he provided golf course reviews, explored local history, and wrote about people he met along the way. 

"I think it was a fairly unique thing, because it was just an 18-year-old's lens into …different parts of America," Dethier said, looking back on his earlier blog posts. "And there's something about seeing things from a fresh perspective that I think is appealing to other people that maybe know about those things in a different context." 
As he progressed in his journey, his blog grew in followers. Gradually, a small, dedicated fanbase of golf enthusiasts amassed. Then his story started gaining media coverage, expanding from small papers to, eventually, an article in The New York Times. 
It was this article that transformed Dethier's trip into a book deal. "I got a bunch of offers from people that read my blog and were wondering if I've thought about turning it into a book," he said. "I had thought abstractly about it, and I thought that I'd seen some interesting things that people would be intrigued by. So I went all in on that process during my first couple years at Williams." 
Advertisement

The life of balancing school work, athletic training, and writing a book was not easy, Dethier said. "I remember my junior year, I was getting my first round of edits from my publisher," he said. "And I was a JA, and it was golf season, and I [had] just gotten a girlfriend… There just wasn't enough time to turn around these edits. So I just found myself doing a lot of work on the book after I'd finished my homework, maybe between 1 and 4 a.m."
"My editor would respond and be like 'Is everything OK?', because I would be sending him emails at four in the morning," he continued. 
After nearly a year of hard work at late hours, the book was set to be published on May 13, 2013. Before then, however, there was one final twist. A week before his book's publication, NCAA suspended his eligibility as a student-athlete for using his athletic skills for profit. 
"It was hard," Dethier said. "This was a week before my only trip ever to the national championships, so the timing was not good. And it did not have a happy ending. I ended up getting reinstated right before [the national championships] and then played just by far the two worst rounds of my college career. It was a tough stretch."
But this episode did not lessen his love for the sport, nor did it stop him from playing more of it. After graduating from the College in 2014, Dethier and a fellow men's golf teammate, Cody Semmelrock '14, decided to take the leap into professional golf. 
"It was a little bit of an experiment combined with chasing a dream," Dethier said. "I did it for two years. It was really fun. It was, again, a great way to travel, to meet a whole bunch of interesting people. And it's funny, the way things work out: It ended up feeding me into the career that I'm now in, which is writing about golf."
Writing about golf for a job means coverage at large: any major championships, tours, or other golf-related events. But for Dethier, there is more to sport journalism than that. 
"With golf, the professional game is only a small percentage of people's interest in it, so there's lots of ways that golf ties into society, different parts of life, and things that everyday normal people do," he said.
Perhaps continuing the exploratory spirit of his gap year, Dethier often writes about the side of golf that subverts its own stereotypes. 
"Golf also has this reputation of being kind of elitist, exclusive, white, and male, for sure," he said. "Granted, here I am, white and male, but I try to do my part to highlight parts of the game that are more public, that don't necessarily look like the country club stereotype." 
One of the projects that Dethier had started for this purpose is a column called "Muni Monday," where he introduces a different city-owned golf course every week. 
"It's sort of the 'anti-country club' corner of my job, where you get to highlight something that might cost 15 bucks to play," he said. "And it would be the opposite of, say, covering Augusta National for the Masters — you can't possibly play there unless you know somebody."
Golf and writing accompanied Dethier in his journey from a young traveler to a student-athlete, professional golfer, and, finally, sports writer. 
"I think I always considered writing as a possibility, and I think that it's a cool way to touch a bunch of different worlds," he said. "Even if it is just golf journalism, you still get to learn about a lot of different people's lives and just dip your toe into different worlds that you otherwise probably wouldn't get exposed to."