One in Two Thousand: Amanda Madsen '21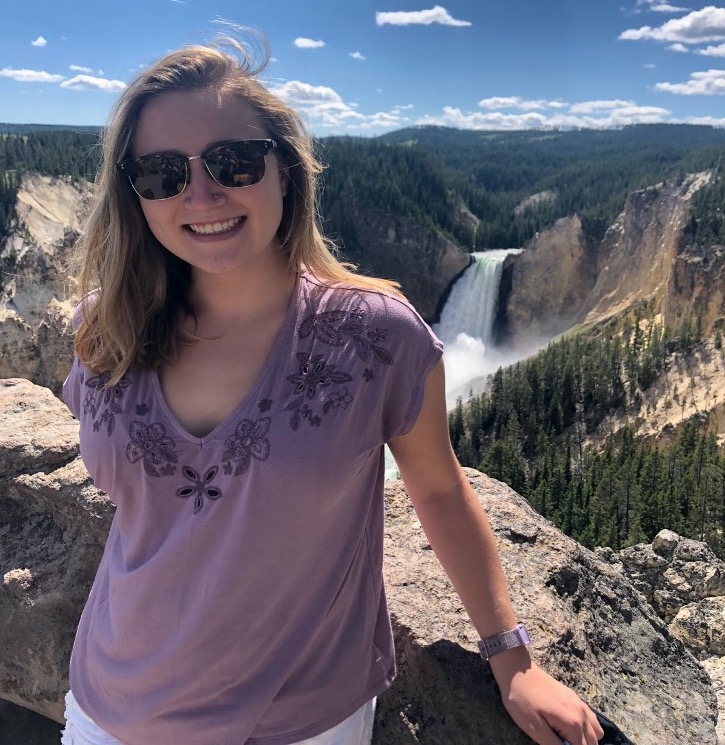 Each week, we randomly select a unix from a list of all current students at the College for our One in Two Thousand feature. As long as the owner of a selected unix is willing to be interviewed and is not a member of the Record board, that person becomes the subject of our interview. This week, the computer (using a script in R) chose Amanda Madsen '21, who talked about her dog Rosie, being a member of the Ephlats, and how the pandemic has affected her senior year. This interview has been edited for length and clarity.
Okay, so the first thing I want to ask about is the dog in the room. Tell me a little bit about Rosie.
Yeah, I got her December of 2019, and I first brought her to school last spring — obviously, we weren't here for very long. She's 1.5 years old. She's an American Staffordshire Terrier. She's technically an emotional support animal. That's how I have her here. Although she doesn't really seem to know that. [Laughs.] She's not much emotional support.
So she lives with you on campus? 
Yeah, so we live in Chadbourne, which is one of the co-ops. [It] has been really nice because there's only 10 of us in the house. And so I just kind of let her run around. And she loves to be in the house. I think it's better than last year. We were in one of the Greylock dorms, and it was harder. 
What is it like, generally, having a dog on campus? I feel like that's not an experience many students have.
I really love it. It's funny because I feel like a lot of people say to me, "I can't imagine how you balance schoolwork and having a dog." But to me, I don't really see it that way. I think it really adds a lot. And it makes me very happy to have her around. I don't necessarily see it as an extra burden, which I think people are surprised about. But I feel like it's become part of my routine, just doing all her stuff. I think it adds a lot of stress relief, [in terms of] the course load. [Laughs.] 
Do you have any pets back home?
I do. I have three other dogs at home. So when we were home for COVID, it was like a zoo in my house with four dogs running around. And she's the smallest of all of them. They're all huge. So, yeah, we've always had dogs. I love dogs. I like all animals, actually.
I heard from a friend that you're in the Ephlats. What is that like? 
It's really fun. I love being part of the group. It's kind of sad this year because we haven't really been able to do very much, [and] I feel like I've been missing that a lot. But my experience in the group over my four years has been awesome. I love them. I love being part of it. I definitely miss it a lot… In the fall, we were doing our songs in quartets, so I was really only seeing a few people from the group, which was sad. We've been trying to have some social stuff, [but] it's hard, obviously. But, you know, just making the best of it, because that's all you can really do. Hopefully, I'll be doing a senior solo soon.
So you've been a member since you were a first-year?
Yeah. I got in with three other people. And it's been really nice. It's nice to have a little group of just our class. I like how that happened. 
Have you done any traveling? 
I've done a lot. [Laughs.] I was abroad last year.
Where did you go?
I was in Ecuador and the Galapagos Islands, studying marine ecology and marine animals. So that was really fun. I loved that. And then other traveling — the summer after my freshman year, I went to Thailand, and I had an internship there, also doing marine biology stuff. And I loved that. I would love to go back there. It was such a cool place, so different from anywhere I've ever been before. I actually did a semester abroad in high school, too, which is kind of unusual. I went to the Bahamas to a place called the Island School.
Is marine science something you think you're going to pursue after Williams?
It was for a long time, but then I kind of realized that I don't actually like to research. [Laughs.] I find it kind of boring. So I'm actually a pre-vet student now. The plan is to go to vet school, and then we'll see from there. I'm not really sure exactly what I want to focus on. But I'll probably figure that out while I'm actually in vet school, and I have more exposure to all the different things. Because right now, I just don't really have much of an idea of the different types of things you can do within veterinary medicine. But that's my plan. Hopefully, I'll get in soon.
Applying to vet school must make your senior year busy.
It does, because the Williams… has a lot of requirements, which is tough on top of all of the academic requirements. And I'm also a little bit behind in my coursework, so I'm in chem and physics right now, which I hate. [Laughs.] It's going to be worth it in the end, to take the classes. But it's a lot of work for sure.
Well, it's good to hear that COVID hasn't been completely disruptive to your senior year.
Obviously, we've missed out on a lot of the special events and things like that. But I feel like I've been able to make the best of what we have. I'm really thankful that we can actually be on campus, and that I can live with my friends. Because last spring, that was tough, to just be at home for the whole semester. That wasn't fun. So I'm glad that we are at least able to be here. And I'm glad we're able to have a graduation and have family come and everything because that was something I've been looking forward to. I was really sad for a while that it wasn't gonna be a "real" graduation. But now it feels more like we're gonna be getting a normal one. So I'm really happy about that.
Besides Ephlats, are you involved in any other things on campus?
Not officially. I've done a bunch with Cap and Bells in the past, [but] not so much last year [or] this year. But freshman and sophomore year, I was very involved in the shows that they did.
Do you have a particular performance or Ephlats memory that was your favorite? 
That's a good question. For Ephlats, last spring, right when we were getting sent home, we had been planning to do a concert. And so we managed to throw together a last minute concert in 70 [Hoxsey] basement.
I was there! 
Were you? Okay, that was lowkey really fun. We've never had a concert like that, and it was just crazy. I think there was a party going on upstairs while we were having it. It was insane. But that ended up being really fun, and it was a nice way to end the on-campus portion of that semester. And for Cap and Bells, I was in [The] 25th Annual Putnam County Spelling Bee my freshman year. And that was just a blast. I had so much fun doing that. The people that were great. The show is so funny. And that was just so much fun. I wish we could do that again.