College awards Bicentennial Medal to Dr. Craig Smith '70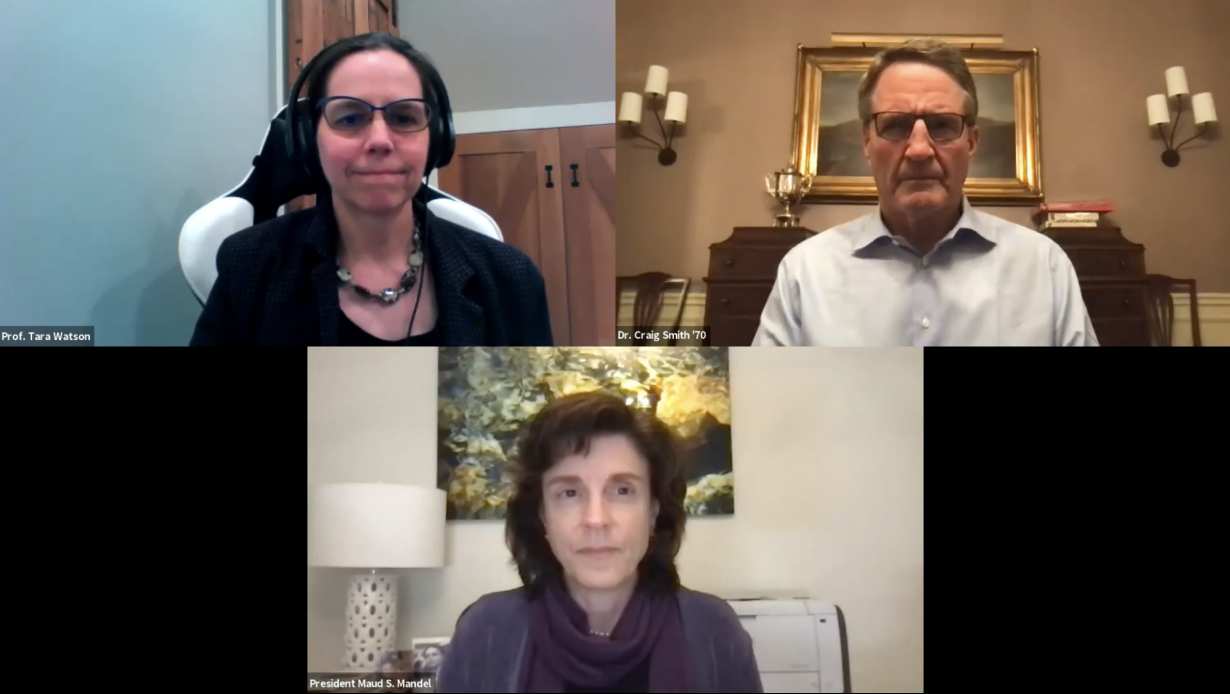 On April 14, President Maud S. Mandel conferred the Bicentennial Medal to Dr. Craig Smith '70, Chair of the Department of Surgery at Columbia University Irving Medical Center, at the end of a recorded Zoom seminar.
Established in 1993, the Bicentennial Medal is awarded to between five and seven alumni each year "for distinguished achievement in any field of endeavor." This year, reconfigured for a virtual environment, the College is featuring each medalist "in conversation with a contemporary." In Smith's case, he discussed public health, empathy, and leadership with Professor of Economics Tara Watson over Zoom.
The College bestowed this distinction upon Smith for his accomplishments in humanistic healthcare with a particular emphasis on the leadership he demonstrated throughout the early stages of the COVID-19 pandemic, evidenced by his acclaimed daily updates to healthcare workers.
Smith and Watson first discussed how Smith's path to becoming a surgeon was "non-linear" at certain points, according to Watson. While he followed the conventional pre-med path during his first three years at the College, then-Professor of Biology Bill Dewitt '61 convinced Smith that he should do Ph.D. work instead.
"I began to get the usually unstated belief from [science Ph.D.s] that doctors were just technicians, and the real things in the world are solved by scientists who solve things for billions of people, not one person at a time," Smith said.
Smith quickly realized that Ph.D. work was not for him, but only after a two-year graduate school fellowship at Dartmouth and a year of working as a telephone lineman did he decide to go to medical school. "The easiest part [of my adult life] was medical school," Smith said. "Absolutely no motivational issues. I knew why I was there."
After medical school, Smith joined the Columbia faculty in 1984 as an Associate Director of the Columbia Presbyterian Heart Transplant Program. By 2004, he was recognized as one of the nation's leading cardiac surgeons and had overseen the growth of the Division of Cardiothoracic Surgery at NewYork-Presbyterian Hospital/Columbia University Medical Center (NYPH/CUMC) for eight years. During this year, he was also named "Practitioner of the Year" by Columbia University Medical Center's the Society of Practitioners, and performed a successful quadruple bypass procedure on former President Bill Clinton.
Despite his medical expertise, Smith was presented with challenging problems when the COVID-19 pandemic began. "At a purely practical level, that second full week in March, everything was such a mess," he said. "It was becoming evident that we could have really run out of PPE… We've already had nurses going through an entire shift in the emergency room wearing one mask, one pair of gloves, one gown."
"It was something that none of us had ever imagined," Smith continued. "And it was exacerbated by the pronouncements coming out every ten minutes from the university, state, hospital, [and] federal government. Thousand-word emails describing chaos. So, I realized that people needed to be pulled together a little bit, but I also realized that they needed information. I flattered myself that I could maybe summarize more succinctly what was so confusing."
His daily letters, which consisted of both pertinent healthcare information for the COVID-19 crisis and inspirational messages, started as a way to not only "rally [himself] as much as anything else, but also to rally [everyone] for the task ahead… and simplify this morass of confusing information that was out there," he said.
Looking back, Smith admitted that he was overwhelmed and sometimes thought, "Who did I think I was?" Nevertheless, Smith said he felt grateful for all the overwhelmingly positive feedback he received, especially in the first few days of the pandemic.
"If I had gotten a couple of bad feedbacks, that would have been the end of me," Smith said. "This is not what I do, and it wouldn't have taken a lot to shake my confidence." However, he did receive some negative responses at certain points, especially when he criticized someone.
"When I stung MSK [Memorial Sloan Kettering Cancer Center] for trying to keep themselves in a bubble and keep treating their patients as nothing was happening, or when I tried to sting NYU for claiming that all their staff had been tested, I heard about that the next day," Smith said. "MSK was threatening to sue me… and I realized, yes, I made my point and everyone on my side of the argument said, 'Yeah, you taught them a lesson,' but was it worth it? I'm not sure it was."
Nevertheless, Smith said that, overall, he was satisfied with his letters. "I look back and — how did I pull that off?" he asked. "Fifty-nine [letters] in a row?" He said he believes that fifty-nine daily letters was a good stopping point, partly because there were not enough hours in the day to continue writing once he returned to his real work. "I also wanted to end on a prime [number], and I did on fifty-nine," he added.
As a result of his letters, Mandel said Smith can now claim to be a "physician writer," similar to John Keats, as Smith had used "the power of words to elevate the human spirit."
"Your daily briefings… not only reported with clarity the cascading challenges, but helped colleagues see the nobility of their efforts and gave them reason to hope," Mandel said to Smith. "In doing that for them, you did it for all of us… However far in the future people look back to learn the best of our generation's response to this crisis, they will find themselves savoring your eloquence because a thing of beauty is a joy forever."