Students, faculty, staff begin planting in College community garden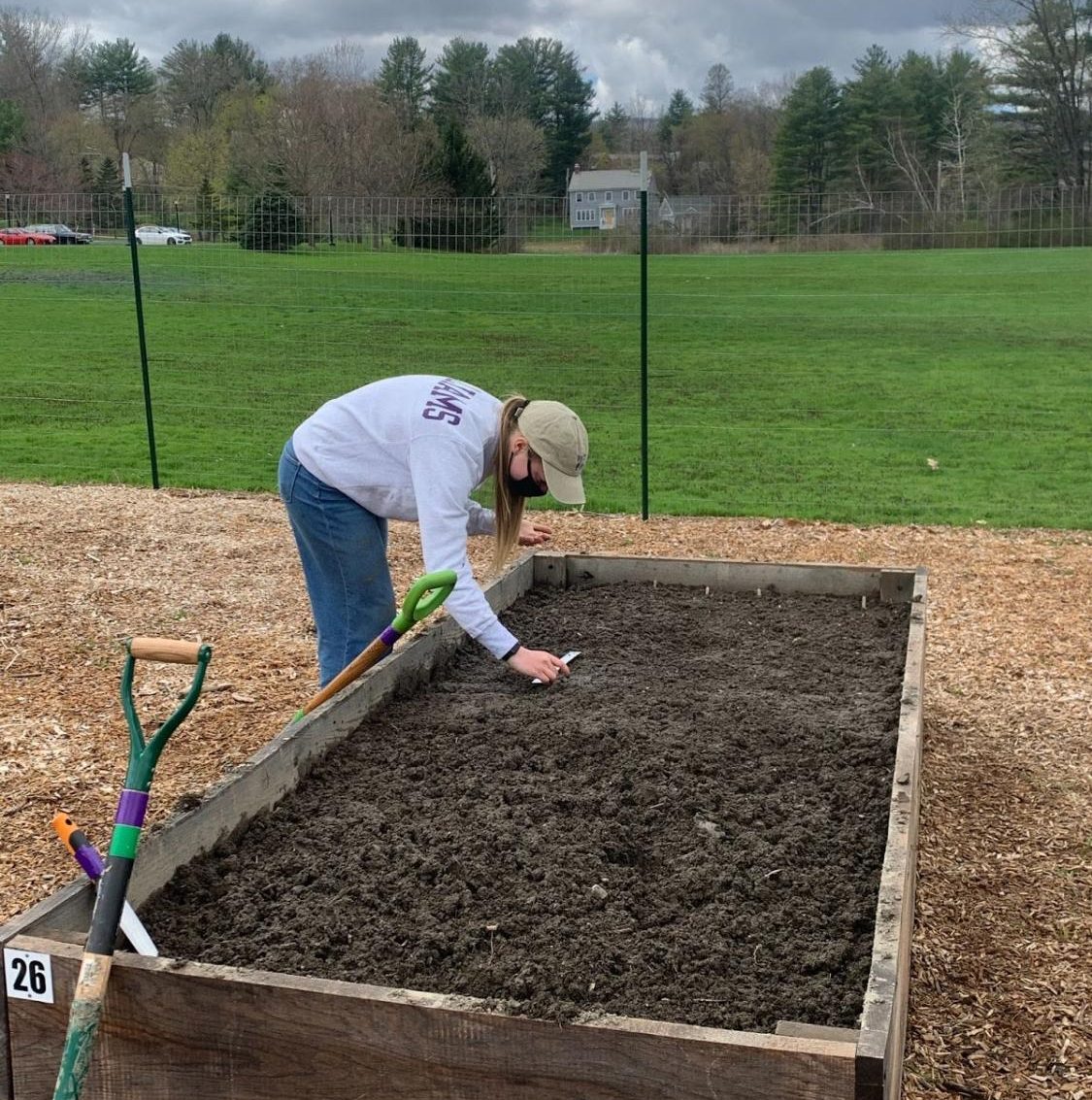 In November of last year, the College began construction of the Williams College community garden, located on the field behind Poker Flats. Now, at the end of March, after five months, the construction process has finished, and students, staff, and faculty who signed up have been assigned plots to begin planting. 
According to the community garden's website, the goal of the garden is to provide "a peaceful and inviting gardening space for the Williams community and beyond, with a mix of students, faculty, staff, and other community members working side by side." The garden also aims to "foster wellness, create a sustainable environment for the production of food, and enrich the connection between friends and neighbors."
To receive one of the 30 plots, students filled out a short form advertised in Daily Messages. All students who applied were allocated plots; eight students were assigned space in the community garden, and six others received Garden Club plots, located separately behind the '66 Environmental Center. The remaining plots in the community garden were assigned to College faculty and staff members who had applied. Due to some adding and dropping of people, only 29 out of 30 plots are occupied.
"Since we see this not just as an opportunity for people to grow vegetables but also to grow community, we tried to find a good balance of students, staff, and faculty," explained Director of Libraries Jonathan Miller, who serves as the co-chair of the garden's steering committee. 
After an initial meeting on March 31, students were cleared to begin planting in their plots. Students may choose to plant anything, as long as it follows the regulations provided — illegal or invasive species, as well as plants that would shade other plots, are not permitted.
At the same time, students must consider the timing of planting, as some plants need different conditions. "Now is a good time to plant early, hardy vegetables like spinach," Miller wrote in an email to the Record. "But the last frost date in zone 5b (which is where Williamstown is) is May 13, so warm-weather crops like tomatoes won't be planted until the soil warms up in May."
Although most students have yet to start planting, Chander Payne '24 already discussed with his friends what they'd like to grow. "We decided we will be growing ingredients for Three Sisters Stew: corn, squash, and beans," he said. "And then we're also getting some random seeds, like yellow watermelon."
Sophia Stephens '24 has begun to plant both in her plot and in her dorm room. "Right now, I have some tomato plants and brussels sprouts germinating in my dorm room on my window, and just last Saturday, I planted some sweet peas in the ground and also sowed some cabbage," she said. 
For many students, this is their first time having their own garden plot. Among them are Justyn Friedler '24 and Rosemary Kehoe '24, who both got plots in the community garden and decided to join forces when it came to planting. "I'd only ever grown plants with fish poop before in my aquaponics system," Friedler said. "So Rosemary ended up calling her dad when we realized we were a bit in over our heads." 
Advertisement

Zilkha Center interns Theo Detweiler '24 and Rosa Kirk-Davidoff '21, though they joined later in the process, have also been putting time into the project. 
"We're just offering ourselves as a resource," Kirk-Davidoff explained. "We're starting some seeds for people to use in the garden, labeled all the tools, and we worked on compiling some resources for an introduction to gardening. We've also then been doing some documenting of it, going down and taking pictures throughout the spring semester to see how it goes."
The steering committee also includes student representative Matthew Roychowdhury '21, the president of the Garden Club, a student organization. "As president of the Garden Club, I allowed six of the Garden Club's plots, located behind the [Environmental Center], to be leased to students as part of the community garden, allowing everyone who applied to get a plot," he said.
The community garden has also become a way for students and staff alike to bond over a shared love for gardening. "I ran into a woman who works for [Campus Safety and Security], and she was out in the garden mixing in some compost because she has three plots down there," Stephens said. "We had a conversation, and she gave me some advice about weeding my plot. It was really nice — an experience I wouldn't have had otherwise."
"I think it connects people with the earth. And, at least for me, gardening is very important, as it's healing, relaxing, meditative, and good for us," Payne said. "It makes us care more about the planet and helps us to better understand it."