How Dining creates its menus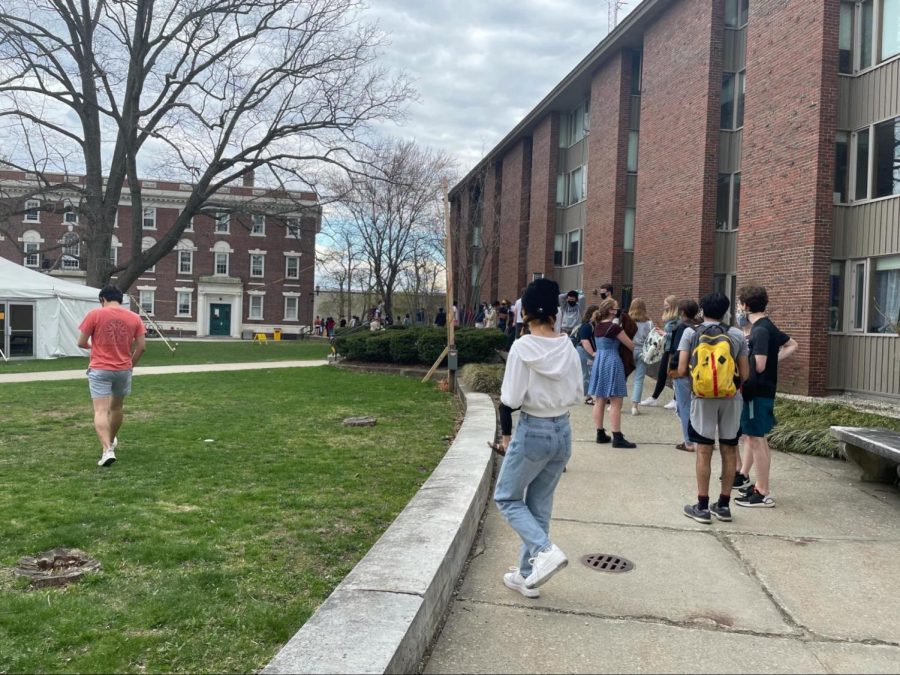 As throngs of students gather around the door, the aroma of Indian food wafts through the air. It makes its way through the line of students wrapped around Currier Quad and reaching all the way past Prospect House. The sounds of spring are interrupted by chatter from the hungry crowds eager to fill their empty stomachs. It's Build Your Own Bowl night at Driscoll, and students will wait as long as it takes to get their bowls. 
Part of a series of new initiatives by Dining Services, Build Your Own Bowl nights have been received as a welcome break from the regular meal cycle. Bowls featuring Indian and Mediterranean cuisine reflect a wider desire on the part of Dining to diversify meal offerings to students; more generally, the menus for this semester are markedly different from those for last fall. The Record spoke with Dining staff to learn more about nutritional, cultural, and logistical considerations in the menu creation process.
Nutritional values
During the fall semester, Dining Services focused on making the infrastructural changes required by Massachusetts state guidelines regarding the safe handling and serving of foods during the COVID-19 pandemic. In a normal year, students would serve themselves in a buffet-style dining setup. 
"It changed because of guidelines — we had to eliminate self service buffets, we had to get rid of the salad bar," Director of Dining Services Temesgen Araya said. "These are all responses to the pandemic and not our typical program." 
Nevertheless, according to Araya, the most important thing his staff considers in creating menus is still nutrition. In addition to having a wide range of different types of whole foods such as proteins, vegetables, starches, and fruits, it's also important to preserve nutrition through clean preparation. "Many campuses are shifting from processed convenience foods and working into their labor force [ways] to fabricate their own foods to provide fresh, wholesome meals," Araya said. 
"We want to make sure we're offering fruits [and] vegetables freshly prepared in our units," Allyse Wiencek, the nutritionist for Dining Services, said. 
However, Dining Services' sourcing has become less reliable due to the effects of COVID-19. "The Midwest, during the pandemic, went through a lot of trouble due to social distancing and outbreaks that were happening which made the supply chain really vulnerable," Araya said. He added that one solution already implemented in meal offerings has been to build menus around more regional ingredients from the Northeast.
Dietary restrictions 
Despite limitations on some ingredients, Dining Services has made efforts to provide students with more options, with help from initial quarantine surveys about dietary restrictions. Before their arrival on campus in the fall, students were asked about allergies or food sensitivities, as well as personal or religious food practices, in order to help Dining Services create individualized quarantine meals. 
"Because we did quarantine deliveries to students' rooms, we actually have an aggregated list of how many allergies are on campus," Araya said. "I had a lot more students with allergies than [I] ever expected because they never really identified themselves to us, except that they needed dedicated meals from Allyse." 
This information helped Dining Services consider the vast array of student needs they had to take into account in crafting meals. For example, Dining Services has completely switched over to the use of halal meats in all entrees, as opposed to serving them exclusively in a separate area. In addition, these meats are GMO-free and antibiotic-free. 
"We make sure that now, when we put our menus together, we have a lactose-free entree; we make sure that alcohol is not being used where halal meats are being made; we have a vegetarian option along with the vegan, gluten-free station we already have," Araya said.
"We've been working really hard over the last couple of years to offer more of a diverse plant-based menu because that's what our students are wanting," Wiencek said. "It's good for our planet and it's reducing the [amount of] waste."
Build Your Own Bowl nights 
Inspired by the flavor profiles of restaurant chains like Dig, CAVA, and sweetgreen, Build Your Own Bowl nights at Driscoll have proved popular among students, evidenced by the long lines and hour-long waits they produce. According to Araya, the bowls emphasize a whole foods-focused approach which chooses not to center protein as the main ingredient in the meal. "Students have options of warm grains, cold greens, hummuses, sauces, fresh dressings made in house, and then protein," he said. 
Even though Dining staff still assemble the bowls, one advantage of this concept is that students regain some control over flavors and ingredients. "Leaving to the students to decide how that final bowl looks and tastes and feels like is giving students more options of building that flavor profile," Araya said. "We provide those ingredients that allow them to make it that way."
"We're serving students from all over the world, and students will often give us insights as to what they would like to see," Wiencek said. "We're always evolving on how we can best provide nourishment in a way that feels like home to them." 
In order to gauge students' sentiment towards different menus, Dining staff often look at swipe data from dining halls across weeks, such as consumption rates for one Wednesday compared to the rates for next week's Wednesday. In some cases, "you can easily see students are driven by the menu that's being served," Araya said. 
Araya said he and his team hope to build on the success of Build Your Own Bowl nights by offering staff members training modules from the Culinary Institute of America. These classes provide an opportunity for staff, from unit managers to cooks, to learn more about cuisines from different parts of the world. 
"We're working on really authentic and cultural meals, advancing our ability to [represent] real stories and regions for different foods," Araya said. "It's [a] continuous process of learning and [developing] our skills in order to improve our students' experience."