Collaborative albums: Benny The Butcher & Harry Fraud, Lana Del Rey, Nick Cave & Warren Ellis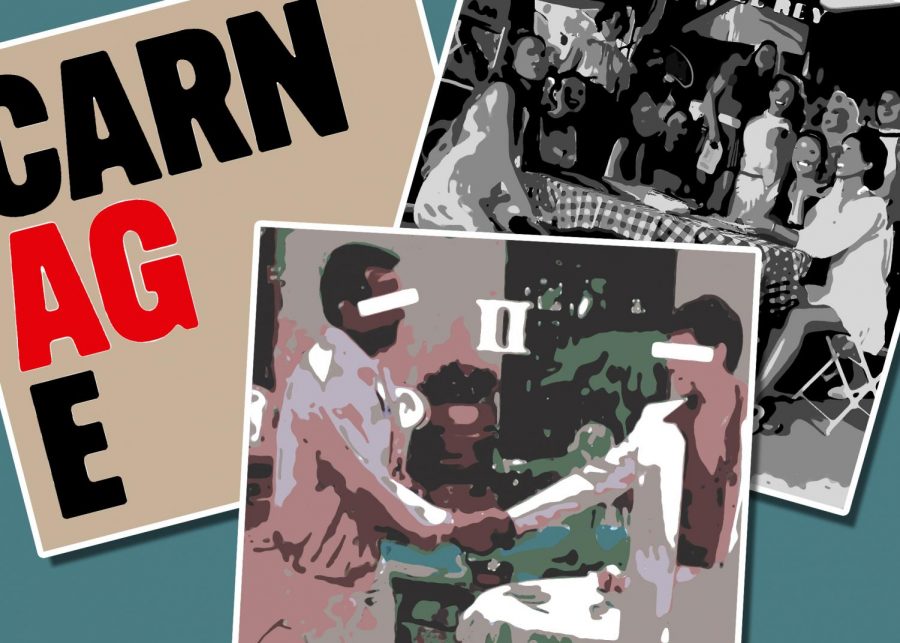 In anticipation of a return to normalcy, musicians have tentatively begun planning their new tour dates. While most venues won't have large concerts until 2022 or 2023, that hasn't stopped artists and producers from collaborating with one another, continuing to release albums packed with pent-up creative energy. Here are three recent albums which are collaborative in one way or another. 
Benny The Butcher & Harry Fraud – The Plugs I Met 2 
On this tight-knit, nine-track EP produced exclusively by Harry Fraud, Benny The Butcher juxtaposes narratives that recount his old days hustling in the streets of Buffalo, N.Y., and his subsequent career as a grizzled veteran of the rap game. 
Harry Fraud's production is as tasteful as it is unobtrusive. He eschews the new production toys of contemporary hip-hop, instead opting for rich, soulful vocal or instrumental samples paired with simple, hard-hitting percussion. It's a meat-and-potatoes approach toward production that lends the album the sound of classic New York hip hop from the 1990s. 
Lyrically, Benny triangulates between overcoming his past selling drugs, being weighed down by the resulting traumas, and reliving it braggadociously. However, while his recollections are often evocative and affecting, Benny's bars are sometimes unoriginal or even hurtful. For example, on "Longevity," he falls into tired rap platitudes: "longevity, grind, make sure your cash the strongest." And on "When Tony Met Sosa," whether maliciously or not, Benny wastes an excellent beat by using an anti-Semitic metaphor. The lyric reminded me of a 2018 controversy over a similar 21 Savage lyric that plays into harmful stereotypes about Jewish wealth. 
At least Benny's vocal delivery is consistent and confident throughout the album. At the album's best moments, Benny's dense verses are balanced by light, epistrophe-heavy hooks ("Plug Talk," "Talkin' Back") that pair with Fraud's production like cheese and wine. 
Favorite tracks: "Plug Talk (feat. 2 Chainz)," "Talkin' Back (feat. Fat Joe)," "Thanksgiving"
Lana Del Rey – Chemtrails Over The Country Club
On Chemtrails Over The Country Club, Lana Del Rey has crafted a more sophisticated version of her trademark Americana fantasy — it's more conscious of its limits and of who it excludes (there is a sense of sarcasm in "Tulsa Jesus Freak" with its "white-hot forever" refrain). It's also a version that transcends absolute fantasy by deftly incorporating her actual life, reckoning particularly with the disruptive effects of fame. What we're left with is an amalgamation of perspectives, folding together biographical content about her past, biographical content about her present, and content that can't be recognized as either. 
From its start, the album sets expectations of radical reinvention — on "White Dress," Del Rey's typically steady vocals contort into a wistful, quivering whisper that conjures a hazy dreamscape of her days before fame. Despite a somewhat experimental start, for the rest of the record, Del Rey mostly resorts to her trusty duo of heady falsetto and mezzo-piano crooning. That's not always a bad thing, though. Those vocals were used to great effect on her last album, Norman Fucking Rockwell!, where excellent production (largely handled, as it is here, by Jack Antonoff) forefronted her voice in compelling and unexpected ways. Unfortunately, the mixing on this album feels like a step backward. On tracks like "Tulsa Jesus Freak" and "Yosemite," Del Rey's vocals feel washed out, somehow managing to play second fiddle to Antonoff's instrumentation, which is already relatively sparse. 
The album has sporadic, sometimes subtle highlights as well. For one, "Wild At Heart" cleverly weaves together elements of several tracks from Norman Fucking Rockwell!. "Dark But Just A Game" has a memorable, cheerful (by Del Rey's standards) melody in the chorus. The bridge of "Dance Till We Die" is sung with unexpectedly folksy flair. "For Free," a tasteful Joni Mitchell cover, shines with excellent features from Zella Day and Weyes Blood. 
Favorite tracks: "White Dress," "Wild At Heart," "Dark But Just A Game"
Nick Cave & Warren Ellis – Carnage 
On Carnage, the synergy between Australian musicians Nick Cave (singing, songwriting) and Warren Ellis (instrumentation) is on full display. The longtime collaborators wrote their eight-track quarantine album in a creative frenzy of a mere two and a half days. 
There is an incredible range of emotional expression on the album — from the frothing homicidal rage of "White Elephant" to the seraphic tenderness of "Shattered Ground," Cave's abstract lyrics and baritone vocals maximize the import of whichever feeling they are carrying. This range of feeling is used to take on a plethora of song subjects. From meditating on reactionary politics ("White Elephant") and canceled travel plans ("Albuquerque") to expressing grief over his son's passing ("Carnage") and pouring out love for his wife ("Shattered Ground"), Cave covers his recent past from all directions. 
Since it's not Cave's subject matter that ties the album together, the songs on Carnage are unified by their common melodrama, their grandness in execution. The soundscape of Ellis' production is huge — even on my laptop speakers, I felt like I was in a concert hall. This, along with the extended length of the record relative to its mere eight tracks, made the listening experience reminiscent of hearing successive movements of a large-scale classical piece from the Romantic era. Some of Ellis' chord progressions have a pastoral quality that evokes the music of Ralph Vaughan Williams. And at quieter moments, Ellis' composition — namely, the reverb-y string ostinatos on tracks like "Albuquerque" and "Lavender Fields" — reminded me of Gabriel Fauré's Requiem in D minor. 
Favorite tracks: "Carnage," "White Elephant," "Lavender Fields"
If you would like to recommend an album for review, you can reach Benjamin Xu at bdx1.