Golf is returning to Williamstown: A review of the Taconic Golf Club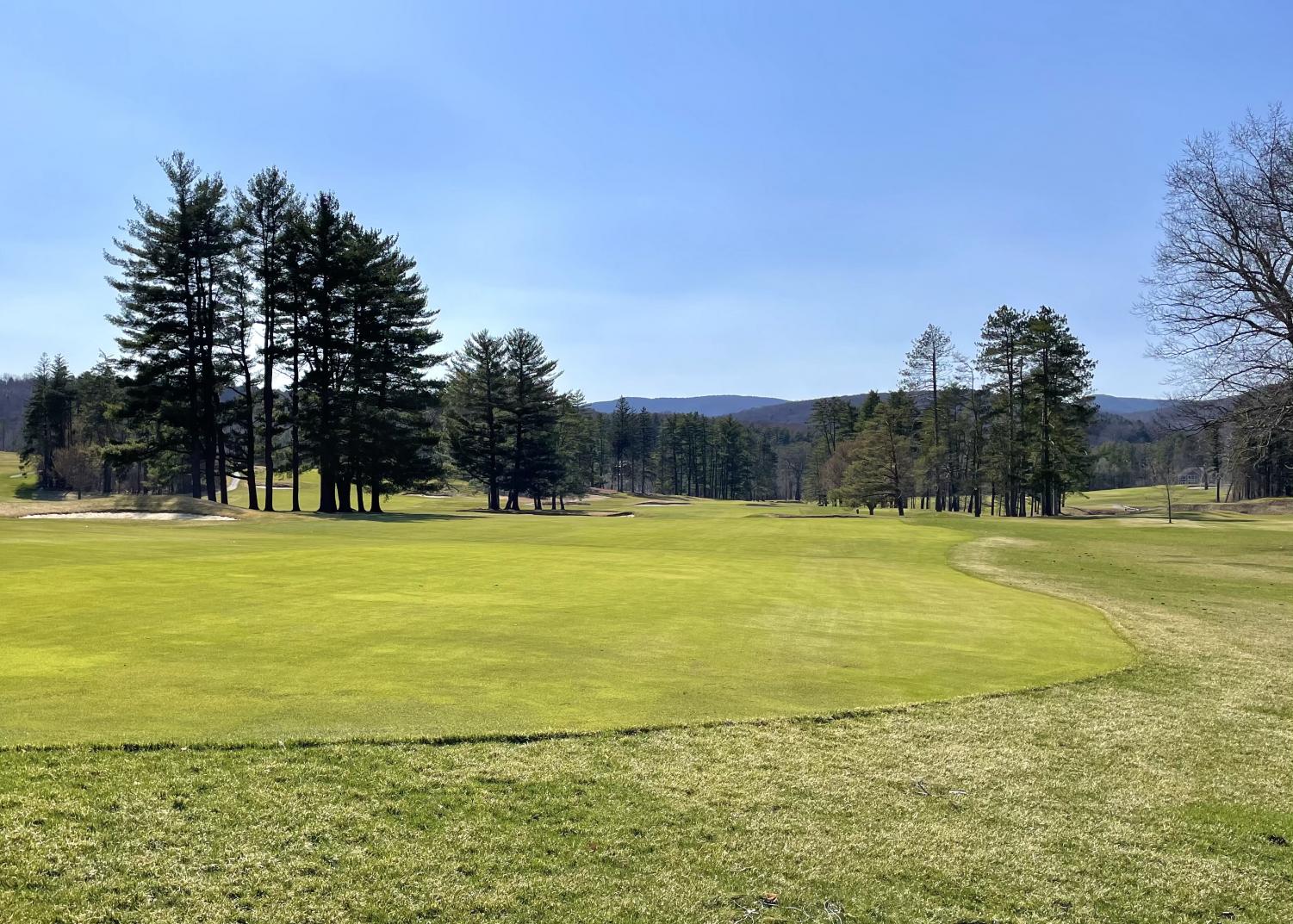 As the weather slowly shifts from winter to spring, the days of golf balls flying on Taconic Golf Club have finally arrived. After being closed for the winter, Taconic reopened on April 12, welcoming its members once more after a long hiatus.
"Normally we open on April 15, but we opened yesterday, which is always good and fun," Clubhouse General Manager Jane Patton said. "Everything's going really well. It's golf as usual except for when you're around the clubhouse, you have to have your mask on." 
The golf course was originally built in 1928 and most recently renovated in 2009, but its origin dates even further back than its official recognition as a golf course in 1928.
According to the Williamstown Historical Museum, Taconic first took shape in 1896, when three students from the College — James Ide, Edward Gale, and William Howard Doughty (Class of 1898) — installed three empty tomato cans in Weston Field, starting a makeshift game of golf amongst themselves. 
As the interest in the game grew over the years, so did this early prototype of Taconic. In 1897, the course was expanded to nine holes and received more members, public attention, and funding. Finally, in 1926, with approval from the College, a committee headed by George Cluett, Class of 1896, assembled to discuss the formal establishment of the golf course. Over the next two years, Cluett would oversee construction efforts and secure surrounding properties for the expansion of the golf course, and in 1928, Taconic formally opened to the public and has remained a prominent Berkshire attraction ever since. 
The course is recognized locally and nationally. In 2020, Golfweek ranked the Taconic golf course as the 3rd best campus golf course, just behind that of Yale University and Culver Academies (a high school in Indiana). The praise for Taconic's 18-hole course does not end with Golfweek's ratings: Taconic was also rated the #1 Public Golf Course in Massachusetts by Golf Magazine.
For many students, the experience at Taconic is invariably tied to the beauty in the Berkshires. "The holes embrace the rolling nature of the land, which leaves guests constantly involved," Bjorn Davidson '24, a member of men's lacrosse and an avid golfer, said. "The course does an exceptional job of finding a balance of openness and unique exposure to that 'tucked-away' feeling that every Williams student admires."
The course also accommodates all skill levels of golf, according to Peter Dohr '24, a skier for men's Alpine and a golfer on the side. At times, Dohr said, the hilly landscape and slopes could present "a challenge for even the best players," but a mostly open field between fairways and around greens makes Taconic a course that can be enjoyed by players of all skill levels. 
Aishvarya Bedi '24, who plays for women's golf, agrees with Dohr that the Taconic offers a challenge while staying "fun and rewarding."
"Everything is in front of your face, but golfers must be strategic about where they leave their ball off the tee and especially on the greens," she said. "Playing at Taconic, even if just for a semester so far, has made me a stronger, smarter, and more creative golfer."
Similarly, the genial atmosphere makes Taconic easily enjoyed by anyone even remotely familiar with the world of golf. "The close proximity to the College campus itself is hugely beneficial for both the golf teams and any other avid fans of the game such as myself," Dohr said. "This, combined with the incredibly generously rated student memberships, creates a welcoming environment for newcomers to the game from the school, something that is certainly very important to the game of golf today." 
According to Patton, the operations of the golf course were affected but not gravely impacted by the pandemic. "Golf has proven to really thrive during a pandemic, because it's outside and you can stay pretty far away from people," she said.
To be in keeping with community health guidelines, Patton added, the Taconic adopted some minor changes such as limiting the number of passengers in one golf cart and shifting the flags onto the greens so that golfers would not have to pull them out. 
Patton noted that local members and students from the College emerged as a strong source of support over the past year. "We really have a lot of members and student members," Patton said. "A lot of students took advantage of it over last summer, and we are still getting a lot of requests for student memberships, which is great."
"We're just looking forward to another great year," she added.