Term-limited faculty face uncertain futures amid pandemic job market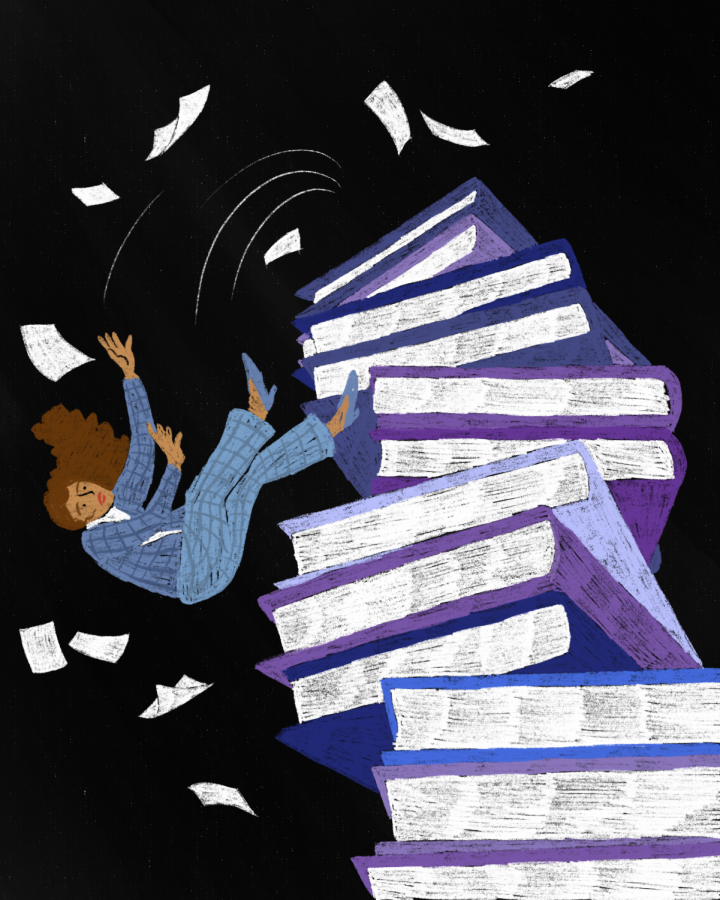 "Joanne," a term-limited professor who spoke to the Record on condition of anonymity, said she does not know what she will do after her contract with the College expires at the end of 2021. Because of hiring freezes in academia due to the pandemic, Joanne has yet to secure a position at any other institution, and the College has offered only limited support. 
"Every day that I put in another application, I'm like, 'Is this it for me? Am I just done? Should I just stop and give up, and say, forget it, I'm done with academia?'" Joanne said. "Every time you write a new application, you put your heart and soul into these things, and then you get nothing back."
During spring 2020, despite widespread calls for support from term-limited faculty members — which includes visiting professors and postdoctoral fellows — the College declined to offer a blanket extension of all term-limited faculty members' contracts, citing financial uncertainty. Instead, it provided term-limited faculty members the option to take an unpaid research associate position to aid in the job search. While some term-limited professors were ultimately offered extensions on a case-by-case basis, others were left to face a beleaguered job market. 
The Record spoke with four term-limited faculty about their experiences during the pandemic. Three of them, who spoke on condition of anonymity, are referred to by pseudonyms in this story. All four said that they feel frustrated, stressed, and tired. They also noted that the situation during the pandemic has been particularly difficult for professors of marginalized identities.
A petition, a letter, and the College's limited response
As the COVID-19 pandemic took hold during the spring 2020 semester, administrators at the College and other institutions across the country worried about the economic fallout of the crisis. As a result, many colleges and universities — including Williams — instituted partial or full hiring freezes in hopes of cutting costs. 
Term-limited professors at the College whose contracts would end in the spring of 2020 or 2021 feared that the contraction in the academic job market would leave them unemployed. Unlike tenure-track faculty, these professors only work at Williams for a limited period of time, lacking the employment stability that a tenure-track position would offer. In April 2020, a petition that garnered over 345 signatures was circulated among students, faculty, and staff at the College asking for an extension of the contracts of all term-limited faculty members through the 2021–2022 school year. 
The authors of the petition, who kept themselves anonymous, argued that term-limited professors are a crucial part of the College's faculty, as they provide new courses, introduce alternative teaching techniques, allow other professors to take time for research or accept administrative positions, and contribute a "significant amount of diversity and diversity work to the College." Without the College's help, the petition stated, these term-limited faculty members would struggle to find new positions. It also noted that the College had already granted tenure-track professors an extra year to complete research necessary for the tenure process, while making no such accommodations for term-limited faculty. 
Separately, on May 15, 2020, Visiting Assistant Professor of History Matthew Swagler sent an email to the Committee on Appointments & Promotions (CAP) and Faculty Steering Committee suggesting potential ways to support term-limited faculty, including a blanket extension of all contracts, extensions of contracts based on individual circumstances, and aid for those looking for new positions.
Professor of Religion Denise Buell, who was Dean of the Faculty and chair of CAP last year, responded to the letter in an email on May 26, writing that "although a blanket extension of contracts is not possible," the College would offer a one- to two-year research associate position: an unpaid position offering continued access to the Williams Library resources, the use of a Williams email, and the use of the Williams letterhead. 
The College offered the position only to faculty whose contracts ended by June 30, 2020, and it is unclear as to whether the College will provide options for those who will finish their term after this semester.
According to Gerrit Blauvelt, a faculty information systems analyst for the Dean's Office, seven visiting professors accepted the research associate position. In an email to the Record, Buell said all other term-limited faculty members whose contracts ended last year had found other positions.
A term-limited professor, "Taylor," who spoke to the Record on condition of anonymity said that the research associate position is a step in the right direction. 
The positions "are still helpful for people who still want to be on the job market next year — having an affiliation helps a lot," Taylor said. "But it also depends on different faculty members and their financial situations. Some people just can't do without pay."
Another term-limited professor who spoke to the Record on condition of anonymity, "Jesse," was less enthusiastic about the College's offer. "It's a nice gesture," Jesse said. "At the same time, it doesn't really do that much good. It's not really substantive."
In response to Swagler's letter, the College cited potential financial difficulties due to the pandemic in its decision not to extend contracts. In an email to the Williams community on Jan. 27, President Maud S. Mandel wrote that the College's finances were in "good overall health, although we will continue to be fiscally cautious in light of the ongoing pandemic and global uncertainty."
Jesse said they felt unconvinced that the College did not have enough money to extend term-limited faculty members' contracts."One of the richest education institutions in the world — and the money excuse, it's just unbelievable," Jesse said.
 In contrast to the College granting tenure-track faculty more time to conduct research, Taylor said that communication with term-limited faculty has been sparse. 
Joanne, who was not aware of the research associate position, said she felt left in the dark about the support the College offered to term-limited faculty. "It feels a lot like I'm just going off of rumors, and I don't have anything concrete to back it up," she said.
Taylor, whose contract ends this spring, said they also felt they had to rely on rumors.
"I wish that [the College was] much more forthcoming about [the research associate position]," Taylor said.  "And it wasn't something that we just [found] out second- or third-person."
Buell said in an email to the Record that she communicated individually with each term-limited faculty member whose contract was ending at the end of the 2020 school year.
However, she said that "there were no other institutional letters from the CAP to this group of faculty members, before my term as Dean ended on June 30, 2020."
Jesse said they have not heard anything from the College in any official capacity. Since their contract is ending after this semester, they were never offered the research associate position. 
"As far as I know, there was no clear plan," they said. 
Being a term-limited professor in the pandemic
The COVID-19 pandemic has exposed and worsened the professional challenges faced by term-limited faculty. Swagler emphasized the temporary nature of the role.
"It's a way of sort of developing some experience teaching," he said. "You're trying to use that time to write and publish something. You're basically trying to use that time as a springboard to get a long-term job because you know that this won't be a long-term job."
In an email to the Record, Dean of the Faculty Safa Zaki said that term-limited faculty members might be hired to fill in for a professor on sabbatical "for the purpose of continuing to offer important courses or subjects for the period of that leave." The College might also hire distinguished visiting professors "to complement the existing expertise of permanent faculty," Zaki said. The College also offers pre- or post-doctoral fellowships; these fellows are also hired on a term-limited basis. 
Jesse said they feel that term-limited professors are undervalued and improperly compensated for their role. In their view, the College relies on term-limited professors to teach essential courses while other faculty produce research, which maintains the prestige of the institution. 
Joanne said being a term-limited professor also involves a difficult and uncertain transition.
"The first year at any institution is like drowning, because you don't understand the dynamics of the students, you don't understand what's expected of you from faculty meetings and department meetings," she said.
Now, with the added pressures and struggles of being a professor during the pandemic, Joanne said she feels like she's "back to square one," as she said she has not had much time to conduct research this semester and doesn't have the mental energy to form a deep, "research-worthy" thought.
Joanne said she had thought the College would provide a professional stepping stone. "It's really, really heartbreaking," she said. "It's like, why did I take this job in the first place when I could have just stayed locally?"
Once the pandemic hit, she left Williamstown. She didn't have the chance to live in Williamstown for a full year. 
"We literally packed up a handful of clothes into one bag and popped them in the car and drove to come home because I knew there wasn't any way that I was going to be happy staying where I was with everything closed and quarantined," Joanne said.
The impact of the pandemic on term-limited faculty has been particularly difficult for groups with less faculty representation at the College, including female and BIPOC professors. 
Joanne said the experience of being a term-limited faculty member was particularly hard for her as a woman.
"I will say that part of the reason I struggled so much in my first year was because I was a woman with a slightly different teaching style than the tenured faculty in the department," she said.
According to Zaki, "The College has in recent years intensified its efforts to recruit and retain diverse visiting and tenure-line faculty. This remains a top priority for us." 
Zaki added that the College has increased support for term-limited faculty in the last couple years, such as reducing their required teaching load so it is equal to that of tenure-track faculty, including them in "teaching roundtables and writing/creating endeavors roundtables," and providing programs to support term-limited faculty who are "at the beginning of their teaching careers."
Swagler, who is white, said that term-limited faculty of color are able to mentor "students of color on campus [in ways] that existing faculty perhaps cannot." He added that tenured faculty of color "are already kind of overburdened trying to do that work … so having visitors there can also do important work for supporting a lot of students of color on campus."
Increasing diversity in academic departments is a slow process, according to Swagler. He said that tenured faculty, many of whom are straight, white men, often remain in their positions for decades.
"The college does sometimes open up brand new tenure-track positions that might aim to recruit faculty of color (e.g. in Indigenous Studies or Asian-American studies, etc.)," Swagler wrote in an email to the Record. "But most tenure-track positions are not like that. Generally, positions in a department's faculty only open up when someone leaves or retires." While new positions are created that may help increase diversity among tenured faculty, hiring in most departments is slow and sporadic. 
"That process of change tends to happen at a real crawl," Swagler said. 
As a result, most faculty of color are hired on a term-limited basis, according to Swagler.
Taylor said they have heard this sentiment expressed by many other term-limited faculty. Going through different departments' websites reveals that visiting professors are "diversity hires," according to Taylor.
Some faculty of color are tenure-track, but "overwhelmingly you will see that most of these people were hired as Bolin Fellows, or Mellon postdocs, visiting professors. They are the ones who are doing most of the diversity work," Taylor said.
Taylor said they think the College is "sincere" in its diversity efforts. They attribute problems with diversity among faculty to systemic issues rather than malintent on the part of the College. 
Taylor also said they felt the College is not that different from other universities in terms of its relationship with term-limited faculty, which they characterized as "exploitative." Like Williams, other institutions have also faced petitions from their contingent faculty during the pandemic.
"I think this was an excellent opportunity foregone," Taylor said. "Williams could set an example for other institutions, that we're not just talking about diversity, equity and inclusion, but we're walking the talk."
'I probably don't have a career being a professor'
Without help from the College, the term-limited faculty whose contracts have already ended or will end after this semester must find new positions. Many are struggling to navigate through a market with little demand for their labor. "They're not hiring … across the board in American universities," Jesse said. "We're just not going to get jobs."  
Joanne described the job market as "extraordinarily rough." 
"The very few positions that are open and available are getting flooded with huge amounts of applications," she said.
The effects of the pandemic on the academic job market have further exacerbated existing hurdles faced by term-limited professors, who are frequently in search of new positions. Among the challenges is the need to regularly publish research to stay competitive. 
The difficulties of remote learning, being at home with children, and searching for a job have kept Jesse from devoting enough time to their research. 
"I really think [my book would] be done if it wasn't for COVID," they said. "If my job is to produce academic scholarship, and I'm just watching children at home, I can't do that. And because I'm in the job market, it actually matters more because I can't show employers … I've got these two articles, or I've got this book contract." 
Without a job lined up for next year, Jesse said they worry that a year-long gap in their resume will make it difficult to compete in the future. "For the most part, you can't get back in if you've been out for a year," Jesse said. "There [are] already too many applicants for the jobs."
Joanne said she can't compete for the few jobs that are available. This situation is particularly difficult for term-limited faculty like her who aren't recent PhD graduates, and haven't published new research or taught many courses within the past few years. Joanne also said that finding a job in academia is even more difficult for people who have worked at a slower pace due to obligations in their family or personal lives. 
"Do I just take a year off and keep my kids home and homeschool them because I can't afford to send them anywhere for daycare? Or what? I've had no success in job hunting so far," she said.
These difficulties are compounded by hiring patterns in academia that date back to the 2008 recession, in which colleges rely more heavily on term-limited faculty. "I mean, the general trend in higher education has been to move toward the hiring of more [term-limited] faculty," Swagler said. "You can think of it as a sort of race to the bottom in terms of wages."
Term-limited professors like Jesse must consider whether they have a future in academia. Many have considered leaving academia to look for positions in business or academic administration. "I probably don't have a career being a professor, is what it comes down to," Jesse said. 
Changing careers comes with its own challenges for academics. Jesse spent seven years training to teach students in their subfield; they said they feel unsure how to convert these skills to another industry, such as business or marketing. "It's incredibly depressing," Jesse said. "I spent years getting [a] graduate education." They noted that, despite coming from prestigious PhD programs and working at distinguished institutions such as Williams, they may have to leave academia altogether if they can't find a job. 
Joanne said she is considering community colleges and small, local colleges in her search for a job. "I don't know where to turn here," she said. "I don't feel comfortable turning into industry because I've never done it before. I've been in academia [forever.] You go straight from undergrad into grad school into a job."
Along with the College's limited support, Taylor said what they find "disturbing is that all of this just gets pushed under the rug. It's forgotten." 
Taylor expressed a desire for the College to be more transparent about the financial calculus that led them to reject calls to extend the contracts of term-limited faculty, despite the uncertain job market that awaited them. 
"People should know that a tragedy happened," they said.