A re-entry experience: Non-JA upperclass students live in first-year housing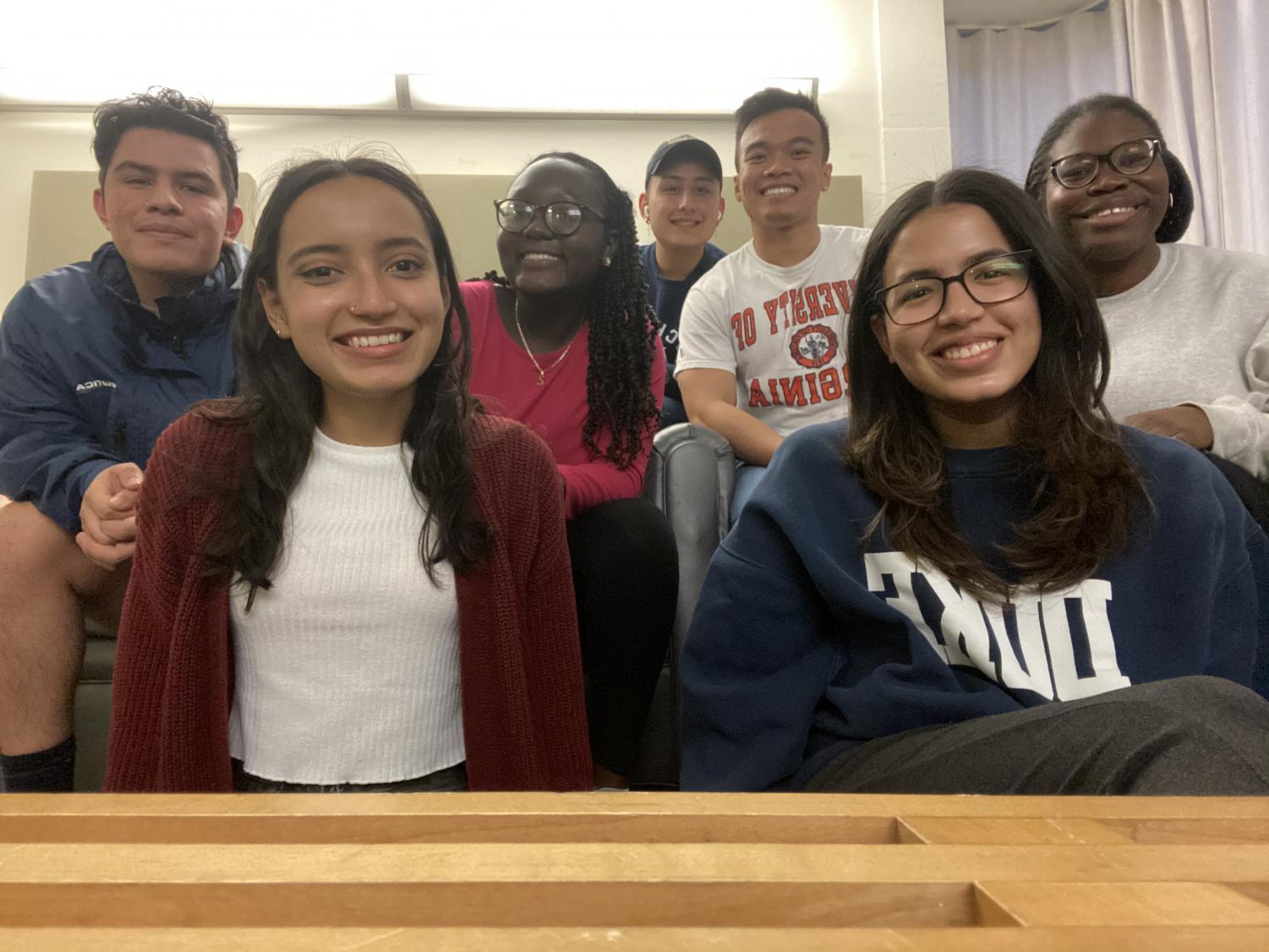 "I remember when we decided we were going to live here, I was joking with some of my friends that it's kind of like our freshman spring do-over," Karla Mercedes '23 said of her pod's decision to pick into first-year dorm Mission Park this semester. For them, Mercedes said that living in Mission after being sent home last March and studying remotely in the fall felt like "coming back to what we had left."
In a normal year, Mission and Frosh Quad are occupied strictly by first-year students and Junior Advisors (JAs). But due to this year's pod system, some JAs chose to pull in non-JA, non-first-year friends to live in their pods. Additionally, other non-JA upperclass students —  who were remote in the fall like Mercedes — were able to pick into some unoccupied rooms in Mission.
George Arrowsmith '21 was pulled in by his partner, Lucia Wiggers '22, a JA for Sage 3-4, and lives in Wiggers' pod on the fourth floor. "People definitely have interesting reactions hearing where I live," Arrowsmith said. "It's definitely something people wonder about … but it's been pretty easy going for me."
Like many other couples on campus, Arrowsmith and Wiggers decided to live in the same pod so that they could interact without having to socially distance or wear a mask. "We didn't want to deal with the stress of figuring out how to see each other if we were living in different pods, and so [Wiggers] pulled me into their pod here in Sage so we could see each other more," Arrowsmith said.
Cecilia Xia '22 was pulled in by a Mission JA and now lives in a four-person pod with two JAs and another non-JA upperclass friend. Xia said she wanted to live in Mission with the JA friend so that he would feel less isolated. "I feel like it was kind of a lot to ask of JAs to be isolated from their friends given the current system, so he just asked some of his closest friends if any of us wanted to live with him," Xia said.
A group of seven sophomores who live in the Dennett ground floor suite of Mission had different reasons for picking into first-year housing. Kenneth Chiu '23, Brian Hernandez '23, Hector Hernandez '23, Mariana Hernandez '23, Karla Mercedes '23, Shiara Pyrrhus '23, and Morin Tinubu '23 all studied remotely this past fall and chose to come back to campus for the spring. 
"The Dennett ground rooms weren't listed initially on the spring housing lottery, but we emailed some of the housing coordinators and found out that they were available," Mercedes said. "So we merged our pods and chose the rooms down here."
Though there were available rooms in other buildings at the time that they picked housing, Mariana Hernandez explained that Mission was the only place for a group of their size. "I don't think it was anything about Mission," she said. "It was more that there was no place where we would all fit together, and so Mission was the only place left where we could all be one pod and not have to split up into different buildings."
Though these seven students technically live in a first-year dorm building, they rarely interact with any of the first-year students who live there since they live on a different floor from the rest of Mission's residents. "The one time I interact with any freshmen is when I hold the door for them," Tinubu said. 
Compared to the Dennett pod, Arrowsmith lives in closer proximity to first-year students, but he also said that he interacts much more with his pod than with the first-years and that his role in the entry is not very clear. "I guess it's kind of a gray area," he said. "I'm part of the entry GroupMe. I kind of know what's going on. But at the same time, I am slightly separated just because I'm not a frosh and I'm not a JA. But, everyone in the entry knows who I am, [and] I know who the people in the entry are."
Arrowsmith said he has enjoyed seeing the entry system through a new lens that is closer to the JA perspective. "I went abroad as a junior, but there was definitely a part of me that thought about being a JA, so it's been kind of cool to live small parts of that experience and see it firsthand," he said.
But Arrowsmith said he has not assumed JA responsibilities. "I think the JAs I'm living with are pretty good about not forcing any responsibilities on me," he said. "I've definitely helped them out before in small ways, but they've been good about not making me feel like I have to do that. They've definitely got a much more stressful job than I do."
Xia also said she hasn't felt forced into a JA-like role while living with first-years. However, because she is an international student, she said her JA podmate sometimes asks her for advice on how to best support his international first-years. 
Xia said she feels generally removed from the entry system and spends most of her time with her podmates. "I think the class year is definitely a barrier, and the pod system makes it difficult for people to really become close friends with someone they just see in the hallway every once in a while," she said. 
One challenge for Xia has been a feeling of isolation from her other upperclass friends, she said. "Because most of my friend group lives in an upperclass dorm together, that makes me feel sometimes not as close to them physically," Xia said. "And with the restrictions and everything, I can't interact with them as much as I hoped to… It doesn't make me feel less like a junior, but it does make me feel a little bit more removed from the upperclassmen community in a way." 
Chiu said that although he lives far away from other sophomores, he hasn't felt especially distant from them. "I honestly don't feel that isolated because I have to walk everywhere on campus anyways, and at least the last couple of weeks we haven't been able to visit residential spaces, so that wasn't much of a concern," he said.
As a member of the men's cross country and track teams, Arrowsmith said he has been able to see many of his friends at practices, which has helped him feel less isolated. "One of the reasons I decided to do this is because I knew I'm going to practice just about every day and seeing a lot of my friends there," he said. "But I'm definitely fortunate that I have practice and everything as a way to see my friends outside in a safe way outside of my pod."
Overall, the sophomores in Dennett said they have been satisfied with their experience so far. "Generally speaking, the experience has been pleasant overall, although when we share our status with another student, they seem to look up and smile or look at us in disbelief, and sometimes they question how we ended up here," Hector Hernandez said. "But other times they're just like 'Oh, that's cool,' and they don't really ask anything afterwards."
Brian Hernandez said he felt moderately positive about living in Mission as a sophomore. "I guess in the situation we're in, it's not too bad," he said. "I wouldn't say I would recommend it to other upperclassmen, but it hasn't been as bad as I thought it would be."
Xia also said she would not highly recommend living in a first-year dorm as a non-JA junior unless someone has a strong reason for doing so. "People always ask me about it," she said. "People are like, 'Oh, that's such a big sacrifice,' but it doesn't really feel like it. It is certainly strange, but I wouldn't say it's a negative kind of strange. It's just different and not what I was expecting."