Students seek out internships for an uncertain summer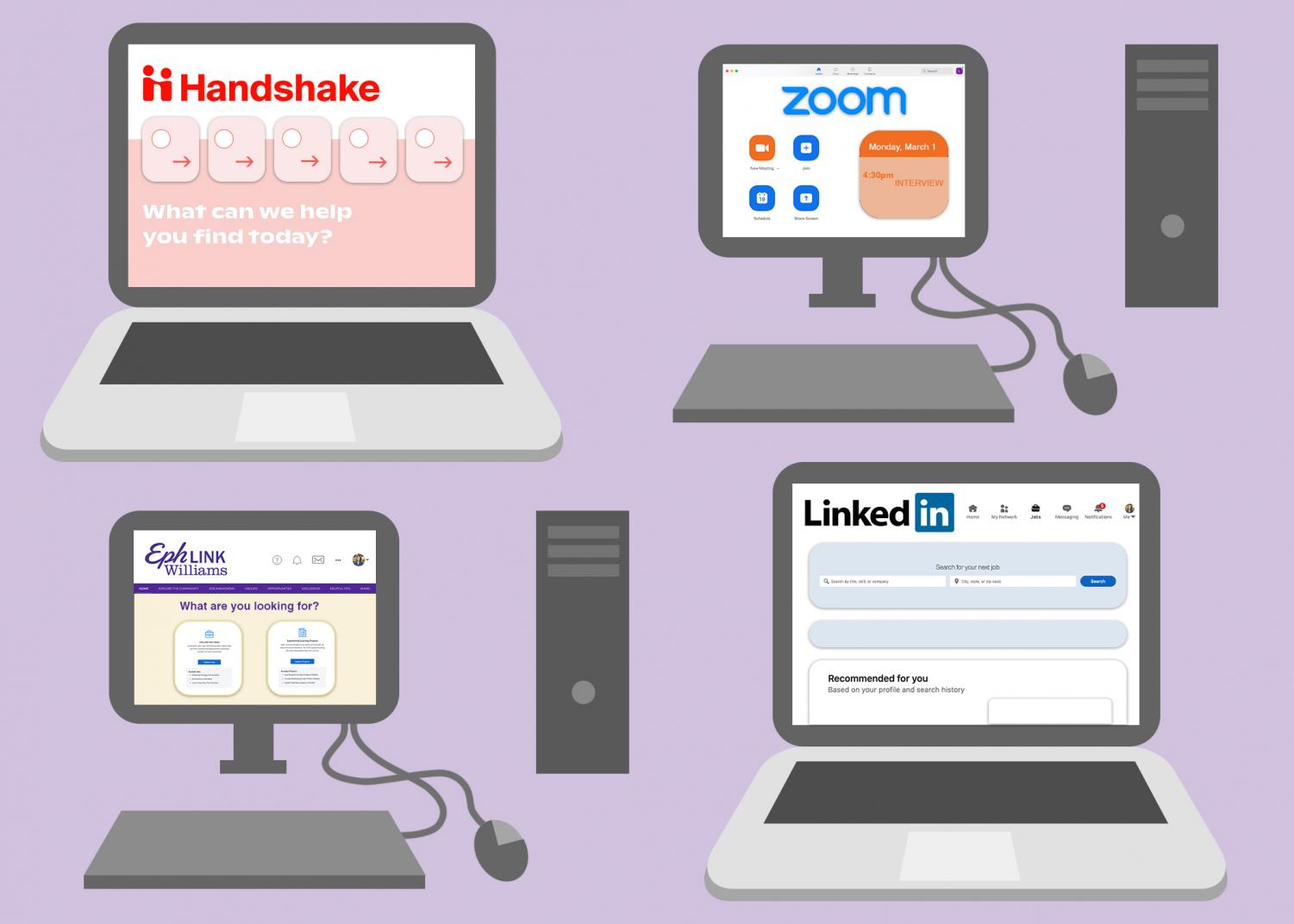 Students have been living their lives mostly online for over a year now and have had to greatly adapt their internship searches and preparation accordingly. Many are still facing challenges as they search for internships for summer 2021, but are also taking advantage of new opportunities.
The beginning of the pandemic also created uncertainty regarding internship opportunities for last summer. There were fears of another recession similar to 2008, when students were widely unable to secure work experience. 
But many students were able to pivot and find fulfilling alternatives, and many made use of the College's Alumni Sponsored Internship Program. The '68 Center for Career Exploration was able to offer funding for remote experiences and awarded 186 grants by June 2020 for summer internships and professional development courses. 
"It speaks really well for how scrappy and resilient Williams students are when they can pivot that quickly in a summer internship experience such as last year, all the way to January Jumpstart," Director of the Career Center Don Kjelleren said. January Jumpstart was a series of career exploration events led by the Career Center this past January.
Though there remains anxiety among students concerning career preparation for this summer, many have tried to make the most of the current virtual environment's flexibility and of the support available from the College community.
Adapting to an online space
The Career Center itself was able to quickly adjust to the conditions of the pandemic given its existing online infrastructure, particularly with the College's career mentorship platform, EphLink. 
"They've done a really great job adapting online and super quick," said Essence Perry '22, a peer advisor for careers in social impact. "They were one of the first offices I remember that already had online office hours [and] all these virtual programs."
In the year since campus closed, students, employers, and the Career Center alike have continued trying to adapt to the pandemic-induced virtual world.
"One thing I've heard from students is they might not feel that their particular environment is super conducive to doing a professional remote internship,"  Director of Career Preparation Emma Cutrufello said. "So when I've had conversations with them, we talked through how to talk to their supervisor about that, how to blur their background on Zoom, how to manage their time in a situation that might not be super ideal for getting work done, whether it's having family and siblings around or multiple competing priorities."
However, it has been difficult for students to adapt to this environment. Elizabeth Kim '24 said the process of Zoom interviews has felt impersonal. "Sometimes, [the interviewer's] screen is on the side as opposed to their camera, so it looks like they're not really looking at you, and it feels like they're detached from you as an applicant, and it kind of discourages you on occasion from [applying to] more internships." she said. 
More broadly, many students said they have struggled with a lack of motivation to engage with career preparation. "With the Zoom environment, it's a lot harder for me to be self motivated," Marya Rana '21 said. "It feels like there's less of a purpose to it because I'm not bonding with people."
Addressing inequities
The pandemic has been especially challenging for students from underrepresented groups. "If you hold [underrepresented] identities, it's already difficult to put yourself out there," Perry said. "There's a lot of stuff going on at home, and looking for a job in the summer which is six months away — it seems kind of ridiculous."
The Career Center has been working to address these issues, almost tripling the Care Access Fund for students on financial aid and creating the Equal Access Fund last year to support first generation students and students on financial aid. 
"It's an absolute area of interest and concern and support from the Career Center because we realise just how powerful career planning and success is in students' ultimate social mobility," Kjelleren said. 
"My boss, Anthony [Pernell-McGee, director of inclusive career exploration], has done a really great job at Diversity Equity Inclusion events … for first-gen students, people of color, queer students," Perry said. "He's been doing so much programming and making sure that there's representation in the events that he's running."
International students have also been distinctly affected by the pandemic in their pursuit of work experience. "Not all of them have been able to come to campus; they're encountering different issues with time zones," Cutrufello said. "I think that it's important to just acknowledge that that group has been affected, and we are working closely with [Director of International Student Services Nina] Pretto to try and make sure that they are not left out of anything, and that requires a really active effort on our part."
Seha Karabacak '24, an international student from Istanbul, Turkey, said that he has been looking for internships based in the United States because they are regarded more highly than internships within Turkey. However, he has been challenged by many practical considerations in his internship search. 
"Now that most companies have moved into remote, especially the internships, they don't provide housing or any accommodation," Karabacak said. "You'd have to find a place yourself and stay by yourself, which is slightly harder for international students because you don't know the lay of the land." 
Karabacak has felt a lack of recognition of international students from the panelists in career preparation events he has attended. "Some of the advice the panelists give — it's just not applicable to my situation," he said. "The Career Center works to include international students and help international students … but I just don't think we have a large enough group to have our own sessions."
Increasing competition
Many students feel that the pandemic has amplified existing anxiety surrounding careers and has fostered a heightened sense of competition. "The sense of urgency and stress [is] magnified because there's more applicants and less programs to apply to," Kim said.
"The watchword is definitely anxiety," Rana said. "I'm a biology major, and they send out emails multiple times a week with jobs to apply to, and all of the majors are applying to those jobs, and so everyone is very aware of the fact that there's a lot of competition… It's been hard for people to realise that they might not get something immediately."
"That's just a natural stress inducer if you see some of your friends who've already gotten those early offers, and you're still sitting around waiting," Director of Mentoring and User Experience Leigh Sylvia said. "Some of that is very much not a fault of your own. It's just that the industries you're looking to hire differently, and that's COVID or not — that's just a normal part of the process, and I know that that's such a hard pill to swallow."
Despite this sense of competition, there has been an increase in the number of job and internship postings on Handshake, from 2664 postings in January 2020 to 3262 in January 2021, according to the Career Center. "I don't think we have data, anecdotal or otherwise, to support a lack of opportunity," Kjelleren said. 
Remote internships
Beyond changes in the availability of internships, the nature of internships themselves has been affected by the pandemic. Students have noted that remote internships lack the holistic introduction to work environments that in-person internships provide, and not all employers have been able to adjust their programs to the same extent. "It's very difficult to get to know everyone in a social setting," Perry said. "It's kind of isolating, and … the work-life balancing is harder."
Students who have had pre-pandemic work experiences have noticed a clear difference between recent and past experiences. "It's a lot harder to feel the impact of the work I'm doing," Rana said. "The mentally hard part has been knowing I'm not doing the work I would normally do."
Over January, Rana interned remotely at Nyanam International, a non-governmental organization (NGO) based in Kenya, through the College's winter internship program (wINTERNships). She encountered many gaps in her experience, having to deal with logistical issues of time difference and the disparity between different countries' online infrastructures, while missing out on social interactions. 
"The goal of work experience is to learn things and gain experience, and I definitely had that, but … the only learning that happened was formal learning related to my project," Rana said. "There was nothing like me chatting with the founder of the NGO about the process of forming an NGO and why she decided to do it and her educational background, and there was also no … personal growth that comes from going to another country and then interacting with different people in different languages."
However, some students have found that "going virtual" has made career exploration more flexible, accessible, and relaxed.
"A lot of Williams kids are super smart; [they] picked up a remote internship during the fall semester because they were only taking three classes, so then they added another thing to their resume," Perry said. "We're able to partake in loads of those spring and fall opportunities, which are way easier to get than the summer ones." 
"Virtual internships have made it so that I can also work [part time on the side] at the same time," Kim said. "Obviously, these are full-time internships, but … as a financial aid student, I need to have that continuous flow of income no matter what, so it's definitely made it easier in my position to have remote internships."
Kim also appreciated the loosening of constraints on location that comes with remote internships. "I'm based in Manhattan, Kansas, [which] obviously doesn't offer as many opportunities as a city, meaning that no matter what, I would have had to find an airplane ticket, thought about food and housing, and so [the pandemic has] made it so that I can apply for more internships that would be normally limited by how much money I have," Kim said. 
The Career Center has also benefited from this flexibility, now being able to organize a greater amount and a broader range of events. "Our signature Career Treks grew from 3-4 per year with a cap of 20-30 students to 10 and counting with as many as 70 students on a given trek," members of the Career Center wrote.
One of the new Career Treks created was the Education Career Trek, which consists of two events focused on K-12 education and higher education respectively. "The alumni … [are] already super willing and excited to participate — there just hadn't been an in-person context that worked for them before," Cutrufello said. "It was easy in terms of getting alumni … and they were global — people in California who normally wouldn't be able to do this and someone in Kenya and Vietnam, so it was really cool for me to see alumni from around the world having a chance to do something with our office that they might not have before."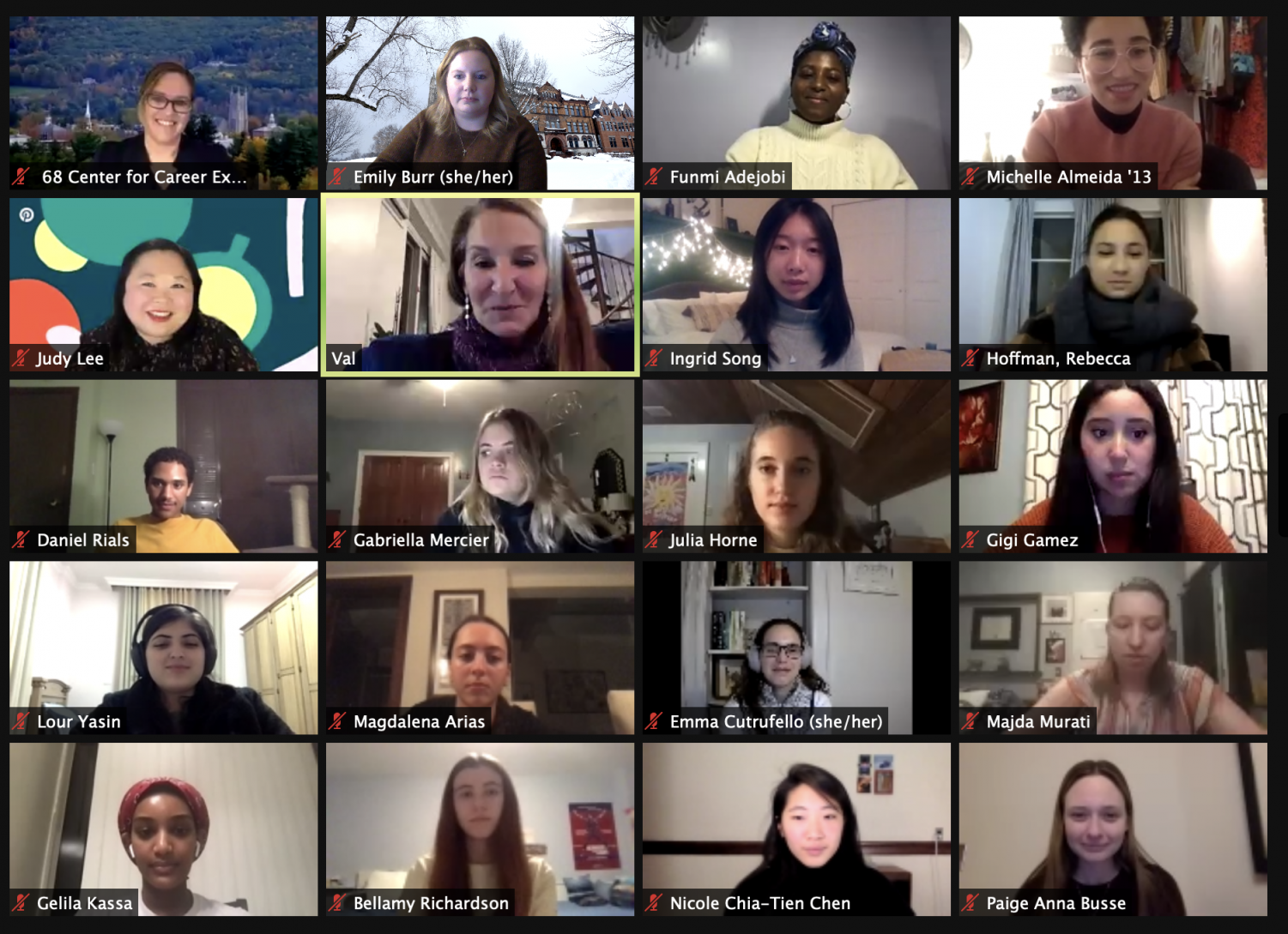 wINTERNships, January Jumpstart, Free University
With the cancellation of Winter Study this year, students also had more time to engage in career preparation activities over the month of January and leaned on available resources from the Career Center and the wider College community.
"Normally, students would not have really gotten on their internships searches until late January, — February is core — even into March, but this year, you'll see those January Jumpstart numbers — it's two and a half times [the total number of student attendees during last January's career events]," Kjelleren said. Indeed there was an almost 150% increase in the total number of students who attended this year's 31 January Jumpstart events compared to the total number of attendees who attended the 26 career events held last January.
Perry led a Free University course entitled "Getting that Bread during the Pandemic," which saw a large turnout reflective of the success of peer led courses during the winter break. 
"It was a course designed to help people basically go from no resume to applying to jobs and hopefully having an interview by the end of the winter period," Perry said. "People just had the opportunity to reflect, fix their resume, talk with alums, talk with upperclassmen… It's been a year for people to reassess a lot of things and I think [career preparation] is one of them."
Kim, who partook in Perry's course, mentioned the importance of having peer support. "It's become a less daunting task being aware that I'm not struggling by myself as well, seeing that other students are doing the same," she said. 
Reaching out
According to the Career Center, students have been more willing to reach out to alums and have made greater use of EphLink this year. In the last three months, Ephlink has seen approximately 80 percent of the student population registered on the platform and 46 percent of student registrants having connected on the platform with at least one alum, the highest both those statistics have been since the platform was launched in 2018.
"Because everyone has been forced to have to adapt to this way of communicating, I do think there's something to be said about people feeling far more comfortable, especially from the student side, with just having these conversations," Sylvia said. "And I stress this all the time that every single alum that's [on EphLink], all 3800, has raised their hand to do this… They have said, 'I am a willing participant; I want to help students.'"
Rana said that her experiences with EphLink have been highly positive. "I did meet [an alum] who … was so perfect for me to talk to, and that was literally because I had gone through people's profiles to try to find someone that was similar to me," she said. "We had a great conversation on the phone, and that was a really great experience."
According to Kjelleren, the support that the Williams network has provided students this year, through EphLink and other resources, has been impactful. "Seeing the community come together and embrace Williams students in recognizing how challenging it is during COVID, particularly the alumni during this bicentennial year of the alumni society — it has just been awe inspiring," he said.
Some students have found that employers have also been more receptive to student interns and have been understanding of current circumstances.
"In my experience just cold-emailing organizations, a lot of them have been very open to the prospect of interns that would be helping them with their work without such a big financial burden," Rana said. 
"There's a lot more of an understanding [from employers] of the times, of the circumstances, and of where people are calling from and what their situations are," Sylvia said. "That's something that has just been reassuring to see from our end."
Hopes for the future
With the COVID-19 vaccine rollout underway, students and Career Center staff said they are excited to see the potential long-term effects of the current virtual environment.
"It's just so exciting that we've actually seen this opens up a lot of opportunities for the students to now have more of a variety of people that they could be engaging with," Sylvia said. "Moving forward, we will no longer feel restricted by location and be much more interested and willing to do Zoom treks or workshops and things like that."
"I'm really excited about the fact that people are open to interviewing for serious things online and also how people are open to having employees and interns work remotely," Rana said. "I'm excited for the mobility and freedom that I think will continue to exist."