Carrie Mae Weems' artist-led public health campaign reminds students to "Resist COVID / Take 6!"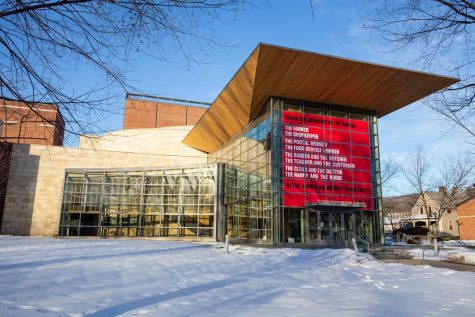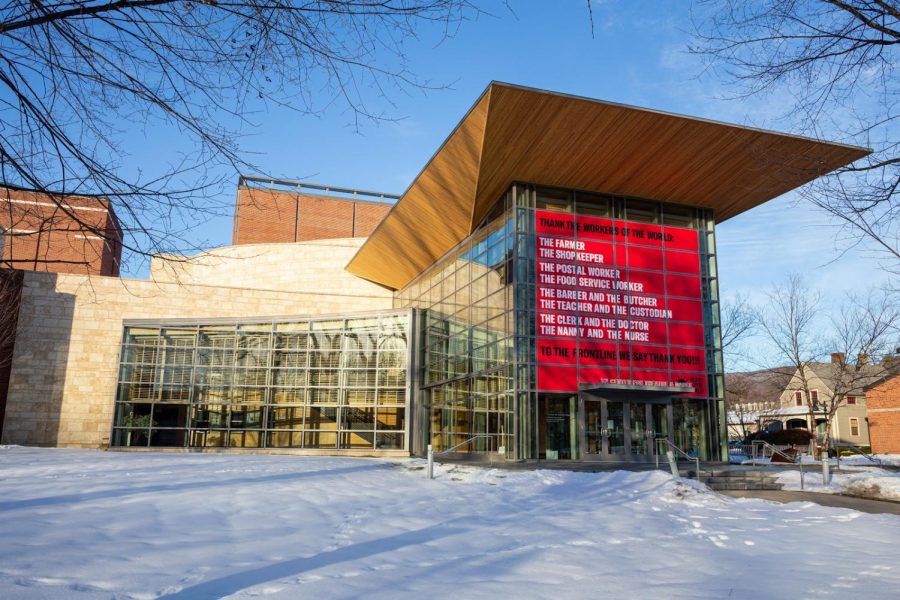 Since September, photographer Carrie Mae Weems has been working with staff from the Williams College Museum of Art (WCMA) and '62 Center for Theatre and Dance to bring her Resist COVID / Take 6! public health campaign to Williamstown. Weems developed the campaign with her colleague Pierre Loving, a performing arts and film curator based in New York.
As the virus impacts communities across the country, particularly Black, Brown, and Native communities, Weems' Resist COVID / Take 6! aims to raise awareness and start conversations across the nation about the severity of the pandemic and the social issues that have surfaced since it began. Weems utilizes black-and-white photographs and bold red, white, or black text to design billboards, banners, tote bags, lawn signs, and other materials that provide a platform for these messages.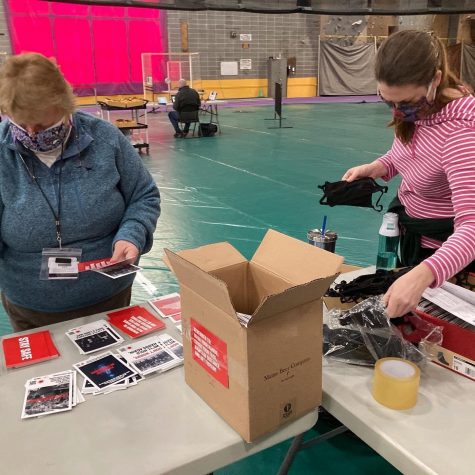 In a multi-step installation process, WCMA and '62 Center staff collaborated with the Art Country Consortium (which includes Bennington Museum, the Clark Art Institute, the Massachusetts Museum of Contemporary Art, and WCMA), the Usdan Gallery at Bennington College, the Massachusetts College of Liberal Arts, and the town of Williamstown. Those efforts have allowed for an extension of Weems' message across campus at WCMA, the '62 Center, the Davis Center, Main Street, and the larger Berkshire and Southern Vermont region.
"It is one of those projects that allows people to have an ongoing dialogue and a commitment of care about the community in which it's situated," Weems said. "These institutions are saying, 'We care about being in this community, we care about keeping you safe, and we care about keeping you whole.'"    
By bringing Resist COVID / Take 6! to the College, WCMA Deputy Director for Engagement and Curator of Education Christina Yang said she hopes to convey this message to the College community. Reflecting on the role and impact of art within a community, Yang asked, "What can art do that brings people together in a way that allows us to sustain the day-to-day and to move on?"
Visiting Artist Producer and Outreach Manager of the '62 Center Randal Fippinger spearheaded efforts for the '62 Center to partake in the project. "It's a little atypical that a performing arts organization would really focus so much on a visual art project," Fippinger said. "But I was drawn to this as a way to engage with the Williamstown community in a very specific way around COVID and then also around the signs on the side of the building about inequity." 
'Life is Beautiful!!'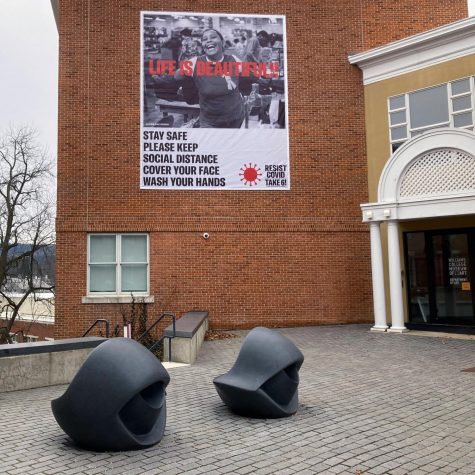 On Jan. 11, a banner was installed on the outside of WCMA that proclaims "Life is Beautiful!!" and asks viewers to "Stay Safe; Please Keep Social Distance; Cover Your Face; Wash Your Hands." As students returned to campus for the spring semester from Feb. 10 to 14, that same message was mirrored on the tote bags that every student received upon arrival. 
Each bag contained a set of three postcards that similarly noted actions to take in the interest of public health and a note from WCMA encouraging students to "Keep one as a memento," "Mail one to a special someone," and "Write a message to a future Williams student about your pandemic experience to be included in The COVID-19 Williams Experience Project." 
These individualized components of the campaign were a product of the ways members of the WCMA staff "really try to think of the ways in which each person would actually radiate back into your own communities and your own homes," Yang said. 
'A Little Distance Goes A Long Way (Un Poco de Distancia Hace Mucho)'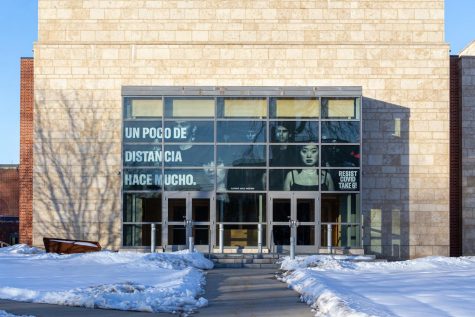 The bus stop on Main Street now sports the reminder, "A Little Distance Goes A Long Way,"  referring to social distancing practices. The reminder is accompanied by a photograph of a group of people standing spaced apart and another with a line of people holding hands. A banner installed on the Adams Memorial Theater echoes this message, with the same words translated into Spanish: "Un Poco de Distancia Hace Mucho."  
'This Must Be Changed!!!'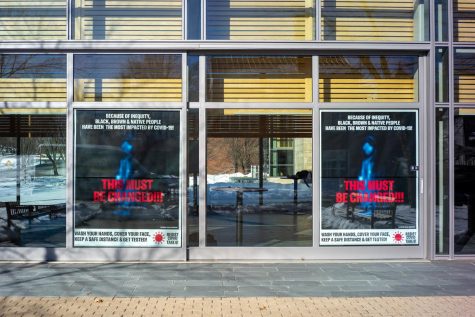 The '62 Center side windows hold a triptych, installed Feb. 11, which presents a blurred photograph of a figure in a hood, tinted blue, contrasted against white text that draws attention to the disproportionate impact of the pandemic on BIPOC communities: "This must be changed!!!"  
Yang spoke to the anger, frustration, and drive to take action sparked by inequities seen in this pandemic. The staff at WCMA and at '62 Center first thought to build "a bold presence on campus centering Black subjects," Yang said. "As the virus continued … we actually realized that the chance to heal from trauma and the chance to promote wellness and the chance to have a space for grieving was just as important."  
'Thank the Workers of the World'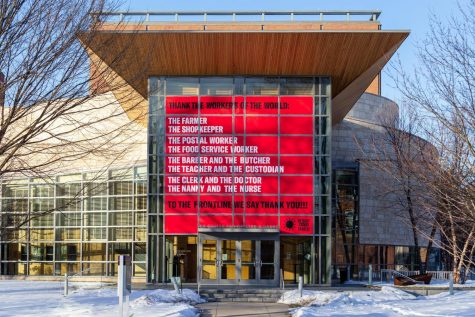 The largest of the campus installations is positioned at the front of the '62 Center, assembled by staff on Feb. 17. The "red box" serves as a tribute to the "workers of the world" who risk their health and safety for the continued functioning of our society.
"Spotlighting members of our community that don't normally get spotlighted, that are marginalized, that feel marginalized is very much part of … [the '62 Center's] mission and how we want to shape some of the conversation on campus," Fippinger said. Fippinger and Yang worked closely with Weems and her team for this specific installation to add "The Food Service Worker" and "The Custodian" to the list of occupations on the frontline; an addition aimed to spotlight Dining workers and custodians at the College who are on the campus community's frontlines. 
After listing the workers it commends, the installation reads, "To the Frontline We Say Thank You!!!" 
"As I drove back into Williamstown, seeing the '62 Center, I actually pulled my car aside and I stopped and I took a moment and I was like, 'wow,'" Yang said of her first look at the installation. "And I think if that's something that the public can do, just take a moment out and then leave it with a little other space to get through the rest of the day then I feel like that's the power of the work." 
The installations will likely stay up through the end of the semester. Registration will be open in early March for a Zoom session with Weems, entitled "Carrie Mae Weems in Conversation," that will be taking place on April 1. As the images continue to stand on the face of buildings, at the edge of streets, and in the hands of students, they are a part of a project that Weems said "is meant to be a public service awareness campaign that in some small way helps to save lives, as a constant reminder of what needs to be done as we push through this pandemic and its extraordinary effect on us."